'White Power' Spray-Painted at Bus Stop Amid Black Lives Matter Protests
Authorities in Aberdeen, Scotland, have removed a series of racist messages spray-painted onto two bus stops and at least one storefront Thursday, police told local news outlets.
According to Scottish newspaper The National, Seargent Tom Spencer of the city's community policing team said law enforcement responded to reports of "racist graffiti" early Thursday morning. Photos of the vandalism shared to Twitter showed "White Lives Matter" and "White Power" painted onto bus stops and a store window along Aberdeen's main road. Spencer told The National police are reviewing CCTV footage in the surrounding area as they investigate the incidents.
In a statement to BBC News Scotland, members of Aberdeen's City Council denounced those responsible for the graffiti, echoing residents who expressed outrage on social media.
"The council condemns in the strongest possible way these abhorrent acts of vandalism and the disgusting views expressed which have no place in a civilised society," the council's statement read.
Newsweek reached out to Police Scotland's North East division for additional updates, but did not hear back in time for publication.
The racist messages were seen in Aberdeen amid ongoing Black Lives Matter protests taking place across the world. Demonstrations against police abuse and systemic racism first surfaced in the United States at the end of last month, following Minneapolis resident George Floyd's death in custody on May 25. Floyd, a Black man, died during a violent arrest wherein a white police officer knelt on Floyd's neck for several minutes. The now-former officer, Derek Chauvin, was taken into custody several days later and faces second-degree murder and manslaughter charges. Three additional former officers involved in Floyd's death are charged with aiding and abetting.
By June, crowds were taking part in Black Lives Matter rallies in numerous cities outside of the U.S. People gathered for multiple demonstrations across Scotland, with several in Edinburgh, Glasgow and Aberdeen, the BBC reported. According to an additional report from the outlet, Glasgow activists have also launched a campaign to rename city streets currently named after slave owners. Similar calls to remove statues and symbols linked to racist historical leaders have erupted in the U.S. and several European countries.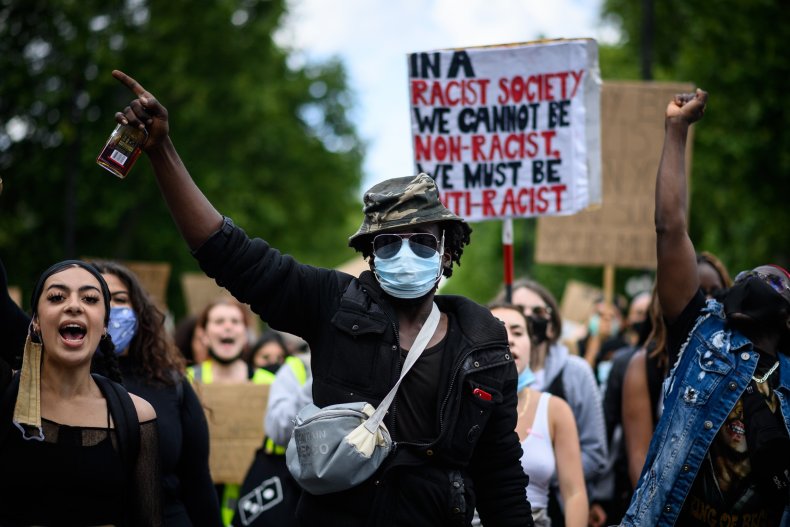 Photos of Black Lives Matter protests that took place across the United Kingdom since the beginning of the month showed thousands of participants involved in rallies. On June 1, demonstrators rallied during a march that finished outside of London's U.S. Embassy, despite a ban on large public gatherings ordered under the city's lockdown policy. Since then, dozens of protests have taken place in London and other U.K. cities, including Manchester, Leicester, Cardiff and Sheffield.