'White Privilege' Among 'Un-American' Theories To Be Banned in Federal Programs
A new memorandum issued Friday by the White House moves to ban federal agencies from any training that mentions "critical race theory" or "white privilege."
The memo from Russell Vought, Director of the Office of Management and Budget (OMB), was released Friday evening. It says President Donald Trump directed the OMB to stop using federal funding to pay for training related to "'critical race theory,' 'white privilege,' or any other training or propaganda effort that teaches or suggests either (1) that the United States is an inherently racist or evil country or (2) that any race or ethnicity is inherently racist or evil."
The memo comes after a July 15 Twitter thread from Christopher Rufo, the director of the Center on Wealth & Poverty (CWPM) at Discovery Institute, a conservative think tank in Seattle, Washington, about a federal training program called "Difficult Conversations About Race in Troubling Times."
The program was presented to a number of federal agencies, including the Treasury. The program, created after the protests over the death of George Floyd, was cosponsored by the Offices of Minority and Women Inclusion (OMWI), a department of the federal Office of the Comptroller of the Currency established in 2011.
"Difficult Conversations About Race in Troubling Times" is addressed to white members of federal agencies, and offers suggestions on how to talk about race and take "anti-racist" actions, including holding "listening sessions," where workers are gathered to talk about "issues of race or difference in the workplace."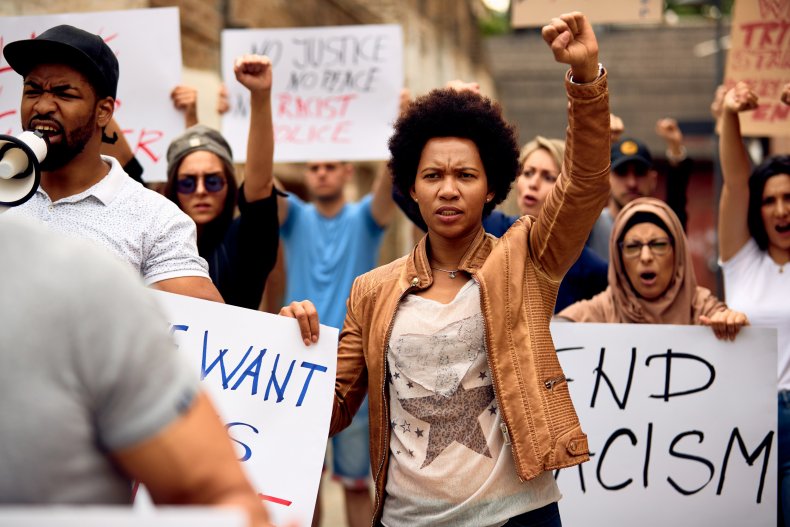 The program suggests setting ground rules based on the book White Fragility by Dr. Robin DiAngelo, which include "We recognize that we must strive to overcome historical and divisive biases, such as racism and sexism, in our society," and "We acknowledge that we are all systematically taught misinformation about our own group(s) and about members of other groups. This is true for everyone, regardless of our group(s)."
In the section about "Based Growth," the program says "It is imperative at this time that people who are White invest in race-based growth and development on topics such as systemic racism, civil rights history, unconscious bias, inclusion and contemporary ideology such as anti-racism, intersectionality, White privilege, and White fragility," using the history of desegregation of schools as an example. The program says that though Brown v. Board of Education was ruled on in 1954, some schools were still segregated until the 21st century.
The Vought memo objects to phrases in the program like "virtually all White people contribute to racism," and that white people "benefit from racism."
"These types of 'trainings' not only run counter to the fundamental beliefs for which our Nation has stood since its inception, but they also engender division and resentment within the Federal workforce," Vought wrote. "However, we cannot accept our employees receiving training that seeks to undercut our core values as Americans and drive division within our workforce."
Vought says that the OMB will soon issue "more detailed guidance" following President Donald Trump's directive that "Federal agencies cease and desist from using taxpayer dollars to fund these divisive, un-American propaganda training sessions."
Civil rights groups have pushed back against the memo. In a statement to Newsweek, Kristen Clarke, President and Executive Director of the Lawyers' Committee for Civil Rights Under Law described the effort as "attempt to discredit, condemn and silence important conversations happening in communities and workplaces about anti-racism and about our nation's history of white supremacy."
"Throughout his time in office, President Trump has made racist statements about Blacks, Latinos and immigrants conveying deep racial animus. His nominees to the federal courts have been overwhelmingly white and male. If there is one place where we need full discussion, dialogue and training around anti-racism, it's inside the halls of the White House and across every level of our federal government," Clarke added.
Newsweek reached out ot the NAACP and OMWI for comment.
Update (9/5/2020, 4:45 p.m.): This article has been updated to include comment from Kristen Clarke.