White Restaurant Owners Call Cops on 'Ghetto' Fruit Stand Vendor in Viral Video
A new viral video shows two white restaurant owners in Santa Clarita, California, calling the police on a "ghetto" fruit stand vendor.
According to the International Business Times, the couple was identified as Renee McAlonis and Mike Foster, owners of Bergie's Bar and Grill in Santa Clarita.
The people who recorded the video were identified as Ubaldo Alcantar and his brother Christopher, according to ABC 7 News, in Los Angeles. The video was posted to Instagram by Christopher Alacantar.
At the start of the video, the man can be heard telling Alcantar "yeah, it's illegal," referring to his stand, to which Alacantar replied by saying, "OK, but it's not hurting anyone, man."
"Get it the f*** out of here. This isn't Pacoima it looks like sh**," the man says.
Following the man and telling him to leave the area, Alacantar then responded by saying, "Look at the way that you're coming at people, bro." To which the man responds, "Don't call me bro. I'm not your bro."
"I wish you were. I wish we were all friends but that's hard for some people to understand," Alcantar says.
The man then doubleds down on his criticism of the fruit stand and said, "it needs to f****** go."
In the video, the man can be seen sitting down in front of the fruit stand when Alacantar asks, "Why you gotta come out here and make everyone's lives so hard?" The man then responds, "We aren't the f****** ghetto. It needs to go."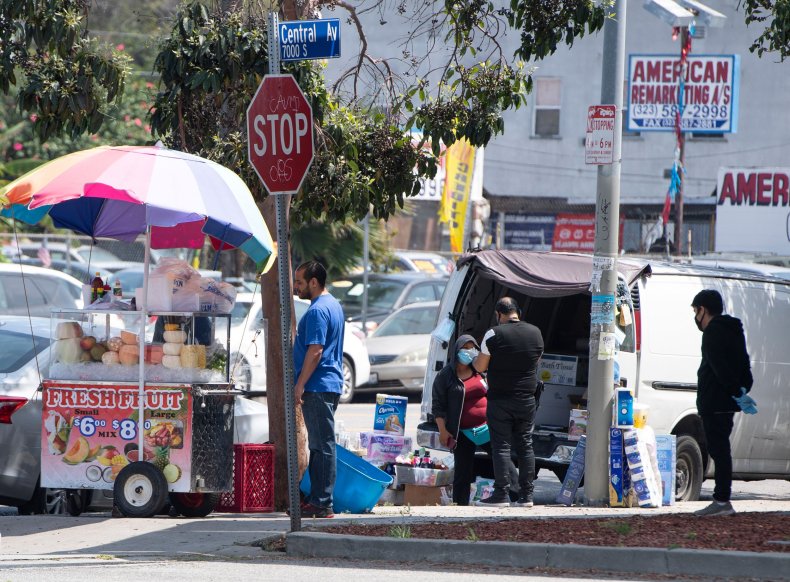 After being asked why the fruit stand is "ghetto," the man asks Alcantar if he has a health permit for the stand. "Where's your resale permit? Prove you pay taxes," the man adds.
"You're that upset that you need to come out here and belittle these people?" Alacantar asks the man.
According to a subsequent video posted by Alacantar's brother, Christopher, police officers eventually arrived at the scene and gave the fruit vendors a warning for not having a proper permit.
Alacantar told ABC 7 news that he just wanted to "de-escalate the situation," while filming it.
"We've seen a lot of crazy things going on recently, and we just didn't want another incident," Alacantar added, according to ABC 7 news.
While speaking to the Signal, Leobardo Ramirez and Sergio Medina, owners of the La Palma Fresh Fruit stand, said, "We do not want to harm anyone. We want to obtain a permit and grow the business."
"We started this business because of the pandemic, and it's really important to us because we also have families to support," Ramirez added, according to the Signal.
Newsweek reached out to the Santa Clarita Police Department and Bergie's Bar and Grill for comment but did not receive a response in time for publication.