An Ohio security guard has been charged with aggravated menacing after pulling a gun on a sheriff's deputy at a regional office of the IRS.
Lucas County Sheriff's deputy Alan Gaston was in full uniform with his badge and gun visible when he entered the IRS building at 4 Seagate in Toledo. Gaston, who was on duty, says he stopped by the building on May 31 to get a phone number to call about a letter he received from the IRS.
But when he arrived, Seth Eklund, a guard at 4 Seagate, told Gaston he had to put his gun in his car. Gaston said he couldn't do that, and the conversation escalated until Gaston found himself facing down the end of Eklund's revolver.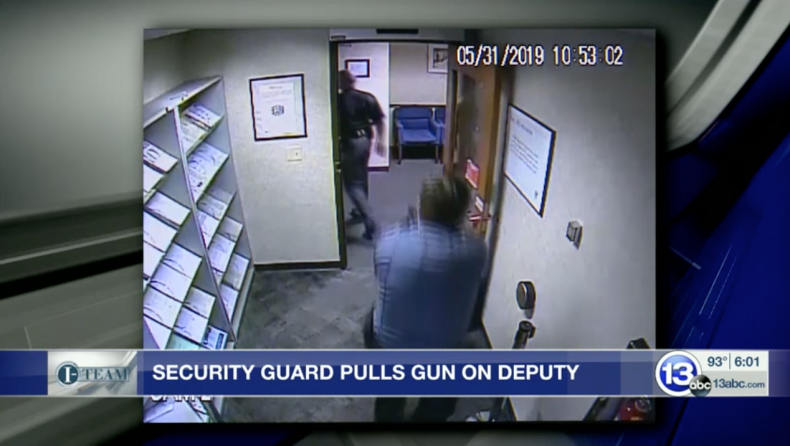 The deputy, who works as a defensive tactics instructor, says he thought the best way to de-escalate the situation was to walk away. In security footage of the incident, Eklund can be seen following Gaston to the elevator with his gun pointed at Gaston's back, "and, it appears, his finger very close to the trigger," reports WTVG Channel 13.
"[I was] basically preparing myself to be shot at that moment," Gaston told the channel. "Bracing for a shot in my back."
Eklund, 33, blocked the elevator doors from closing and attempted to take Gaston into custody.
"There's really no way to know how you're going to act when there's a gun pointed at you and when you think you're going to lose your life," said Gaston.
Toledo police eventually arrived after a 911 call was made from inside the IRS office. But the caller reportedly never mentioned that the armed person in the building was a uniformed deputy sheriff.
Gaston says he was worried about other customers.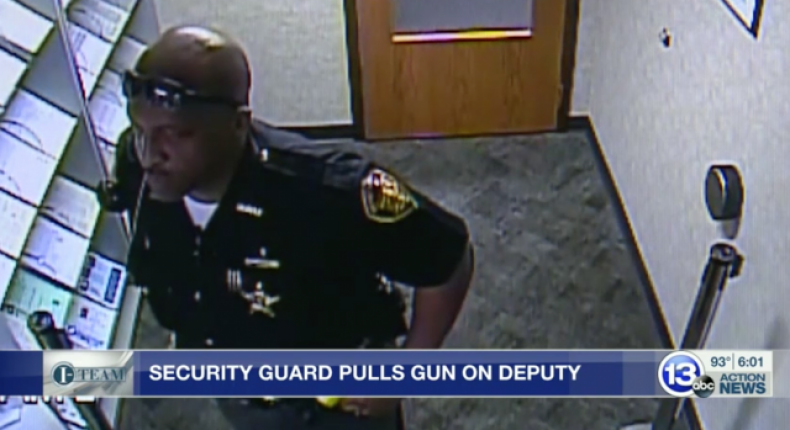 "If I'm going to get shot, like I thought I was, it's not fair. They came in there to do their business."
On Monday, Eklund pleaded not guilty in his first court appearance since the incident in May.
Gaston says he'd tell the guard, "Clearly your training is lacking and the fact that you went 0 to 100. Lethal force is unacceptable."
Currently on medical leave, Gaston has filed a civil lawsuit against Eklund and the security company that employed him. He is seeking compensation for emotional and psychological distress and lost wages.
Eklund was not available for comment.