#WhiteSupremacistInChief Tops Twitter Trends to Condemn Donald Trump After El Paso, Dayton Shootings
In the wake of the mass shootings in El Paso, Texas and Dayton, Ohio this past weekend, Twitter users went after President Donald Trump as the #WhiteSupremacistInChief on Monday morning.
The hashtag alleged that Trump helped to incite the violence with his racist rhetoric against immigrants and the Latino community.
"Glad to see #WhiteSupremacistInChief is to top trending hashtag," Michelangelo Signorile, a SiriusXM host, tweeted. "Because sadly, and horrifically, that is what @realDonaldTrump is."
Dean Obeidallah, a comedian and radio show host, used the hashtag to condemn Trump supporters who still don't think that Trump is a "racist & bigot."
Twenty-nine people were killed in less than 24 hours in two mass shootings. The first shooting, which took place at a Wal-Mart in El Paso, left 20 people dead and dozens more injured. The suspect in custody is believed to be the author of a racist, anti-Hispanic manifesto.
Hours after the Texas shooting, a gunman in Dayton fired dozens of shots in the city's Oregon District early Sunday morning. Nine people were killed and 27 others were wounded. The gunman, whose motive remains unclear, is also dead.
Former Texas congressman and 2020 Democratic hopeful Beto O'Rourke slammed Trump and his leadership late Sunday evening. When asked by a reporter what Trump can do to help make the situation better, O'Rourke called out the press for failing to connect the shootings to the president's divisive rhetoric.
"He's been calling Mexican immigrants rapists and criminals. I don't know, like, members of the press, what the f***?" he said.
O'Rourke later tweeted that "We know what Trump is doing. He stokes racism. He incites violence. We shouldn't be asking if there's anything he can do or if he's responsible for this when we know the answer. I stand by what I said."
Mick Mulvaney, the acting White House chief of staff, told ABC News on Sunday that no politician, including Trump, is to blame for the tragic events.
"This was a sick person, the person in Dayton was a sick person," Mulvaney said. "No politician is to blame for that. The person who was responsible here are the people who pulled the trigger. We need to figure out how to kind of create less of those kinds of people as a society and not trying to figure out who gets blamed going into the next election."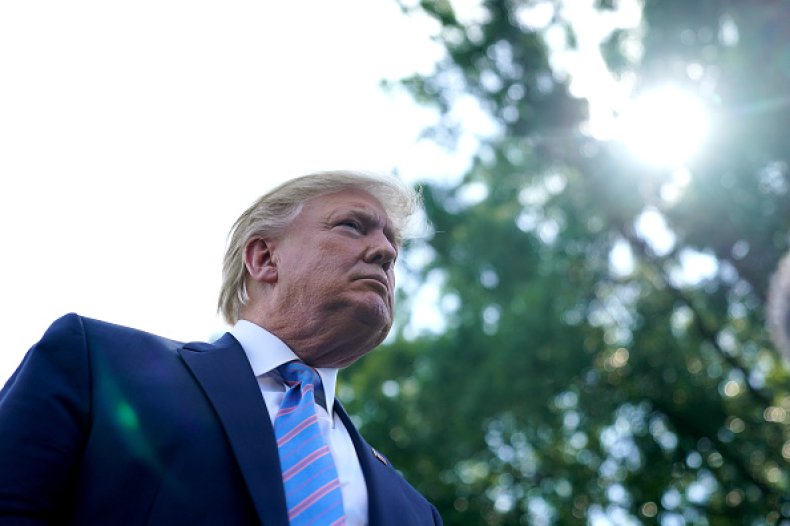 In the wake of the mass shootings, a controversial video resurfaced from a Trump rally in Florida this past May. During his speech, Trump can be seen smiling after a member of the audience suggested shooting migrants at the southern border.
"How do you stop these people? You can't," Trump said, referencing immigrants crossing the border from Mexico. Someone in the audience said to "shoot them." Trump can be seen smiling and shaking his head, ultimately responding with a joke. "That's only in the Panhandle you can get away with this stuff," he said.
Trump further sparked outrage on Monday by suggesting that gun reform be tied together with immigration legislation.
"We can never forget them, and those many who came before them. Republicans and Democrats must come together and get strong background checks," Trump wrote on Twitter before suggesting that lawmakers consider "perhaps marrying...this legislation with desperately needed immigration reform."
"We must have something good, if not GREAT, come out of these two tragic events!" he added.
The president's critics immediately jumped on the proposal, noting that the suspect in the El Paso shooting was believed to have authored a "manifesto" railing against the Latino community and immigrants.
"Who wants to tell Trump that it was a white, American born citizen who targeted brown people at Wal-Mart in El Paso? Tying gun reform to immigration reform makes no sense," Holly Figueroa O'Reilly, a founder of Blue Wave Crowdsource, wrote on Twitter.