White Supremacist Extremism Is No Longer a Domestic Issue. It's a Global One | Opinion
When it comes to domestic terrorism—white extremist terrorism in particular—policymakers, law enforcement and the general public have shown themselves to have a serious blind spot: the fact that homegrown domestic terrorism in the U.S. is deeply interwoven with a global network of white supremacist terrorist activity. And much of it is laced with antisemitism, sexism, racism and visceral hatred.
This reality is the product of a hyper-connected world and the sad flip-side of America's cultural and political influence. And if we want to effectively contain this violent threat, we need to stop mislabeling white supremacist extremist terrorism in the United States as a merely domestic issue and call it what it is: a transnational one.
The difference is not merely semantic. It's crucial and potentially life-saving. There is well-documented evidence of a global network of violent white supremacist organizations that originated in the United States and now fuel radical ideologies in Russia, Australia, Canada, Germany, the United Kingdom, South Africa, and elsewhere. According to a Soufan Center report, white supremacist extremists are "strengthening transnational networks and even imitating the tactics, techniques, and procedures of groups like al-Qaeda and the Islamic State." These networks share an approach to recruitment, financing, and propaganda, per the Soufan Center report, as they target Jewish, Black, Asian, LGBTQ, and other communities worldwide.
U.S. based white supremacist groups are also inspired by foreign terrorist groups. It's no coincidence that the U.S.-based white supremacist organization "The Base" is a direct English translation of Al Qaeda, or that the 2017 Unite the Right rally in Charlottesville gathered extremists who carried German Nazi flags and wore Hezbollah t-shirts.
Numerous U.S.-based organizations within this network, including the Base and the Proud Boys, have already been designated as Terrorist Organizations by allies such as Canada, the United Kingdom, and Australia. Australian Home Affairs Minister Karen Andrews in 2021 said that The Base was "known by security agencies to be planning and preparing terrorist attacks" against Australia, despite being U.S-based. The head of the Australian Security Intelligence Organization warned that a terrorist attack on Australia by offshoots of the group was "probable," and noted disturbing evidence that the group was recruiting members as young as 13 years old to join a "race war."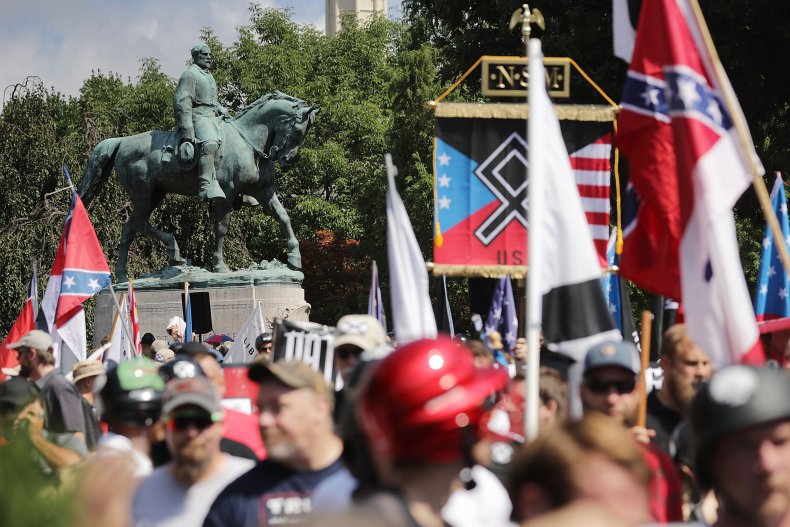 The Biden administration should build upon Canada and the United Kingdom's leadership and designate globally active U.S.-based white supremacy extremist groups as Foreign Terrorist Organizations. We are woefully behind our peers, and our ability to track, mitigate, and punish potential attacks is inexcusably hindered.
For example, the U.S.-based neo-Nazi organization Atomwaffen has carried out attacks in North America and Europe since its violent actions during the 2017 Unite the Right Rally, and continues to establish affiliates across Europe, including in the United Kingdom, Germany, Russia, Ukraine, and the Baltic States.
The Nordic Resistance Movement, a transnational neo-Nazi group from Sweden, was cited by the October 2018 White House National Strategy for Counterterrorism of the United States of America, which reported that the group's "use of violence and intent to destabilize societies often puts Americans lives at risk."
The international neo-Nazi network Blood and Honour and its armed branch, Combat 18, which is banned by the governments of Germany and Canada, has carried out attacks in North America and Europe.
These groups represent only a sample of a growing list of U.S.-based organizations and affiliates which fulfill all criteria of Executive Order 13224, which establishes the grounds for being designated an FTO, as recently documented by the MEMRI Domestic Terrorism Threat Monitor project.
U.S. Department of State and Treasury systematically designating transnational white supremacist extremist organizations as FTOs would instantly unlock critical tools in the fight against domestic terrorism. The designations would hinder the travel of terrorists to the United States, criminalize support to designated groups, block movement of assets to designated groups, and allow for the U.S. Department of Justice to prosecute individuals for providing material support to designated groups.
There is no longer an easy dividing line between foreign and domestic terrorism. It is a sad feature of our world that the worst among us inspire and support one another. To cut the head off a snake that is coiled at the necks of minorities at home and abroad, we need to reframe and designate globally active white supremacist groups as foreign terrorist threats.
Max Rose is a former New York congressman. Jack Rosen is president of the American Jewish Congress. They are both members of the Advisory Board To Counter White Supremacy and Domestic Terrorism.
The views in this article are the writers' own.