White Supremacist F. Glenn Miller Asks for Death Sentence to Be Overturned Because He Represented Himself
A convicted murderer and white supremacist has asked the Kansas Supreme Court to overturn his 2015 capital murder conviction because, he argues, the trial's judge should not have allowed him to represent himself during its penalty phase.
On April 13, 2014, then 73-year-old F. Glenn Miller Jr. murdered three people outside of the Jewish Community Center and the Village Shalom care center. His victims were 14-year-old Reat Underwood, Underwood's 69-year-old grandfather William Corporon and a 53-year-old named Terri LaManno.
Miller admitted to surveilling the community center numerous times before his rampage. He had wanted to kill six to eight people, but said he still felt "such exhilaration" after murdering his first two victims. When police arrested him later that day, he told a few witnesses that police had brought to identify him, "Heil Hitler. I wish I'd have killed all of you."
During his 2015 trial, Miller explained that he had committed the murders to stop "the Jewish genocide against the white race." He also told jurors that he would kill more Jewish people if he was ever released from prison. However, none of the people he murdered were Jewish.
The jury sentenced him to be executed by lethal injection, as well as 32 years in prison for other charges, including the attempted murder of other people present during his shooting rampage.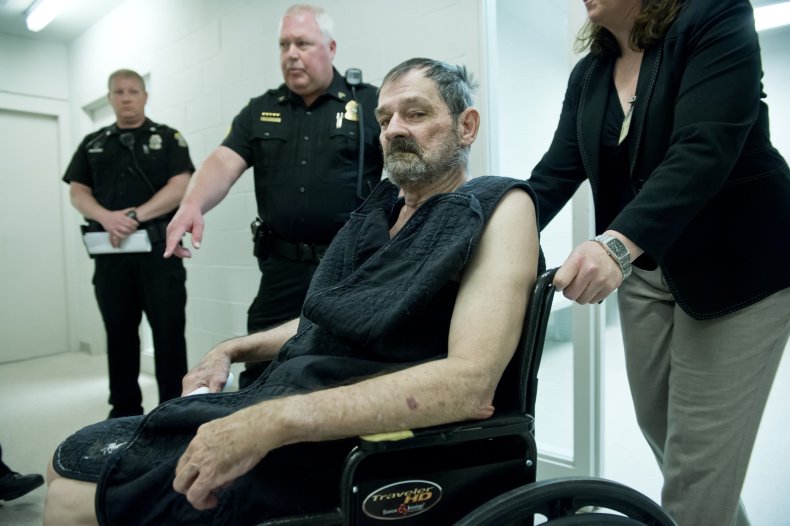 In his case before the state Supreme Court, Miller's lawyer Reid Nelson argued that Miller shouldn't have been allowed to represent himself, particularly because he was "fairly unbalanced" and showed signs of mental illness during his past trial. Nelson also said that the jury should've been presented with evidence that might've convinced them to reduce his sentence to life in prison rather than death.
Comparatively, Johnson County District Attorney Steve Howe argued that Miller had the right to defend himself in court and wanted to do so. Howe said that Miller especially deserves the death penalty as he represents the "worst of the worst."
The court's justices have reportedly taken Miller's appeal under advisement. They will issue their ruling at an unknown time.
Miller is an Army veteran who fought in Vietnam. In 1980, he founded the Carolina Knights of the Ku Klux Klan, an anti-Black hate group. He served as its "grand dragon" and led its marches against civil rights in North and South Carolina.
He subsequently founded the White Patriot Party and later mailed a "Declaration of War" to his followers and the press that "established a point system for the assassination of federal officials, blacks, Jews, gays and others," according to the Kansas City Star.
Miller was arrested around 1988 with several paramilitary members for stowing a large cache of weapons and explosives. Facing sedition charges, Miller made a plea deal with prosecutors to testify against his associates in exchange for a five-year prison sentence.
He told the Star that he tried to influence his children to hate Jews as well, but they lost interest in it as they got older.
In 2014, the Anti-Defamation League (ADL), an anti-hate group organization, counted 912 anti-Semitic incidents that occurred across the nation that year. The number represented a 21 percent increase from the 751 incidents reported the previous year.
Miller's attack marked the first time that a lone-wolf gunman had targeted a Jewish institution since the 2009 shooting at the U.S. Holocaust Memorial Museum in Washington, D.C., the ADL reported.
Newsweek contacted Nelson for comment.