White Supremacist, Neo-Nazi Accounts Still Active on Twitter After a So-Called Purge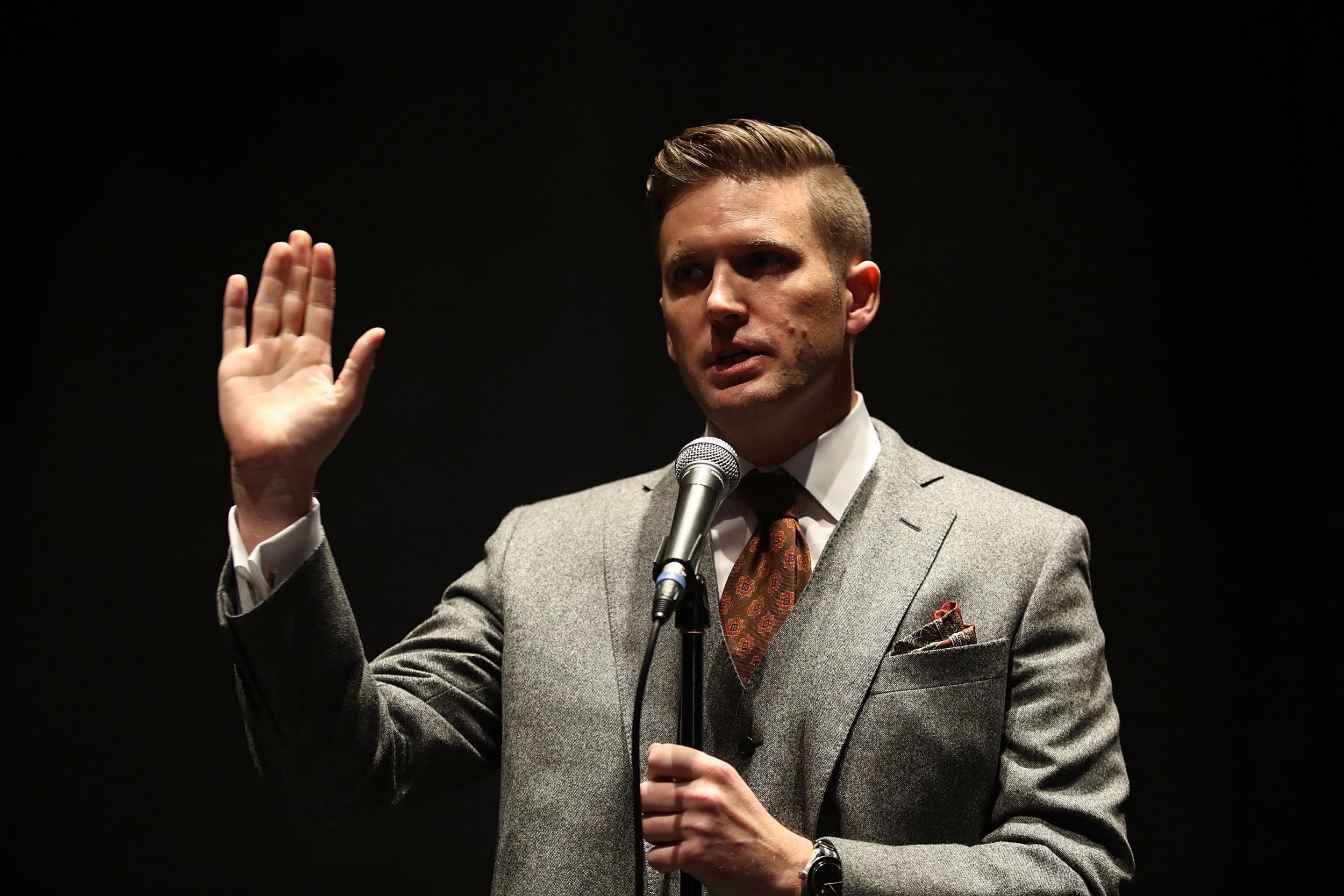 A full month after the president's preferred social media site kicked into a well-hyped "purge" of users in response to criticism that it was giving hate groups a platform, neo-Nazis and white supremacists are actively posting propaganda on Twitter.
Among those who remain active users of the site is alt-right provocateur Richard Spencer, who tweets to his 81,000 followers about getting "in the heads" of American Jews. So is Mike "Enoch" Peinovich, a podcaster who fears "white genocide" and has appeared at neo-Nazi events. Another is Jason Kessler, one of the white supremacists who helped to plan the infamous Unite the Right rally in Charlottesville, Virginia in August. In addition to these men, the far-right conspiracy peddlers who produced the so-called Pizzagate lie on the platform, which may have led toa North Carolina man firing off an AR-15 rifle in a Washington, D.C., pizzeria in late 2016, are also still very much active.
Critics of Twitter have argued to Newsweek that the site still hasn't done enough to combat the presence of "Nazis," and that far-right users are now making a mockery of the website's promises to clean up its act.

Spencer, for example, ridiculed the purge soon after it started, calling it "haphazard." Among the accounts Twitter removed early on December 18 were those of Jayda Fransen, the leader of Britain First, a far-right political organization; Jared Taylor, editor of American Renaissance, a white supremacist publication; and the Traditionalist Worker's Party, a neo-Nazi group. After that, though, things slowed down and Spencer appeared to grow comfortable with the notion that he would not be banned.
"Last November, immediately after the election I got famously purged from Twitter," Spencer wrote on the platform one day after the so-called purge started. "It seemed definitive. But within a month, I was back."
He went on to suggest that the attempt at purging accounts on the site was "overrated."
"Jared et al. will get their accounts back," he wrote. "Shitlords will get new ones. We'll see."
So far, Spencer has been half right. Jared Taylor has not returned—at least not under his own name—but "shitlords," a slang term for neo-Nazi trolls, remain on Twitter in large bunches, continually reappearing under different handles. Antifascist activists and others who monitor the alt-right believe that an assortment of "celebrity" neo-Nazis are still active on the site, lurking under anonymous accounts that sometimes tease out their identities.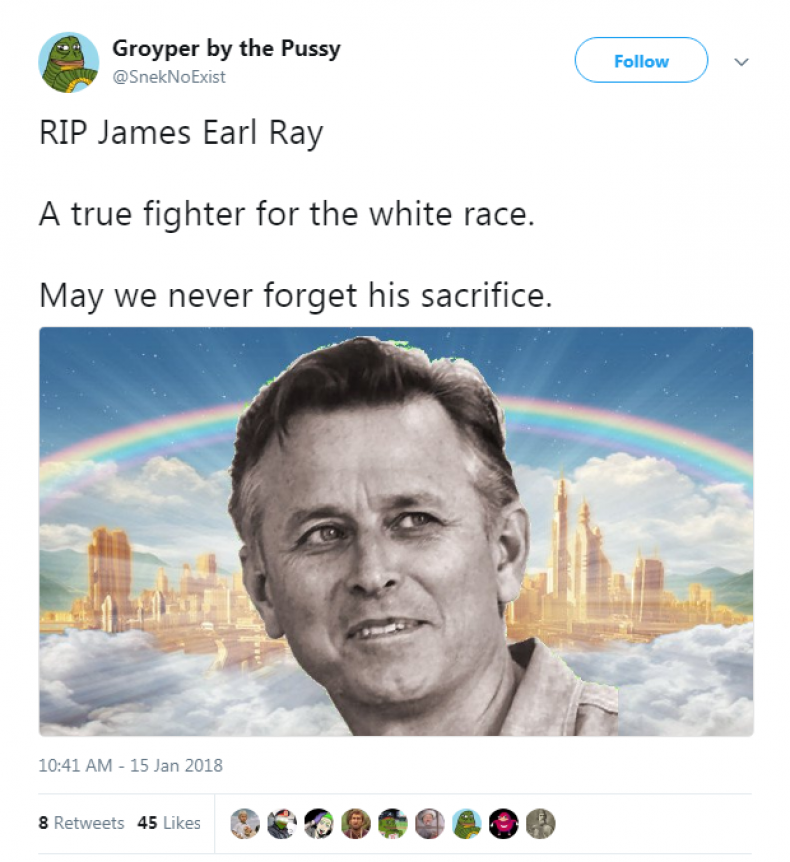 On Martin Luther King Jr. day, for example, an account with the handle @SnekNoExist published an homage to James Early Ray, the man who was convicted of murdering King. "RIP James Earl Ray," the poster wrote in praise of the murderer of the revered civil rights activist. "A true fighter for the white race. May we never forget his sacrifice." The poster used language and an image that was identical to what was being published on the sophomoric neo-Nazi site Daily Stormer at the exact same time. The tweet was reported by multiple Twitter users who spoke to Newsweek, but it appears nothing was done about it by Twitter. Both the tweet and the @SnekNoExist account remain standing for anyone to find.
A spokesperson for Twitter, Liz Kelley, told Newsweek that the behavior Twitter looks for when "determining whether an account is affiliated with a violent extremist group includes: stating or suggesting that an account represents or is part of a violent extremist group providing or distributing [propaganda] in furtherance of progressing a violent extremist group's stated goals" of engaging in violence or recruiting for violent groups. These lines leave considerable room for interpretation.
Kelley added that "the policies started to be enforced in December," referring to new rules that include judging a person's behavior offline, "and will be enforced as part of our rules moving forward."
Twitter has a Herculean task in trying to respond to the deluge of complaints it receives each day, Laura DeNardis, an internet governance scholar who is a professor in the School of Communication at American University in Washington, told Newsweek in December. But for those who have been targeted with harassment on the site—like Talia Lavin, an essayist who is sometimes singled out by neo-Nazi trolls for being female, outspoken and Jewish—patience is wearing thin.
"Twitter is clearly more interested in creating the perception of change than in investing the time and energy required to prevent the valuable voices on its platform from being drowned out by racist and anti-Semitic abuse," she told Newsweek about the reappearance of white supremacist and neo-Nazi accounts on the platform.
Nathan Bernard, a software developer who is a co-creator of Cernovichleaks.com, a site that tracks Pizzagate promoter Mike Cernovich's outrageous and vulgar statements about women and the conspiracies he pushes, told Newsweek he believes that ignoring provocateurs potentially puts lives at risk.
"Not banning Cernovich only emboldens him to get more aggressive with his smear campaigns on Twitter," Bernard told Newsweek. "Just last week Cernovich live-streamed his entire 'A Night for Freedom' event on Periscope, where he and other speakers ranted about pedophilia conspiracies, men's rights, rape culture and their distrust of Muslims."
Bernard was referring to an event hosted by Cernovich last weekend that was live-streamed on Twitter and involved, among other things, one of the speakers, Gavin McInnes, mocking the genitals of trans women for laughs. Cernovich has deleted many tweets that people have considered offensive in the past, and has argued to Newsweek that Twitter has been used to harass him as well. McInnes did not respond to a request for comment about his remarks.
Twitter is not the only site facing intense scrutiny from users over far-right content in an era when many marginalized groups feel threatened by the current political atmosphere. Bumble, a dating app, just kicked off an account that was believed to belong to prominent Trump supporter Jack Posobiec, another Pizzagate peddler.
Posobiec, who got married in late 2017 and is now expecting a child with his wife, vehemently denied to Newsweek that the account on the dating app belonged to him, saying it was a fake. Bumble told Newsweek that the account had been inactive since 2016. Still, when a female user reported the presence of "nazi" Posobiec, the proprietors of the app worked quickly to remove the account, which had his name and pictures attached.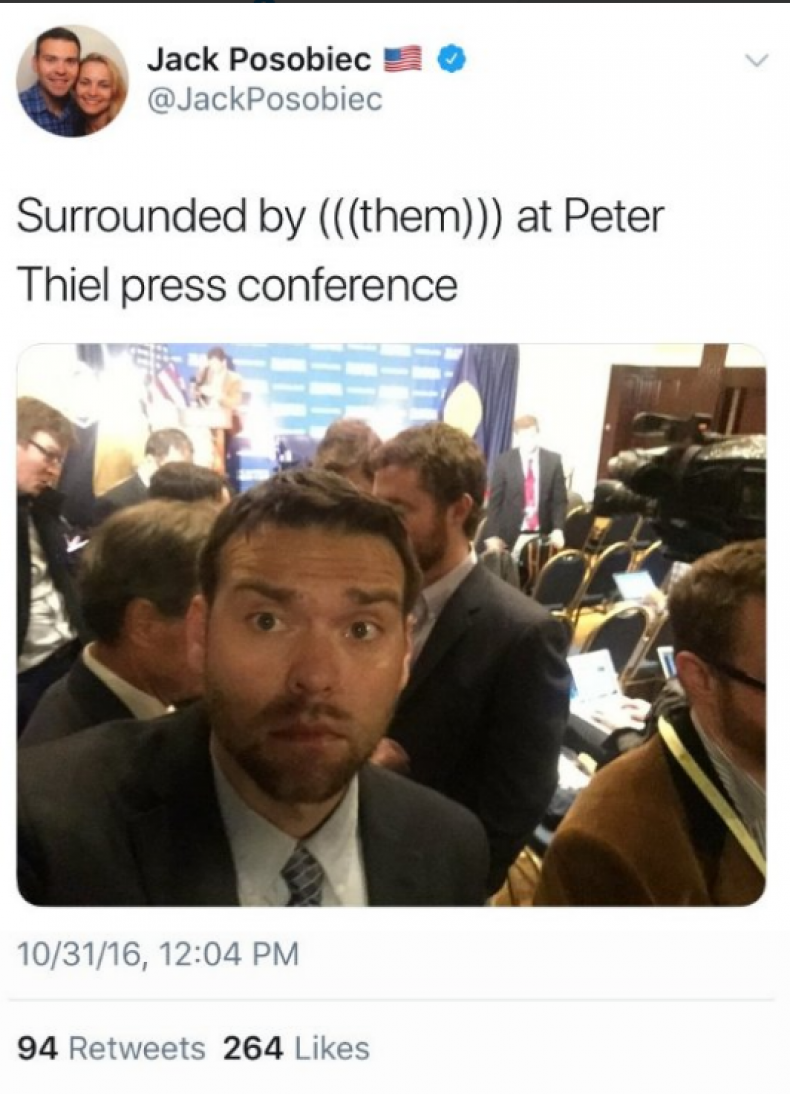 Posobiec, who once openly backed the anti-Semitic elements of the alt-right movement on Twitter but has since—along with a number of other pro-Trump personalities—tried to distance himself from it, is verified on the site, where he maintains an active account. In November, he drew criticism for using the platform to post personal information about one of the women who accused failed Alabama U.S. Senate candidate Roy Moore of sexual misconduct.
Sonny Sinha, a tech policy consultant and former Obama administration staffer, told Newsweek it was unfortunate that the purge had not yet eliminated outright voices of hate but noted that Twitter as a company has "a hard job to do."
"Is there more that could be done? Yes, but that's only because of how hard the problem is. Freedom of speech is hard," he said.
"Right now these conversations are a lot like warfare," Sinha added, referring to the recent polarization of politics and the degree to which people use social media to rile up people of different ideologies.
On the other side of the Twitter account-banning debate are the far-right trolls themselves, who acknowledge that they keep returning to the platform even after being banned. They see it as a free-speech matter, even if the company is privately run. "Microchip," an anonymous "alt-right" user who was banned from the site in 2017, has returned to the site under numerous new accounts, only to get booted over and over again. Newsweek asked the user why he continued to return to Twitter, despite the site repeatedly slamming the door on him.
"Twitter is where all factions of the Right and Left meet head-to-head, giving us a chance to flex our irony posting muscles," the anonymous troll behind the account told Newsweek about the website's appeal to him. "It's a contest for who can ironically shitpost the hardest while interweaving happenings from around the world. There are no rules and the judges are your peers, the audience is the entire world."