White Supremacist Richard B. Spencer's Twitter Account Reinstated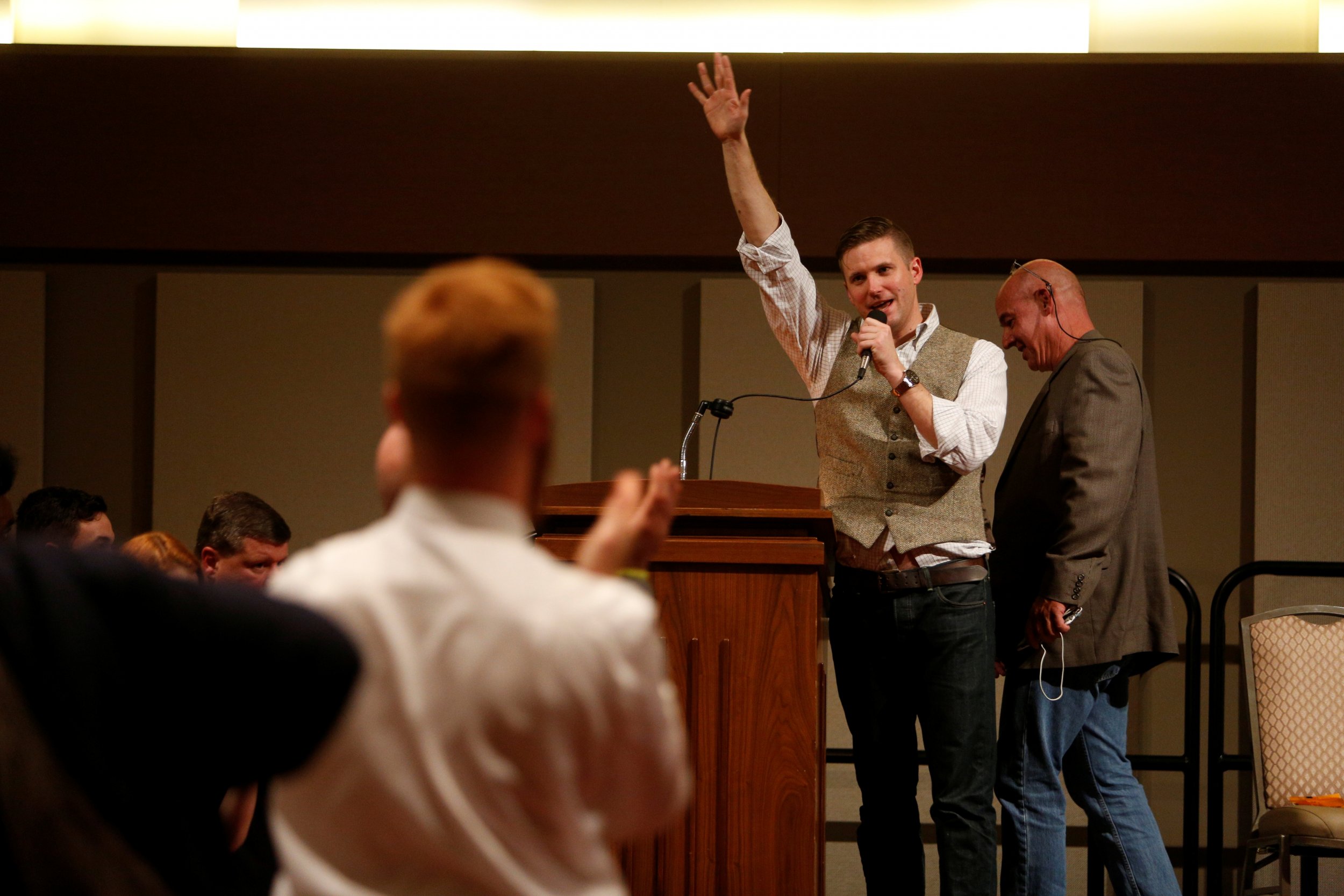 The Twitter account of one of the alt-right's most prominent voices was reinstated and re-verified on Saturday, only weeks after it was banned by the social network.
Richard B. Spencer was one of the public figures responsible for popularizing the term 'alt-right' to describe the white nationalist movement that has quickly become an internet phenomenon in the U.S. and beyond.
The controversial speaker is the current president of the National Policy Institute, an alt-right think tank that drew criticism from the mainstream media after thousands of right-wing nationalists hailed Trump's election victory with Nazi salutes at its annual conference.
Spencer openly advocates for an "ethno-state that would be a gathering point for all Europeans," as quoted in a 2013 Vice interview. He was banned from the EU after having he was deported from Hungary for organizing a white supremacist conference.
Newsweek subscription offers >
The native of Boston, MA, forgoes the deliberately provocative comments of his alt-right peers such as Milo Yiannopoulos in favor of a 'quasi-intellectual' approach to white supremacism; the Southern Law Poverty Center, a civil-rights focused legal advocacy organization, described Spencer as an " academic racist " in their profile of him.
Spencer's personal account was banned by Twitter in November as part of an apparent crackdown on hundreds of prominent alt-right accounts across the site, including those of the National Policy Institute and his policy journal, Radix.
The ban arrived only a few hours after Twitter unveiled a new set of anti-harassment tools that appeared to reinforce the company's commitment to its hateful conduct policy after a U.S. election season characterized by widespread false information and vicious internet trolling.
At the time, Spencer claimed the move was evidence of "corporate Stalinism." He added: "Twitter is trying to airbrush the alt-right out of existence. They're clearly afraid. They will fail!"
Newsweek subscription offers >
However, Vox revealed Sunday that the reason Spencer's account was originally suspended was because he owned too many Twitter accounts—not because of inciting harm against minorities.
A Twitter spokesperson confirmed this finding: "Our rules explicitly prohibit creating multiple accounts with overlapping uses. When we temporarily suspend multiple accounts for this violation, the account owner can designate one account for reinstatement."
Twitter confirmed that Spencer's main account had been verified before the suspension, and was re-verified as it was reinstated. The spokesperson emphasised that "a verified badge does not imply an endorsement by Twitter."
Spencer claimed in a tweet on Saturday that his other alt-right accounts, including NPI and Radix, would be reinstated—but Twitter denied this in a statement to Newsweek .
Twitter has often courted controversy in the past for appearing to prioritize its tolerance of free speech over protecting its users from harassment and abuse. In recent years, the site has acquired a reputation for being a haven for trolls, despite stating in its harassment policy that forbids " non-consensual slurs, epithets, racist and sexist tropes. "
However, right-wing writer Milo Yiannopoulos was permanently banned from the site in July after he led a racist and misogynistic trolling campaign against Ghostbusters actress Leslie Jones.
White Supremacist Richard B. Spencer's Twitter Account Reinstated | U.S.