An American white supremacist has been told to return home from Europe just days before he planned to speak at an "alt-right" conference in Sweden.
Richard Spencer is a figurehead of the so-called alt-right white nationalist movement, and was a speaker at the Charlottesville Unite the Right rally last year at which Heather Heyer was killed when an alt-right supporter crashed their vehicle into counter-protesters.
Spencer had arrived in Poland to enter Europe's free travel zone—the Schengen Area. En route to Sweden to be a "secret guest" for the alt-right conference, Spencer was refused entry into Europe by Polish immigration.
The event was organized by Altright.com. Nordic branch head Christoffer Dulny tweeted the news that Spencer had been sent home. "Very sad news: Richard Spencer who would be our secret guest here at Almedalen has been stopped at a European airport and refused to travel," Dulny tweeted in Swedish. "The global anarchist lives and thrives."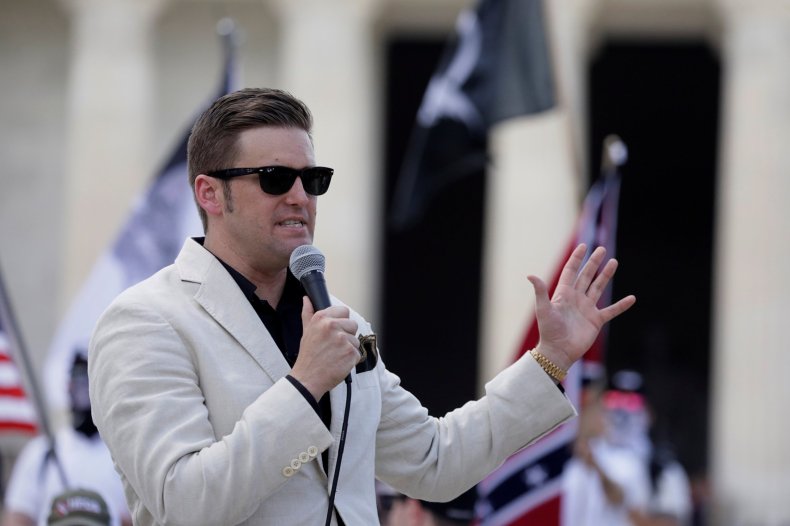 Speaking to Swedish site Fria Tider, Dulny said (via Google Translate) Spencer would have been a feature of the conference, taken part in the debate, "various events" and attended a relaxed cocktail party.
Despite being sent home, Spencer still spoke at the conference via a video call. Dulney tweeted a picture of the screen and wrote: "Our friend Richard Spencer holds an exclusive speech to an audience here in Almedalen via Skype. He has been banished from Europe for several years because his views are judged to be dangerous. Global anarchist."
Spencer responded and said: "Mustache nationalism knows no borders."
This is not the first time Spencer has had trouble with visiting Europe. In 2014, he travelled to Hungary to take part in a conference scheduled by U.S.-based white nationalist group National Policy Institute—which Spencer was president of. The meeting was shut down by Hungarian prime minister Viktor Orban who said he would use "all legal means" to stop the rally, according to Southern Poverty Law Center.
The group decided to hold an informal meeting but police broke up the gathering and arrested Spencer. He was eventually deported.
Similarly, Dulny was banned from travelling to the United States after attending the Unite the Right rally in Charlottesville, according to British anti-racism website Hope Not Hate.
Spencer has endured a tough 2018. He was forced to cancel a nationwide college speaking tour due to poor attendance, according to ThinkProgress. He's also been booted from various crowdfunding websites which he hopes can cover his legal fees in lawsuits that followed from the Unite the Right rally.
He was also mocked on social media for his apparent lack of ability to grow a mustache.
Spencer did not immediately respond to a request for comment.