White Supremacist Richard Spencer Is a Fan of Israel's Nation-State Law
As debate continues over Israel's contentious "nation-state" law passed last week, the legislation has found a surprising supporter among America's white supremacists.
Richard Spencer, one of the more recognizable faces of the so-called alt-right movement in the U.S., tweeted his support for the new bill, Haaretz reported. Critics have branded the law racist and cited it as evidence of Israeli apartheid policies.
"I have great admiration for Israel's nation-state law," Spencer wrote. "Jews are, once again, at the vanguard, rethinking politics and sovereignty for the future, showing a path forward for Europeans," he argued. Spencer was born in Boston, but claims to have mostly English and German ancestry. He believes this makes him a European, though he has previously been stopped from entering the continent.
The passing of the nation-state law last week drew widespread criticism. The law asserted that "the right to national self-determination in Israel is unique to the Jewish people," and supported "the development of Jewish settlement as a national value" that the government will "encourage and promote."
The legislation also relegated Arabic from an official language to one of "special status," codified Jerusalem as Israel's "united" capital and defined the country as the "historic homeland of the Jewish people."
The progressive Israel Democracy Institute think tank said the nation-state law ran contrary to Israel's declaration of independence, in which its founders committed to development "for the benefit of all its inhabitants," establishment of "complete equality of social and political rights to all its inhabitants irrespective of religion, race or sex," and its adherence to "the principles of the Charter of the United Nations."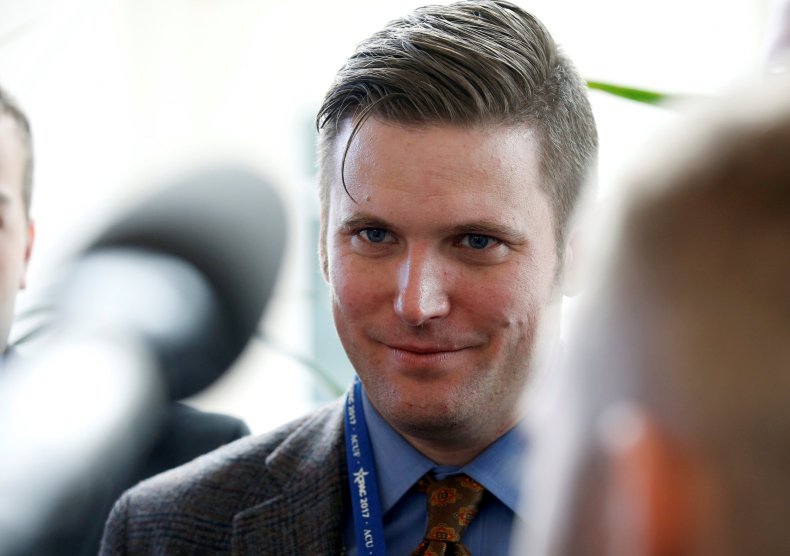 But Spencer says this reading "is simply wrong." He argued, "The liberal media's critique of the nation-state law as 'undemocratic' reveals their own mendaciousness. When they say 'democratic,' they don't actually mean rule by the people; they mean a liberal, multicultural social order."
There are 1.8 million Arabs in Israel—around 20 percent of the country's population. Spencer appears to have dismissed their opinion in the same way as Prime Minister Benjamin Netanyahu, who said, "The majority also has rights and the majority decides." Though Netanyahu promised to protect minority rights, he also proudly stated that the bill will "ensure our state's Jewish character for generations to come."
Spencer claims to be a "white Zionist" and has voiced his support for a Jewish homeland. Last year, he told Israeli news network Channel 2 that he wants to establish a white homeland "just like you [Jews] want a secure homeland in Israel."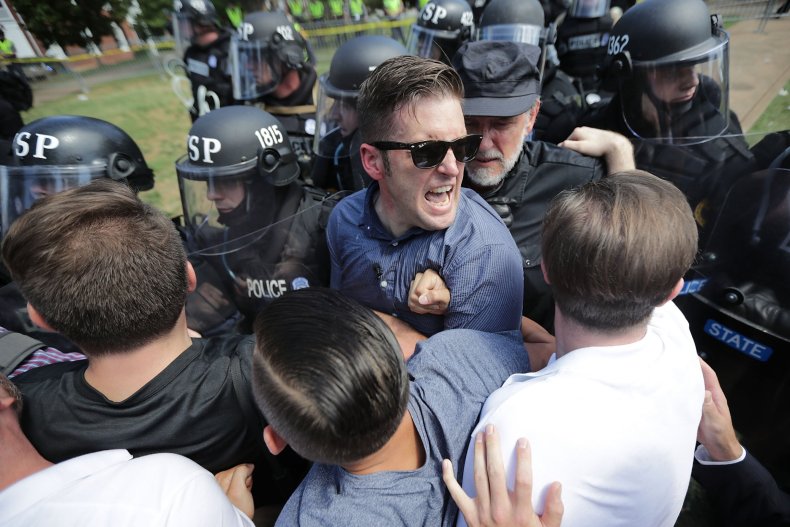 This apparent support for Jews abroad runs contrary to his anti-Semitic behavior in the U.S. At the infamous "Unite the Right" rally in Charlottesville, Virginia, last year, Spencer led his white nationalist comrades in chants of "Jews will not replace us." When questioned about the songs by Channel 2, Spencer said the marchers were referring to Jews in what he called "the establishment." He defined this as as "Ivy League-educated people who really determine policy," in which Jews are "vastly overrepresented." Spencer believes "white people are being dispossessed from this country" by this group.
When President Donald Trump won the 2016 presidential election, Spencer gave a celebratory speech in which he shouted, "Hail Trump. Hail our people," and then, "Hail victory," an English translation of the Nazi "Sieg Heil" salute. Later at the same event, Spencer described the mainstream media as the "Lügenpresse," a German word meaning "lying press" that was extensively used by Nazi propagandists to dismiss unfavorable coverage.