White Supremacist Used 'Swatting' to Target Journalists, People of Color
A 19-year-old man named John William Kirby Kelley faces up to five years in prison after admitting in a federal court that he and members of the white supremacist neo-Nazi group, the Atomwaffen Division, used "swatting" to target journalists, scholars and people of color who had reported on the far-right.
"Swatting" is when perpetrators falsely tell the police that certain people are committing violence with the hopes that SWAT teams will storm their homes and harass or possibly kill them. Perpetrators will sometimes use pre-paid mobile phones, Google Voice phone numbers or caller ID spoofing to hide their identities when calling in their false claims.
Despite it being a federal crime with multiple charges, swatting has resulted in at least one death in Kansas in 2017 and has been used against countless neighbors, activists and celebrities.
Kelly's first use of the technique occurred in late 2018, when he called Old Dominion University—the Norfolk, Virginia school where he was a student—claiming to have hidden pipe bombs around campus simply because he didn't want to attend class. The school began investigating Kelly when his phone number came up on the campus police's caller ID despite his trying to anonymously call in the fake threat, The Washington Post reports.
Kelly and John Cameron Denton, a leader in the Atomwaffen Division, later swatted "a historically Black church in Alexandria, Virginia; the home of then-Homeland Security Secretary Kirstjen Nielsen in the same city; and the New York office of ProPublica, which had reported on Denton and Atomwaffen," the Post reports.
Kelley also maintained a website called Doxbin, which served as a storehouse of information about various "government officials, journalists, executives and celebrities" to consider as targets for swatting.
Kelly and Denton both face up to five years in prison for conspiracy to make interstate threats and will have to repay the police departments who expended resources responding to their threats.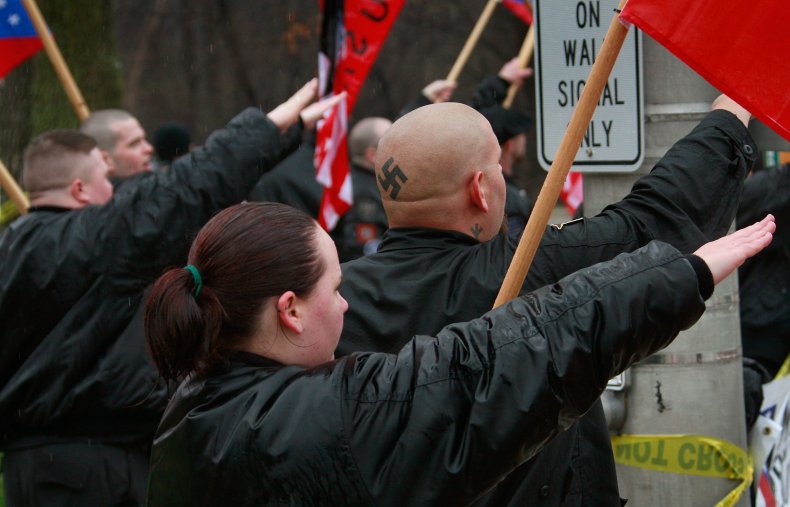 The Atomwaffen Division advocates for the end of multiracial society through acts of mass violence and terrorism by independent cells of white supremacists. The group reportedly has 20 cells around the U.S. and an estimated 80 members full members as well as a larger pool of potential "initiates." Their recruitment videos on YouTube show members firing weapons and setting fire to the U.S. flag and Constitution.
The Southern Poverty Law Center's Lecia Brooks said in a February 2020 Congressional hearing that at least seven Atomwaffen members have military service records that "significantly [increases] the group's potential to carry out deadly attacks."
In January 2018, Atomwaffen member Samuel Woodward, a 20-year-old student at the University of Pennsylvania, murdered Blaze Bernstein, a 19-year-old gay and Jewish sophomore, by stabbing him 20 times and dumping him in a shallow grave. Four U.S. white supremacists with ties to Atomwaffen were arrested in February for plotting to intimidate journalists and activists.
Various Atomwaffen members around the world have also been arrested for illegally possessing firearms and plotting terrorist attacks.