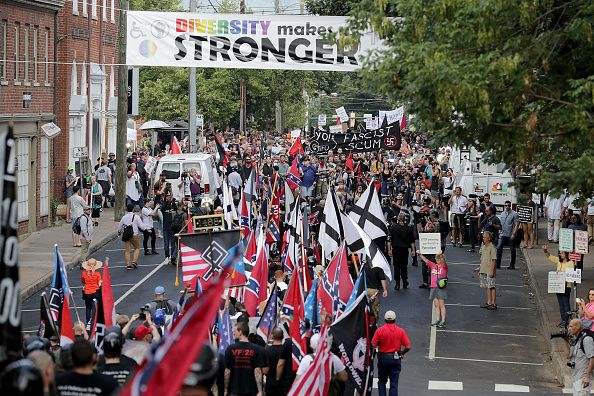 White supremacists who attended the violent Charlottesville rally were chased out of a courthouse this week after being found guilty of failure to disperse from the demonstration.
Counter-protesters charged Nathan Damigo, Evan McLaren and JonPaul Struys as they left Charlottesville General District Court on October 13, chasing them into a parking garage where the three men jumped into a vehicle, C-Ville.com reported.
The group of demonstrators waiting for the three men chanted "F*** white supremacists" and flipped the men off as they ran to their car, before being dispersed by a group of at least 12 police officers, who ordered the protesters out of the Market Street Garage.
The three white supremacists were found guilty of the class one misdemeanor and have been handed fines, but all three are appealing the verdict.
The charges were leveled at the men after Struys and Damigo refused to leave an area of the rally when police requested they do, while McLaren lay on the floor and refused to leave the same area, Emancipation Park.
The violent rally in Charlottesville on August 12 left one counter protester dead after a car plowed into the group she was demonstrating with at high speed, while others were injured in scuffles that broke out as white supremacists clashed with counter-protesters.
The events of the August 12 protest also saw President Donald Trump criticized over his failure to condemn the racism on display in Charlottesville, when in the immediate aftermath of the violence he suggested there was blame "on both sides" and suggested not all people on the white supremacist march were white supremacists.
The president's comments prompted widespread criticism from Democrat and Republican lawmakers alike, with Vermont Senator Bernie Sanders among those who slammed Trump's comments.
In a tweet on August 15, Sanders wrote: "‪@realDonaldTrump‪, you are embarrassing our country and the millions of Americans who fought and died to defeat Nazism.‬"
In a statement following the furor around his initial response, Trump condemned white supremacists, stating he found them "repugnant."