White Supremacists Killed 18 People in 2017, Double the Number From 2016, New Report Finds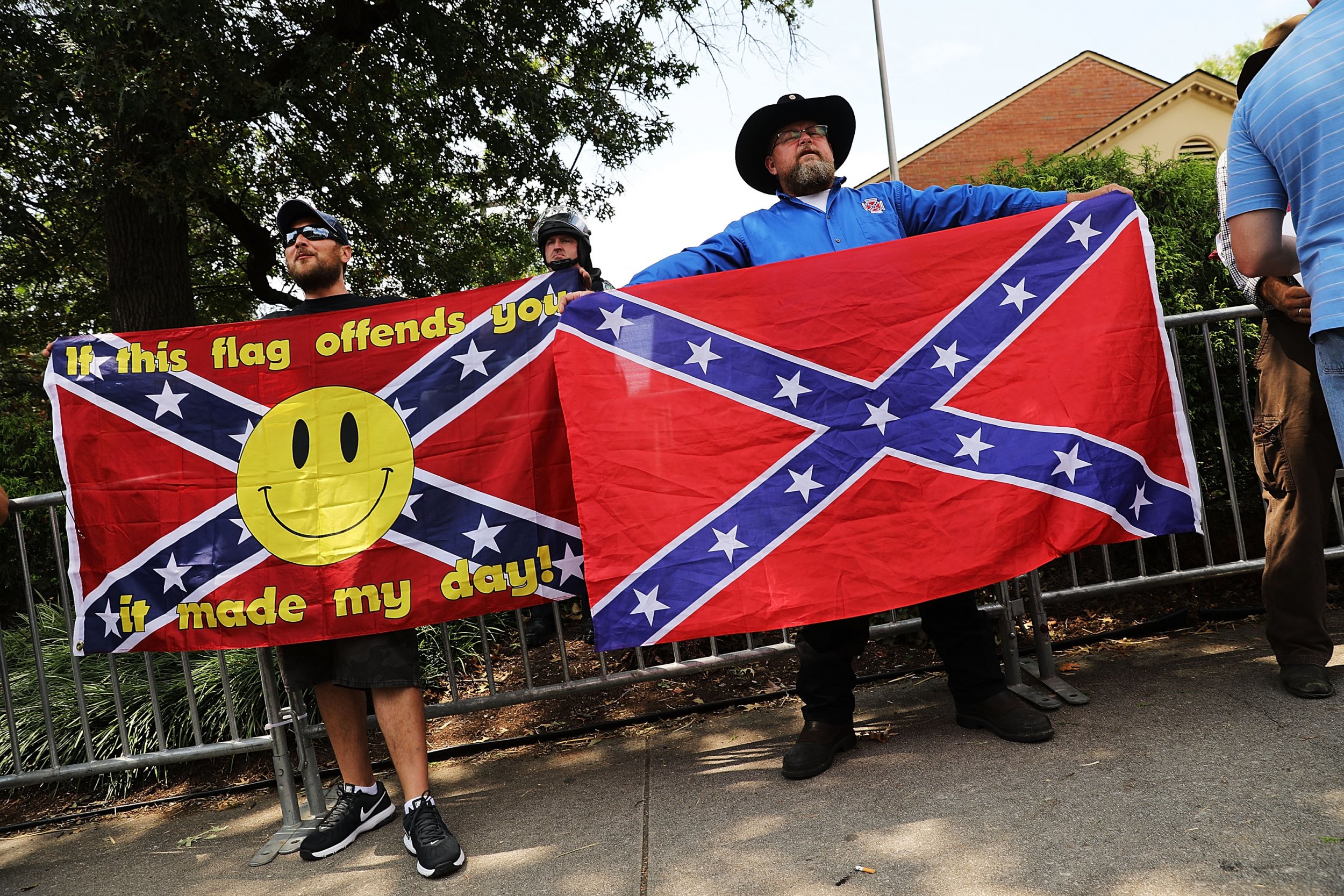 White supremacists not only shed their masks in 2017 but unleashed one of the deadliest years for extremist violence in almost half a century.
Over the past 12 months, white supremacists committed the largest number of domestic-extremist-related killings, helping to make 2017 the fifth-deadliest year for extremist violence since 1970, according to a newly released report from the Anti-Defamation League's Center on Extremism.
The center counted a total of 34 people killed by domestic extremists, of which 18 were killed by white supremacists, more than double the number from the previous year. In the past decade, right-wing extremism made up 71 percent of extremist-related murders, compared with 26 percent of murders by Islamic extremists.
The overall number of deaths attributed to domestic extremists has declined—from 71 people in 2016 and 69 in 2015. The report attributes the fall to a drop in extremist-related mass-shooting sprees, like the one Omar Mateen carried out when he killed 49 people at the Orlando, Florida's Pulse nightclub in 2016.
Even with the decline, the resurgence in white supremacy has politicians raising questions. Democratic Senator Kamala Harris tweeted out Tuesday that she was deeply troubled that the Secretary of Homeland Security Kirstjen Nielsen "failed to mention" domestic attacks during a Tuesday Senate Judiciary Committee hearing on threats to the U.S.
Nielsen was testifying on a new Department of Homeland Security report that studied the number of immigrants taken into custody for "terrorism-related" activities. The report was part of President Donald Trump's executive order to protect the nation from "foreign terrorist entry" to the U.S.
"It is deeply troubling that when talking about threats to our nation, Secretary Nielsen failed to mention a report that talks about some of the most rampant terror attacks that face our nation—domestic acts of terror, including white supremacist extremists," Harris said in a tweet.
Experts say that the emphasis placed by the government on foreign-born extremists, as opposed to domestic-related extremists, is part of a larger problem. The Anti-Defamation League's director of the Center on Extremism, Oren Segal, said the report was a skewed version of terrorism threats in the U.S. by leaving out domestic incidents.
"In a time when the public discussion still tends to focus on foreign terrorist organizations, it is important to remember that white supremacists in particular still very much pose a threat in this country," he said
The Anti-Defamation League report cites several incidents of white supremacist killings in 2017, including a school shooting in Aztec, New Mexico. In December, William Edward Atchison, 21, entered his old high school by pretending to be a student and then killed two students before turning the gun on himself. Atchison posted online in pro-Trump and "alt-right" forums, with usernames including Future Mass Shooter, and ranted about his racist ideology, according to The Daily Beast.
The report found that murders carried out by white supremacists in 2017 had ties to the alt-right, a movement that spread online and led to rallies and protests where supporters share views seen by many as anti-Semitic and racist. The movement entered the mainstream in part thanks to the emergence of Donald Trump. The president's former chief strategist, Steve Bannon, once called Breitbart News, which he ran until recently, "the platform for the alt-right."
Segal said white supremacists are now emboldened, and their recent activity, including holding rallies and using social media to radicalize people, must be taken seriously to "mitigate and protect" Americans from the next attack.
"We just don't have the luxury to ignore any extremist threat in this country," he said.