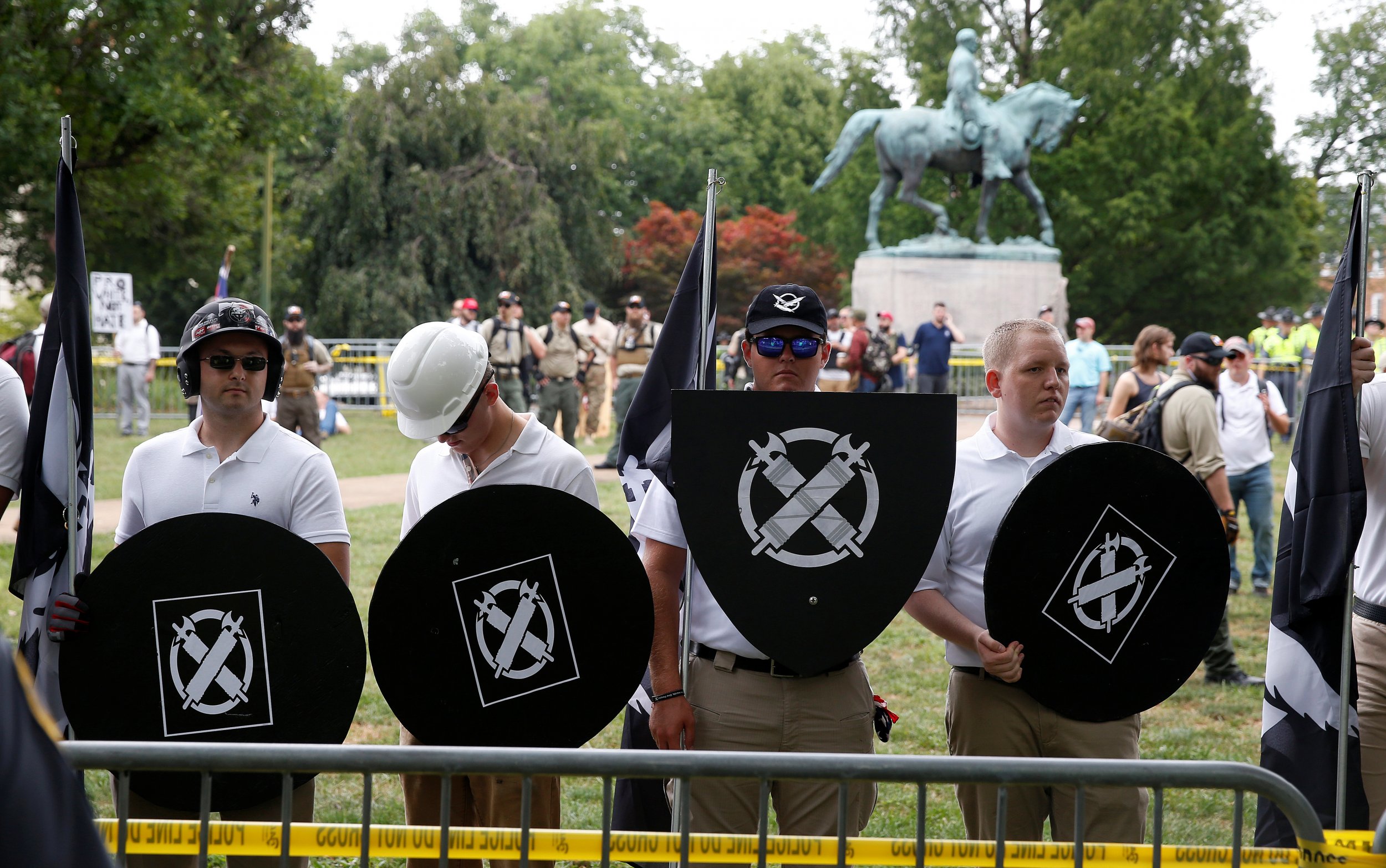 White supremacist groups marked the start of the 2017–18 school year by papering dozens of colleges and universities with hate posters aimed at recruiting young white members. Their latest stop: The University of Houston (UH), where students discovered racist, anti-Semitic propaganda plastered across their campus last week. Flyers reading "Beware the International Jew," "Imagine a Muslim-Free America" and "We Have the Right to Exist" hung on trash bins, newspaper racks, lampposts, walls and paper-towel dispensers. Stickers with images of deconstructed swastikas were strategically placed on flyers for immigrant, LGBTQ and feminist student organizations. Most of the flyers were hung in buildings and areas relating to the arts and humanities.
Students at UH's chapter of the Young Communist League (YCL) believe the white supremacist group Vanguard America was behind the incident, according to a public letter addressed to UH leadership and posted on Facebook last Thursday. "No student at the University of Houston should come to school and be told that they don't belong, that they should be deported, that their life is inferior, that their extermination is imminent," the group wrote. The day before, Michael Leone, chair of YCL at UH, shared pictures of the hate propaganda on Facebook, saying he'd found and ripped down at least 30 flyers.
"We are working to address the inappropriate and possible criminal postings around campus," UH Chief of Police Ceaser Moore Jr. told UH's student-run newspaper, The Daily Cougar. Last spring, racist flyers found on UH's campus were tied to Proud Boys, an alt-right men's group founded by Gavin McInnes, who is known for co-founding Vice (he left the company a decade ago) and was once dubbed "the godfather of hipsterdom."
Mike Rosen, executive director of media relations at UH, says the posters and stickers were all removed, but the school itself only took down propaganda when it was posted in locations where flyering is prohibited by university rules. "We respect the constitutional right to freedom of speech, freedom of expression, regardless of how reprehensible the content may be," Rosen says.
RELATED: White supremacists who attacked Charlottesville are coming back with a vengeance
The incident at UH, one of the most diverse schools in the U.S., is the latest in a wave of white supremacist recruitment activities at colleges and universities around the country. In the first few weeks of the 2017–18 school year, another white supremacist group, Identity Evropa, papered 13 campuses in seven states with racist flyers, according to the ADL. During that same period, Vanguard America hit the University of Utah, Antioch College in Ohio and Weber State University, also in Ohio.
Vanguard America (formerly known as American Vanguard) is a white supremacist organization that shuns multiculturalism and believes America should be an exclusively white nation, according to the Anti-Defamation League. The group's slogan, "blood and soil," is rooted in the Hitler-era idea that people with "white blood" have a special relationship with "American soil." Vanguard America is known for targeting schools as well as Jewish institutions, and is particularly "blatant about anti-Semitism and racism, and for holding neo-Nazi ideology as well," says Marilyn Mayo, senior research fellow at the ADL's Center on Extremism.
RELATED: The plot to paper college campuses with racist posters
Vanguard America helped plan the "Unite the Right" rally last month in Charlottesville, Virginia. James Alex Fields, Jr., the white supremacist who allegedly mowed down a crowd of counterprotesters, killing a 32-year-old woman and injuring at least 19 people, was photographed earlier that day protesting with the racist group. Wearing sunglasses and Vanguard America's signature white-collar shirt, Fields held a black shield with the group's logo on it. Vanguard America quickly denied ties with him. The group is also responsible for hanging an anti-Semitic banner over a Holocaust memorial in front of a synagogue in Lakewood, New Jersey.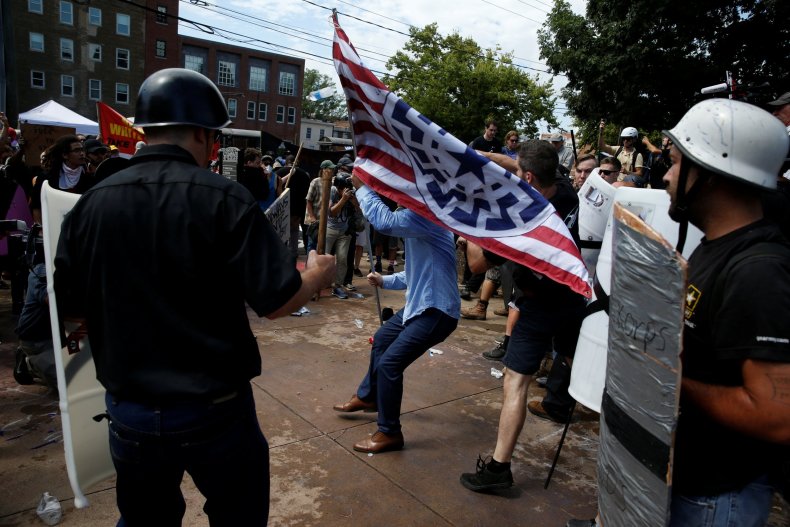 While Vanguard America hasn't taken credit for the UH incident on its website or on Twitter, the one-liners on the flyers are associated with the group. Vanguard America did not respond to a request for comment.
Since September 2016, the ADL has tracked 192 incidents of white supremacist leafleting or other incidents across 131 campuses in 37 states. Vanguard America was behind 36 of those campaigns.
Finding—and tearing down—hate propaganda has not been the first hurdle for UH students this school year. Hurricane Harvey battered the area, forcing the school to shut down for 10 days in late August. Students returned after Labor Day weekend, and about a week later the racist, anti-Semitic posters appeared. "If anything, they've been a distraction—they've come in the aftermath of a catastrophic hurricane, and many in our community are moving forward with their education or their work in the midst of either being flooded out of homes or having cars that are no longer driveable," Rosen says. "We're a community that is even-keeled and diverse and understands that there is hate in the world, but we're a community that's focused on getting an education—and not easily provoked."