Police in Milwaukee took a 64-year-old white woman into custody on Saturday after she spat on a young black man and blocked George Floyd protesters with her car.
A video of the incident shared on Facebook shows a car parked in the middle of North Oakland Avenue, obstructing a demonstration by a group of people marching down the street. The woman can be seen outside the vehicle yelling at protesters to "get away from me," before spitting on a young black man. The Milwaukee Journal Sentinel described the person who was spat upon as a "juvenile."
Protesters surrounding the woman urged her to get back into her car and move it away from the location. "She won't move her car, so we can't go," someone can be heard saying in the recording.
The Shorewood Police Department on Sunday said the woman, identified as attorney Stephanie Rapkin, was taken into custody that evening and charges related to the incident will be referred to the Milwaukee County District Attorney's office, according to local news.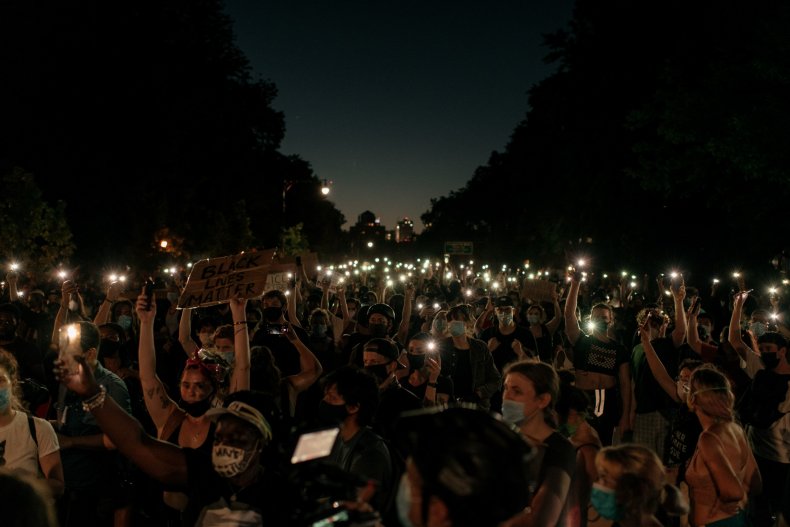 State Representative David Bowen called for the woman to be removed of her attorney licence over the incident, after sharing footage of the incident to Twitter.
State Bar of Wisconsin Executive Director Larry J. Martin on Sunday said the video left him "both disgusted and disturbed," and expressed his view that there's "no justifiable reason for one person to ever spit on another individual."
While Martin noted that he doesn't handle disciplinary actions for licensed attorneys, he referred all complaints to the State of Wisconsin Office of Lawyer Regulation," according to the Journal Sentinel.
Newsweek reached out to the State of Wisconsin Office of Lawyer Regulation for comment. The Shorewood Police Department has also been contacted for additional information. This story will be updated with any response.
Large protests have erupted across America and other parts of the world in recent days, sparked by the death of Floyd, a 46-year-old African American man, in Minneapolis police custody on May 25. All four officers involved in that incident were charged last week. However, their arrests did little to quell the unrest that has rocked Minneapolis and more than 130 other U.S. cities.
Tens of thousands of Black Lives Matter protesters demanding justice and police reform have taken to the streets during the day. The demonstrations have at times descended into violence, looting and vandalism in some areas at night. Numerous videos shared to social media have documented law enforcement responding with tear gas, rubber bullets and violence against some protesters.