White Woman Calls Cops on Black Man Over Parking Space, Uses N-Word: 'You're Stealing From Me'
A white woman in San Bernardino County, California, was captured on video calling a young black man the n-word and calling the police on him because he used a parking space that was reserved for residents in her living complex.
Instagram user Mr. Carter shared the video of the interaction, captioning the clip: "San Bernardino Senior Racist Karen, Shame On The City Of Highland, CA." The incident was first reported by the Towleroad website on Monday.
In the video, the unidentified woman questions why the young man is there, suggesting he was inside "getting a piece of a** or something." He responds by asking her, "Why are you so hostile?"
"You're not supposed to be illegally parking," the woman replies. She insists that she has a "constitutional right to freedom of speech" as she defends her use of the n-word and threatens to report him.
"You're stealing from me," the woman says. "I don't have to leave America to go to Africa. You guys need to leave Africa to come to America," she continues.
Responding, the man filming the video says: "No, you all took us from Africa and brought us here.... You hate Mexicans, but every street out here is named a Latin name. You are all so hateful. Why do you hate so much?"
He continues, "We don't need hatred in the world. There's enough of that going on. You're older. I'm a young man. I probably can't get through to you. But if I can get through to one person, you can maybe get through to 10 people.... It's easier to love."
After a black police officer responds to the woman's complaint, the man filming questions the woman about how that made her feel. He asks if she believes the police officer was an n-word as well.
"Nope," she replies. "That's a hate word. I hate somebody stealing from me."
Newsweek reached out to the San Bernardino County Sheriff's office for comment on the incident, but it did not respond in time for publication.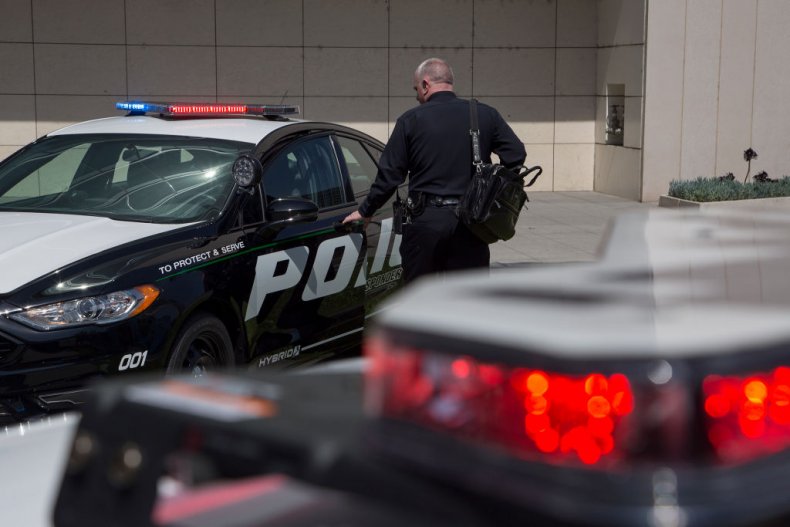 The Instagram user described the white woman as a "Karen," which has become a catchall nickname used to describe racist white women and white women who call the police on people of color for mundane activities such as parking. Numerous videos of white people calling the police on black or brown people for various activities have gone viral over the past couple of years.
Such incidents have drawn greater attention and concern amid widespread nationwide demonstrations against police brutality and systemic racism. The recent wave of protests began after the May 25 death of George Floyd, an unarmed black man who died in police custody in Minneapolis. A video of the incident went viral, showing an officer kneeling on Floyd's neck for nearly nine minutes, despite his pleas and concerns expressed by bystanders.