White Woman Confronts Black Cops at Protest, Says They're Part of Problem
In a viral video, a white woman protesting police violence refers to a group of Black police officers as "part of the problem." The video highlights the practical limitations that Black officers play in resolving racial disparities within the American judicial system.
The video—posted on Twitter by Henry Rodgers, Senior Congressional Correspondent of the conservative website the Daily Caller—features a woman wearing a wildcat print bandana over her face and holding a "Police the police" protest sign.
"Why won't you take off your uniform? Are you afraid of police?" the woman asked the Black officers who do not respond.
A man recording the interaction behind the woman said to her, "You're white and you're telling this to two Black police officers."
"Yeah," she replied.
"You see the problem with that?" the man asked.
"I don't because, you know what, just because I'm white and I haven't experienced racism myself doesn't mean I can't fight for justice," she responded.
Pointing at the Black officers, the woman continued, "They're a part of the system. They're a part of the problem. Just because they're Black doesn't mean they're not a part of the problem. I'm allowed to say this to whoever. Because I'm white, racism is a white person's problem. Racism is my problem. I need to fix it. That's why I'm here talking to all of them: Black, white, f*ckin' brown, purple!"
https://twitter.com/henryrodgersdc/status/1275527981470035969
While a 2018 American Community Survey shows that 15.5 percent of U.S. law enforcement officers are Black, Jennifer Cobbina, associate professor of criminal justice at Michigan State University, told CBS News this week that after 200 interviews with citizens of Ferguson, Missouri and Baltimore, Maryland, she believes the hiring of Black officers alone isn't enough to fix racial disparities in policing.
"Simply hiring more Black officers in and of itself is not going to be effective in reducing police violence, particularly if there is a culture of policing that encourages the aggressive policing of Black and brown people," Cobbina said.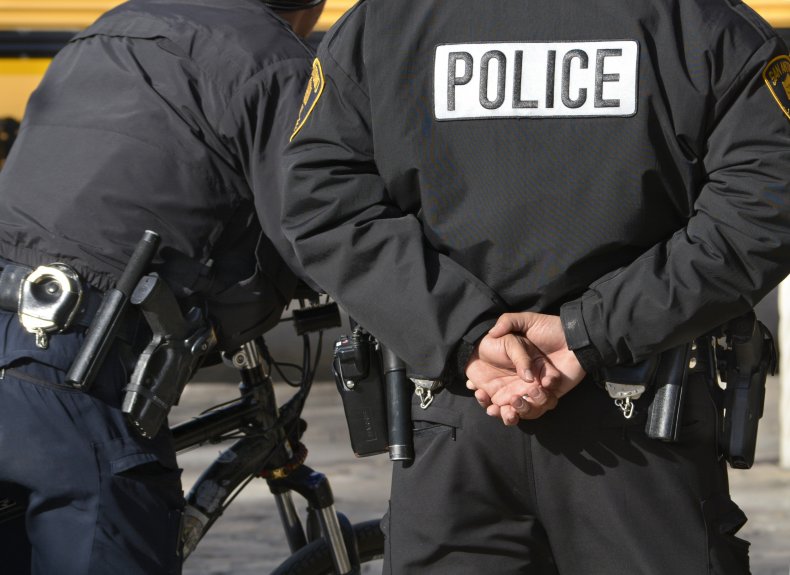 Numerous statistics from the FBI and U.S. Bureau of Justice show that Black Americans are disproportionately more likely than white Americans to be searched, arrested and imprisoned by law enforcement officials.
A 2011 report from the U.S. Bureau of Justice found that during a traffic stop, Black drivers were three times more likely than whites to be searched and twice as likely to be arrested.
A 2016 FBI report found that Black people represent 27 percent of all individuals arrested in the U.S. even though they only make up 13.4 percent of the U.S. population.
A 2018 report by the U.S. Bureau of Justice Statistics said that in 2016, Black adults were nearly six times more likely to be incarcerated than white adults.
In their 2012 book, Divergent Social World: Neighborhood Crime and the Racial-Spatial Divide, sociology professors Lauren Krivo and Ruth D. Peterson wrote that such statistics arise from the fact that Black Americans are more likely than other races to live in areas of concentrated urban poverty.
These areas lack vital resources and economic opportunities, increasing the likelihood for residents to commit certain violent and property crimes. These areas are also more often patrolled by police in search of lower-level criminal violations.
"Adding black people to a police force is a good start, but there is a deeper issue," Derrick Johnson, president and CEO of the NAACP, told the news website Axios. "We need to evaluate the culture of police departments, we need to look at the conduct of problematic police officers, and we need to ensure that training police officers entails de-escalation tactics."
Sonia Pruitt, head of the National Black Police Association, told the publication, "We're not a monolith—a lot of black officers may get drawn into the policing culture in a negative way."