White Woman 'Intentionally' Hit 3 Black Teens With Car, but Not Thought to Be Hate Crime
A Greenville, North Carolina, woman was arrested Sunday evening after sheriff's deputies say she purposely drove her vehicle into a yard and struck three Black teenagers playing basketball.
The Pitt County Sheriff's Office announced Tuesday that one minor was taken to Vidant Medical Center for treatment following an allegedly intentional attempt to run over the child and two others. Daina Renee Forrest, 35, has been charged with three counts of assault with a deadly weapon and felony possession of cocaine, deputies also found a knife and, marijuana cigar "blunts" and crack cocaine. The local sheriff said Forrest had been circling the block in her car, waving the knife out the window and threatening the lives of the young Black kids despite later telling investigators she doesn't believe "it was a race hate crime, no."
According to the Pitt County news release issued Tuesday, Forrest "intentionally veered her car off the roadway and partially into the yard to strike the children."
Deputies who first came to the scene told local WNCT-TV there was damage to the front of Forrest's vehicle which was consistent with striking someone or some object. Despite one teen being taken to the hospital for treatment, deputies said the injuries were likely "minor."
Sgt. Lee Darnell, a sheriff's office spokesman, confirmed to the Associated Press that all three of the teenagers who were playing basketball at the time of the alleged attack were Black. Forrest was identified in booking documents as white but denied that her motive was based upon race. Arresting deputies, however, said it was clear from their questions and investigation at the scene that Forrest had purposely driven her car onto the property in a deliberate attempt to run over the three minors playing basketball.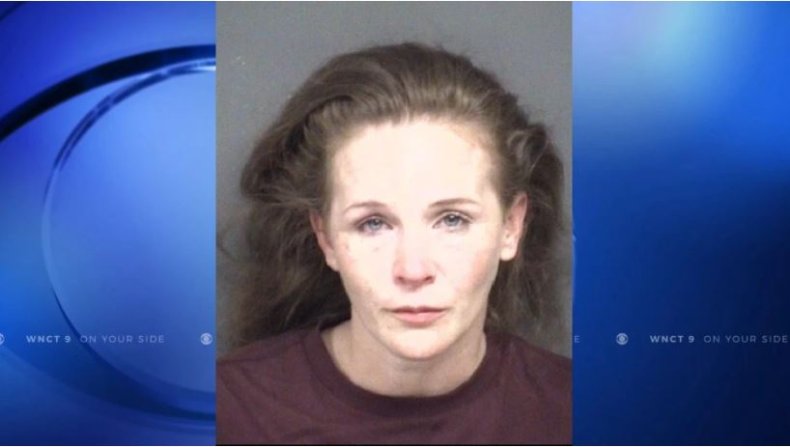 Forrest had also reportedly been driving around in the area prior to the alleged attack on Garris Road in Greenville. Family members of the teenagers have not publicly commented on the Sunday incident and local law enforcement did not state whether any potential hate crime allegations would be added to Forrest's charges.
The incident occurred around 5 p.m. on Sunday, and Forrest was placed under arrest at the scene. She has been booked into Pitt County Detention Center under a $230,000 secured bond and is facing four total charges, including felony possession of cocaine.
Newsweek reached out to the local sheriff's office as well as the Greenville city government for any additional response to Sunday's incident.