White Woman In 'Live United' Shirt Accuses Black Real Estate Photographer of Filming Women
A video circulating social media captured a white woman accusing a Black real estate photographer of filming women with his drone.
The video, posted to the Reddit thread "PublicFreakout" early Friday morning by the user "u/theylied2you," shows the man questioning the woman over her actions.
"You're gonna come out here cussing, saying I'm filming women, really?" the man asks, according to the clip.
The woman replies "Yes!" as their argument continues.
The man tells her that he works for Redfin, a Seattle-based real estate brokerage, and was there to take photos for a house being sold. Several commenters in the Reddit thread also suggested the altercation took place in a Seattle neighborhood.
A spokeswoman for Redfin later clarified in an email to Newsweek that the man is not a Redfin employee. Instead, he works for HD Estates, a photography company that takes footage for real estate companies including Redfin.
Newsweek contacted HD Estates for comment, but did not hear back in time for publication.
"I was hired and working a job, notified the homeowners that I was there and got approval to fly, not to mention I have my FFA Part 107 license to fly drones," a text overlay on the video stated.
The woman asks for the man's name, threatening to "go call Redfin," but he refuses to give it to her in the video.
"You are ridiculous. Go home. Go home Karen," the man tells her, using a popular pejorative term for describing women who are deemed as acting entitled or inappropriately.
The woman does not appreciate being called "Karen," telling the man: "Oh, so filming people with a drone is now a Karen?"
But the man pushes back against this assertion, insisting he was not filming people with his drone like the woman believed.
"Oh, because I'm Black you think I'm just out here filming s***?" the man asks.
"Don't give me that," the woman replies, as the man continues to call her "Karen" and asked her to leave.
The 58-second video abruptly ends with the woman walking to her neighbor's house to ask them about the man, and threatening to call Redfin.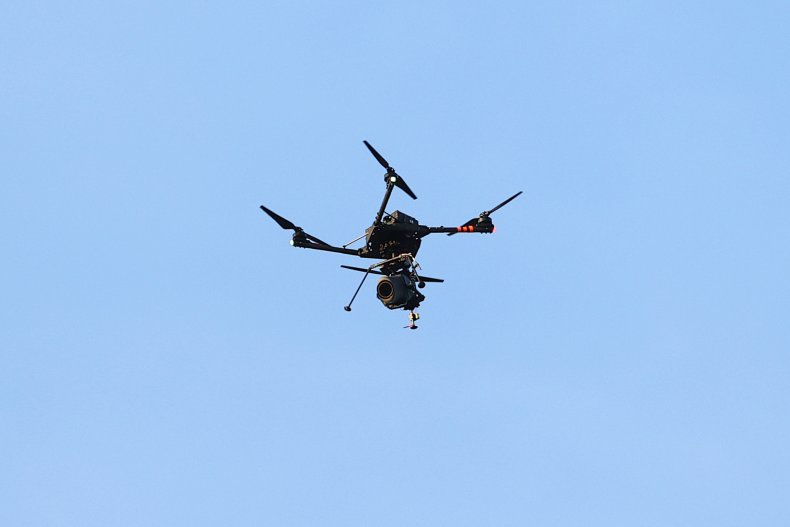 The video showed the woman, whose face was covered by a mask and sunglasses, wearing a white "Live United" T-shirt. The shirts are apparel for the national nonprofit organization United Way Worldwide.
"I was an intern at United Way for a year. And still a volunteer for them," one Reddit user commented in the thread. "She is a disgrace to that amazing organization[.]"
United Way Worldwide has nearly 1,200 local offices throughout the U.S., and focuses on education, income and health issues within communities.
A United Way spokesperson told Newsweek in an email that "Live United T-shirts can be distributed under a variety of circumstances." It is unclear at this point whether the woman in the video is associated with the organization in any way, the spokesperson wrote.
"United Way is clear about its commitment to equity and to the fundamental principle that every person should be treated with dignity and respect," the spokesperson wrote.
Update 4:34 p.m. ET: This article has been updated to include comments from Redfin and United Way.