White Woman Who Called NYPD on Black Man After Central Park Confrontation Made Second Call Alleging Assault, DA Says
Amy Cooper calling the police on Christian Cooper, a Black man who was birdwatching in Central Park, after an altercation over her unleashed dog is only part of the story, according to Manhattan District Attorney Cy Vance Jr.
In May, Amy went viral for calling the police on Christian with claims that she was being threatened. It was widely criticized as being racially motivated, and the backlash resulted in her losing her job. However, what wasn't known at the time was that Amy allegedly called the police a second time to report a Black man trying to assault her in what Vance called "racist criminal conduct."
"Fortunately, no one was injured or killed in the police response to Ms. Cooper's hoax," Vance said. "Our office will pursue a resolution of this case which holds Ms. Cooper accountable while healing our community, restoring justice and deterring others from perpetuating this racist practice."
During the second call, Amy once again told dispatchers that a Black male was threatening her in the park, but she added that he "tried to assault her." When police arrived on the scene, she admitted he didn't try to "assault" or come into contact with her, according to Vance.
Newsweek reached out to the attorney who is listed for representing Amy Cooper for comment but did not receive a response in time for publication.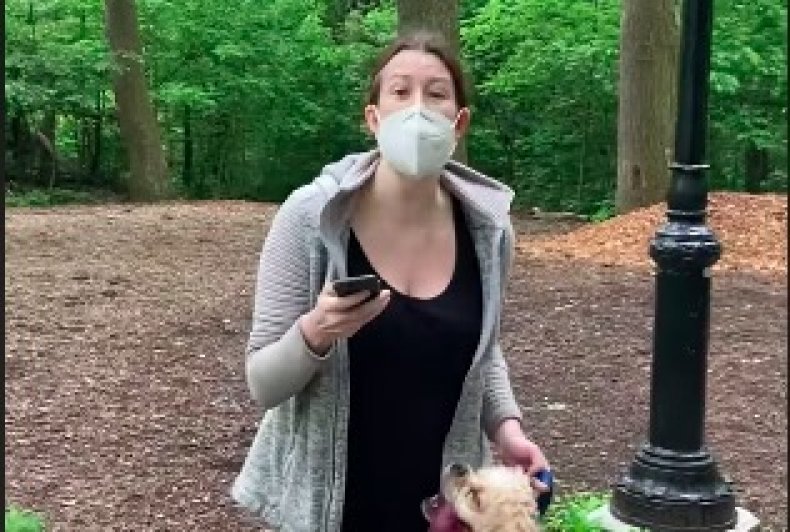 The altercation began when Christian asked Amy to put a leash on her dog in accordance with a rule for the Ramble, a wooded area in Central Park. Christian told CNN at the time that he started recording the incident because he thought it was "important to document things."
"Unfortunately, we live in an era with things like Ahmaud Arbery, where black men are seen as targets. This woman thought she could exploit that to her advantage, and I wasn't having it," he said.
Christian, according to a Facebook post, told Amy if she was going to do whatever she wanted, he was going to as well "but you're not going to like it." The comment, Amy said, was "absolutely terrifying" because she was alone in a wooded area. He was referencing giving the dog treats, which he carries in his pocket because he's found dog owners dislike when a stranger feeds their pet.
"I'm not a racist. I did not mean to harm that man in any way," Amy told CNN in May. "I think I was just scared. When you're alone in the Ramble, you don't know what's happening. It's not excusable, it's not defensible."
On Wednesday, Vance filed charges against Amy for falsely reporting an incident in the third degree. A class A misdemeanor, it carries a penalty of up to one year in jail or three year's probation.