White Woman Yells 'Black Lives Don't F***ing Matter' Outside Vermont State House
A new viral video shows a white woman yelling "Black lives don't f****** matter to me" while attending a rally supporting law enforcement officials outside of the Vermont State House.
As the video begins, a man can be seen wearing a mask and yelling at someone who cannot be seen in the video, but he is shortly interrupted by a white woman, who is not wearing a mask.
"Black lives don't matter at all to me," the woman yells as she walks toward the person filming the video. "White lives matter. You've had everything. Free f****** everything. Blacks have been coddled for years."
The woman continues yelling, "free college, free everything. Your test scores are higher. Everything! Free college, free everything and it's still not enough and never will be. Never will be."
The woman then holds up a sign that appears to say "God Bless Our Police Force," but she is quickly interrupted by another person, who says, "So you're saying you're a white supremacist? That's what I'm hearing."
The woman then responds by saying, "Black lives don't f****** matter to me."
Following, the person who previously interrupted the woman asks, "Can I get your name, please?" before the woman walks away from the person filming the incident.
The incident took place amid a clash between those supporting law enforcement against rally-goers in support of Black Lives Matter. According to VTDigger.org, at around midday on Saturday, July 25, there were about 150 Black Lives Matter protesters and roughly 250 pro-police protesters.
Shortly after both groups arrived outside the Vermont State House steps, arguments and conflicts between the two groups sparked as Black Lives Matter protesters used loud music to overpower the sound of the pro-police rally, according to VTDigger.
"I'm not shocked, because I know Vermont has its really racist undertones," Noel Riby-Williams, who helped organize the Black Lives Matter protest said of the rally, according to VTDigger.org. "And the racism here is probably even scarier than in other places—it's hidden, and you don't know when it's going to come, and it will shock you at any moment."
"I just hope and pray that these people really realize what they're standing for," she added. "By standing for police brutality, you're allowing people to be killed."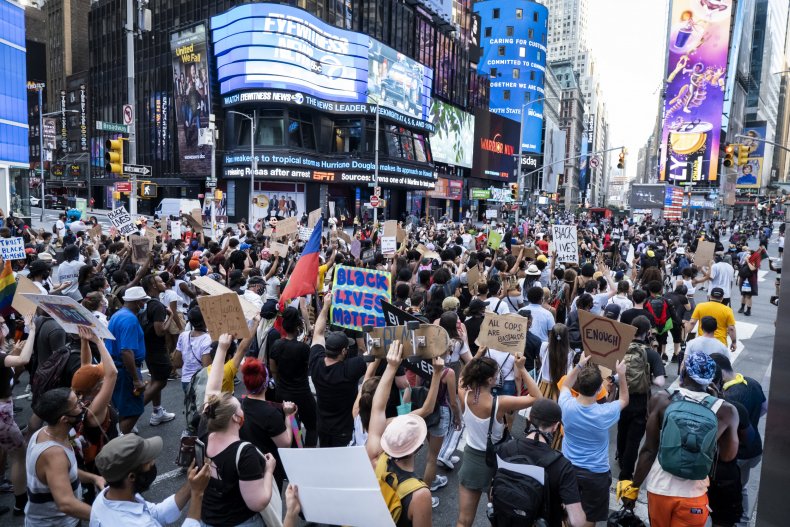 Protests have taken place across the country, following the death of George Floyd, who died in police custody on May 25, after being held down by several Minneapolis Police Officers, including Derek Chauvin, who knelt on Floyd's neck.
Newsweek reached out to the Vermont State House for comment but did not receive a response in time for publication.