Whitman, Fiorina, and McMahon's Self-Financed Flops?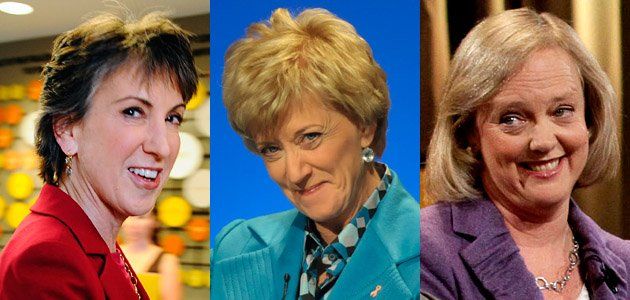 Three women, all rich, self-made, running self-financed campaigns is seen as a sign of progress, and yet it looks like the voters are likely to reject two of them—Linda McMahon in Connecticut and Meg Whitman in California. The third, Carly Fiorina, also in California, is the only one with any chance of winning, and even that is uncertain.
Why aren't the voters warming to these businesswomen—these Republican outsiders who are supposed to have the edge? And would the results be any different if they were men? Not necessarily, since self-financed male candidates lose more races than they win. The ability to spend big doesn't guarantee success, and in California, it's almost a jinx considering how many have bombed at the ballot box after spending millions.
If there's a gender bias, it's in the political baggage these women bring, baggage that might have been lighter if it were carried by a man. It was a big upset when Linda McMahon won the primary over the favored Republican candidate for the U.S. Senate, a Vietnam vet and member of Congress. As the former CEO of WWE (World Wrestling Entertainment), which her husband now heads, McMahon had to overcome assumptions about her character based on the unorthodox business that she once ran.
"I grew up in Connecticut, and it's a very straitlaced place," says Linda Fowler, a government professor at Dartmouth. "I can't imagine people pulling the lever for someone who has a boat that's named Sexy Bitch."
People are not against self-financed candidates, and some buy the argument that rich politicians can't be bought, so they're a better bet. But the problem Meg Whitman is having in the California governor's race is the sheer volume of her money she's spent—$162 million at last count—which has set the terms of the debate. "There's a sense if you have to spend that much money, maybe there's a problem with you," says Sherry Bebitch Jeffe, a senior fellow at the School of Policy, Planning, and Development at the University of Southern California.
Whitman may claim the mantle of most dollars spent for fewest votes, but money couldn't save her from the uproar when her former housekeeper went before the cameras in tears to recount how she'd been fired. [[link]]Californians have a love-hate relationship with illegal immigrants, and Whitman's treatment of the Mexican woman who'd been in her employ for nine years came across as both hypocritical, given her tough talk about cracking down on illegal immigration, and unduly harsh. "It feeds into a sense people have developed about her that she comes from a different place and doesn't know how to connect with them," says Fowler.
That impression, dangerous for any politician and deadly for a woman, was further reinforced when Whitman bungled a challenge from Matt Lauer on the Today show to take down her negative ads during the final days of the campaign. Her opponent, Jerry Brown, there on the set with her, jumped at the chance, saying that if she agreed, he would immediately comply. She refused, a forced smile on her face as a smattering of boos could be heard from the studio audience. In fairness, Brown would be giving up nothing since he's opened up a lead in the polls, and as the challenger she'd be disarming herself. But the way Whitman responded with a cool disdain underscored her lack of political skills, and her sense of entitlement as a businesswoman accustomed to telling people what to do, not bowing to the wishes of others.
People who have been successful in business don't think they should have to pay their dues in politics, but knowing how to talk to voters and make them feel important is a learned skill. Women are supposed to be better at building consensus, so the expectations are higher for them to connect on the campaign trail.
Former Hewlett-Packard CEO Carly Fiorina is in a competitive race with three-term Senator Barbara Boxer, and that's a feat in itself. But her record at HP—laying off 30,000 workers and sending jobs to China and India—muddies her claim that once dispatched to Washington, she can save the economy. "She still is having trouble talking about issues in a way that doesn't sound patronizing," says Fowler, who recalls Fiorina's rocky stint as an economic adviser to John Mc Cain in the '08 election. "They had to shut her down because she didn't know how to talk about issues in a way that reached people, and she made a lot of gaffes."
To win, Fiorina needs to do better with women, but she got pulled to the right in the primary, aligning herself with Sarah Palin, who anointed her one of the Mama Grizzlies. In California, solidarity with Palin is a plus in a Republican primary but not in the general election. The initial assumption was that Fiorina would be a stronger candidate against Boxer because she's a woman, but now it looks like issues related to her pro-life stance in a pro-choice state like California could cut against her more because she's a woman.
Eleanor Clift is also the author of Two Weeks of Life: A Memoir of Love, Death, and Politics and Founding Sisters and the Nineteenth Amendment