Whitman Unable to Benefit From 'Whore' Comment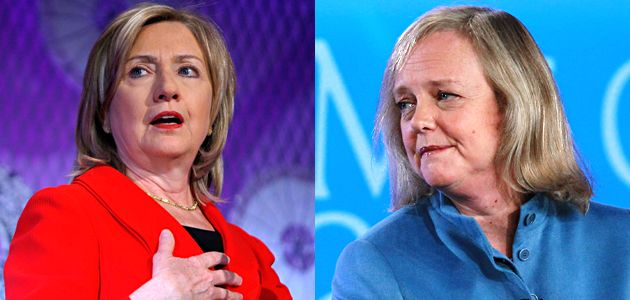 It used to be that you couldn't attack a female candidate without helping her. Barack Obama's comment during a debate that Hillary Clinton was "likable enough" helped cost him the New Hampshire primary. The power of gender as a deterrent to political attack (and off-the-cuff remarks) is being tested, so far to no advantage, in this election cycle as California gubernatorial candidate Meg Whitman tries to rally women voters after the word "whore" was applied to her by the camp of her rival, democratic gubernatorial candidate Jerry Brown.
Clinton, in fact, has benefited from the gender dynamic in politics throughout her political career. Her approval ratings soared after the Monica Lewinsky scandal broke, providing a solid base from which to mount a run for the Senate. She then won the seat handily after her opponent crossed the stage and invaded her space during a debate. (This is not only a female thing; Al Gore did it with George W. Bush in 2000 and was roundly criticized.)
The Whitman "whore" story broke after the California Democrat was caught on tape chatting with aides about the possibility of referring to Meg Whitman as a "whore" because of her willingness to cut a deal on law-enforcement pensions. It prompted a discussion on MSNBC's Morning Joe with co-host Joe Scarborough, a former GOP congressman, recounting how hard it is to run against a woman. He recalled a debate where his female opponent attacked him so aggressively that the audience booed her, making him believe he had scored a great success. But the headlines the next day accused his supporters of booing her, and whatever debate success he scored boomeranged. He recalled how super-careful he had to be from then on to stay on the "non-whore side of the line" in attacking his opponent.
Whitman jumped on the affront, saying she was standing up for the women of California. But so far it doesn't appear to be the game changer she needs to break away in the polls. Perhaps it's difficult to seem vulnerable and sympathetic if you're a hardnosed CEO who's spent $120 million of your own money during the campaign. Whitman did get one good thing out of it, though: the flap overtook the story about her disgruntled former nanny, and whether she was aware that her employee was undocumented.
The uproar obscures the pension-reform issue where Whitman talks a good game about reducing government largesse but apparently cut a deal to get an endorsement from the Los Angeles Police Protective League, which prompted the use of the derogatory word by a Brown aide in a private staff meeting. Subsequent reporting shows that the aide was a woman, which puts a somewhat different spin on the story. Brown had lobbied for the endorsement and when he hung up the phone, the union official's answering machine continued to record Brown and his staffers discussing the issue in what Brown called "salty language" in the apology he later issued to Whitman.
Meanwhile, in Virginia, a 29-year-old congressional candidate with the improbable name of Krystal Ball (named by her physicist father), is hoping the word can give her own race a lift. She's fighting to uphold her reputation after risqué photos of her with her ex-husband at a costume ball seven years ago were posted on a right-wing blog. She said in a lengthy statement released on Monday that she believed they were not designed just to embarrass her, but to make her seem like a prostitute. "The tactic of making female politicians into whores is nothing new. In fact, it happened to Meg Whitman, one of the world's most accomplished businesswomen, just last week. It's part of this whole idea that female sexuality and serious work are incompatible." She went on to say that society will have to accept that women of her generation have sexual lives that are going to leak into the public sphere, and that reality has to be faced or many young women will be disqualified.
With three weeks to go until Election Day, it doesn't look like anybody is holding back. The question is how deft women candidates are at turning gender-specific attacks to their advantage, and whether the voters will respond sympathetically as they have in the past. Ball bills herself as the first female candidate of the Facebook generation, and in our no-holds-barred culture, very little is out of bounds.