Twitter Users Are Not Pleased After Whitney Houston Hologram Tour Announced: 'Arrest Anyone Who Attends This'
A tour featuring a hologram of the late Whitney Houston is set for January 2020, and fans are none too pleased with the concert series. Dates for the tour, launched by Base Hologram in partnership with Houston's estate, were announced on Tuesday and sparked immediate outrage on social media.
People weren't shy about withholding their disdain over the tour and disgust with anyone who may have been interested in attending the hologram concert.
"Arrest anyone who attends this," Ira Madison II, host of the Keep It podcast and a TV writer, wrote on Twitter.
Some fans thought it was downright unethical for the music industry to continue to profit off of a performance from the legendary singer so many years after her death.
"I hope no one attends this. The same industry that sent Whitney Houston spiraling and profited is now trying to profit from her still in death. Let her rest, you can't control her anymore," one Twitter user wrote.
Others blamed capitalism for the unapologetic greed within the entertainment industry that inspired the further exploration of the singer's image and voice while some expressed disappointment in Pat Houston, Whitney Houston's mother and former manager, for even agreeing to the tour.
"Capitalism will recreate your likeness and project it in front of millions, so it may posthumously profit off you for eternity. there are truly no limits to its ethical depravity. nothing is sacred. Rest in peace Whitney Houston," wrote another.
Some fans were simply creeped out by the idea of watching a hologram in Houston's likeness perform a full-length concert. "Is there anything more creepy or disgusting than a 'hologram' tour for a dead artist? Can't believe they're cashing in on one for #WhitneyHouston," wrote one Twitter user.
Dubbed An Evening With Whitney, the international tour is slated to kick off in Mexico on January 23 It will also touch down in England, Scotland, Ireland, Wales, Belgium, the Netherlands, Switzerland, Germany, Austria, Slovakia, Denmark, Norway, Sweden, Russia and Ukraine before it wraps with a show in Minsk, Belarus on April 3.
No North American tour dates have been released, as of yet. However, tentative shows are planned for sometime in fall 2020.
Tickets for the international dates are expected to go on sale on Friday.
The tour is slated to be a "celebration" of Whitney Houston's best work, BASE Hologram Chairman and CEO Brian Becker said in a statement released Tuesday. The hologram — accompanied by a live band and background dancers — will include many of Whitney Houston's greatest hits like "I Will Always Love You," "The Greatest Love of All," among others.
Despite the online criticism over the tour, Pat Houston said in a statement the show aims to recreate her daughter's "wow factor" for fans to enjoy once again.
"Whitney is not with us, but her music will live with us forever," Pat Houston said. "We know we made the right decision partnering with BASE because they understand how important it is to produce a phenomenal hologram. They also know that engaging her fans with an authentic Whitney experience would resonate worldwide because of the iconic status that she created over three decades. Her fans deserve nothing less because she gave nothing less than her best."
Whitney Houston died at the Beverly Hilton Hotel in Los Angeles on February 11, 2012. The L.A. County Coroner's office said her death was caused by "drowning and effects of atherosclerotic heart disease and cocaine use." She was 48 years old.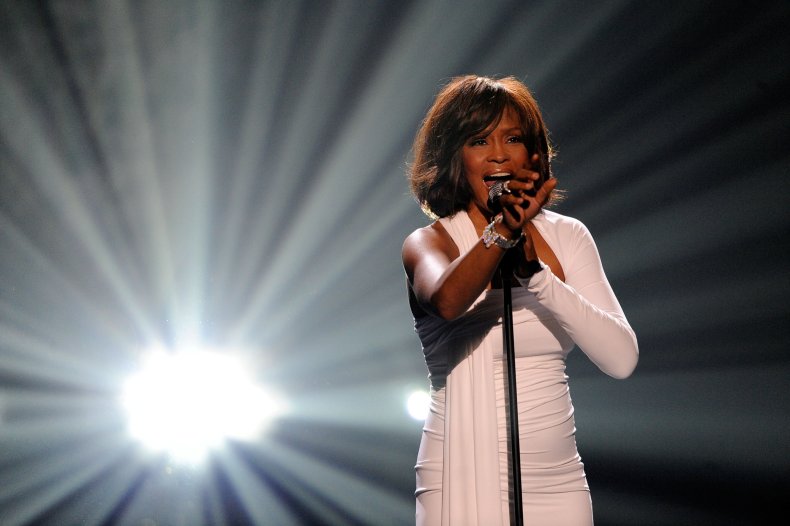 See more reactions to the Whitney Hologram tour below.