The 2018 State of the Union Guests Include DACA Recipients, Sexual Assault Survivors And San Juan Mayor Carmen Yulin Cruz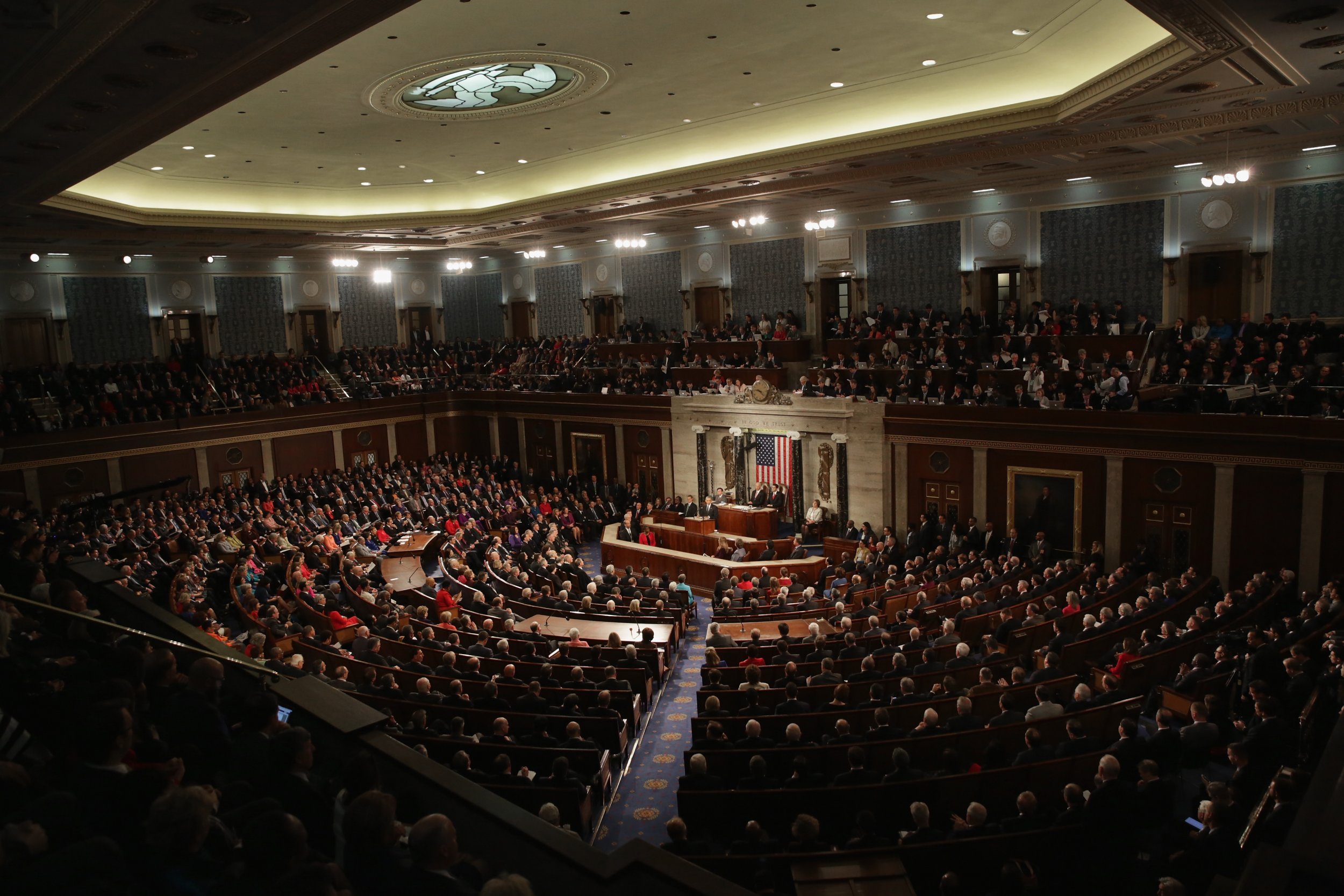 Updated | The White House announced on Monday that first lady Melania Trump would watch her husband's first State of the Union address on Tuesday night with a special agent for Immigration and Customs Enforcement who has arrested more than 100 MS-13 gang members; a blind double amputee who re-enlisted in the military, and a police officer who adopted a baby born to an opiod-addicted mom. In other words, guests who support her husband's agenda.
Meanwhile, Democrats—and a few Republicans—are using their plus-ones at this year's address to symbolically criticize President Donald Trump on issues such as immigration, sexual assault and his proposed transgender military ban. Here's the current guest list:
Carmen Yulín Cruz
Senator Kirsten Gillibrand (D-N.Y.) will sit with Cruz, the mayor of San Juan, whom Trump attacked in a series of tweets after she criticized the White House's response to Hurricane Maria last year.
"I hope Mayor Cruz's presence at #SOTU will remind the president and my colleagues in Congress of our urgent responsibility to help Puerto Rico fully recover and rebuild," Gillibrand tweeted on Monday. "Our fellow citizens must not be forgotten or left behind."
Chessy Prout
Prout outed herself as the victim at the center of the St. Paul's sexual assault case after her assailant Owen Labrie was found guilty of sexually assaulting her at the New Hampshire private school. Prout will accompany Representative Ann McLane Kuster (D-N.H.).
"The conversation about sexual harassment and assault in our nation is long overdue but through the efforts of Chessy and the #MeToo movement it is finally gaining steam," Kuster, a co-sponsor on one of the "Me Too" bills on Capitol Hill and a sexual assault survivor herself, told the Concord Patch. "This is an issue that is deeply personal to me and I'm excited to host Chessy to signal that this national movement will continue to grow and succeed."
Rose Gunter
Gunter is the niece of Recy Taylor, who was abducted by six white men and gang-raped in 1944 while walking home from church. Taylor died earlier this month at 97. Oprah Winfrey honored Taylor's memory in her speech at this year's Golden Globe Awards, which partly dealt with Hollywood's Time's Up initiative. "She lived as we all have lived too many years in a culture broken by brutally powerful men," Winfrey said of Taylor. "For too long, women have not been heard or believed if they dare speak the truth to the power of those men. But their time is up."
Gunter will accompany Representative Bonnie Watson Coleman (D-N.J.).
Patricia King
King, a transgender soldier who's been deployed to Afghanistan three times, will accompany Representative Joe Kennedy III (D-Mass.). King and Kennedy oppose Trump's ban on transgender people serving in the United States military, which is currently facing legal challenges in federal district court.
"Every one of us who raises our right hand is prepared to give everything in the defense of our country," King told the Boston Globe.
Fatima Goss Graves
Representative Jackie Speier (D-Calif.) will bring Graves, the president and CEO of the National Women's Law Center, which manages the Time's Up initiative's legal defense fund to help women take legal action against perpetrators of sexual misconduct. Graves and her organization's mission aligns closely with Speier's advocacy in Congress, where she's co-sponsored legislation in the House to make sexual harassment training mandatory for all members of Congress and their staff.
Bill Nye
Nye will accompany a Republican Representative Jim Bridenstine (R-Okla.), who was climate change skeptic until November, when he was was nominated to head NASA, and told senators that he believed "humanity is the primary culprit in climate change."
"He's changed his mind, and in science that's generally a good thing," Nye told Quartz on Saturday. "I am hopeful that others will see the wisdom in the Congressman's evolving view and follow suit."
Dreamers
Many Democrats will highlight the plight of DACA recipients by inviting them to attend the State of the Union:
Cesar Montelongo, a student enrolled in Loyola University's MD-PhD program, will accompany Senator Dick Durbin (D-Ill.)
Hugo Alexander Acosta Mazariego will accompany Representative Nita Lowey (D-N.Y.)
Adrian Escarate will accompany Representative Carlos Curbelo (R-Fla.)
Aldo Solano will attend the State of the Union in the place of Representative Earl Blumenauer (D-Ore.), who's boycotting the address.
Nicolle Uria will accompany Representative Gerry Connolly (D-Va.)
Jung Bin Cho will accompany Representative Judy Chu (D-Calif.)
Diego de la Vega will accompany Representative Carolyn B. Maloney (D-N.Y.), for whom he interns.
Leonardo Reyes will accompany Senator Jeff Merkley (D-Ore.).
Ana Campa Castillo will accompany Representative Bill Foster (D-Ill.)
Leo Salinas Chacón will accompany Representative John Yarmuth (D-Ky.)
Denea Joseph will accompany Senator Kamala Harris (D-Calif.)
Others
Marco Chavez, a former Marine who recently regained his residency status in the United States after being deported to Mexico for a minor offense 15 years ago, will accompany Representative Nanette Diaz Barragán (D-Calif.).
Cindy Garcia, whose husband was deported earlier this month after spending nearly 30 years in the U.S. raising his family in Michigan, will accompany Representative Debbie Dingell (D-Mich.).
Bennet Omalu, the Nigerian immigrant doctor who was the first to discover Chronic Traumatic Encephalopathy, a brain disease common among athletes, will accompany Representative Ami Bera (D-Calif.).
Nery Martinez, a Temporary Protected Status recipient, will accompany Representative Jacky Rosen (D-Nev.)
Brandon Judd, the president of the National Border Patrol Council, will be the guest of Senator Jon Tester (D-Mont.).
Edenilson Granados, a Temporary Protected Status recipient, will attend with Representative Seth Moulton (D-Mass.).
Viviana Andazola Marquez, whose father was detained and deported by immigration officials last year after he appeared at ICE offices for a green card appointment, will attend with Representative Ed Perlmutter (D-Colo.).
Amy Gottlieb, whose husband Ravi Ragbir was detained earlier this month during a routine immigration check-in, will attend with Representative Nydia Velazquez (D-N.Y.).
Shelly Elkington, whose daughter died from opioid addiction, will attend with Senator Amy Klobuchar (D-Minn.).
Travis Moore, an advocate for sexual abuse survivors, will attend with Representative Jackie Speier (D-Calif.)
Laura Germino, co-founder of the Coalition of Imokalee Workers, an organization that combats modern-day slavery in the farming industry, will be the guest of Rep. Lois Frankel (D-Fla.).
Peter Rosenberger, whose family has struggled with health care, will accompany Representative Marsha Blackburn (R-Tenn.).
Erin Walton, executive director of Rape Victims Advocates, will accompany Representative Mike Quigley (D-Ill.).
Anny Gonzalez, an immigrant from the Dominican Republic who's experienced workplace harassment while cleaning planes, will accompany Representative Katherine Clark (D-Mass.).
Patricia Teffenhart, the executive director of the New Jersey Coalition Against Sexual Assault, will attend with Senator Bob Menendez (D-N.J.).
Lakesha Cole, the spouse of Gunnery Sgt. Deonte Cole, will accompany Senator Tim Kaine (D-Va.).
Sunayana Dumala, whose husband Srinivas Kuchibhotla was killed in a racially motivated shooting last year in Olathe, Kansas, will accompany Representative Kevin Yoder (R-Kansas).
Correction: An earlier version of this story listed a second guest for Representative Lois Frankel.