Who Is 409 Beadnose? Female Bear Named 'Empress of Lard' in Alaska Fattest Bear Contest
Alaska has awarded the prestigious title of "fattest bear on the Brooks River" to a brown bear called "409 Beadnose."
Fat Bear Week, which ran from October 3 to 9, saw Facebook users vote for the biggest bear in Katmai National Park & Preserve. 409 Beadnose—which has been monitored since 1999—has been given affectionate nicknames including "huge blimp," "adorable chunk" and "empress of lard."
409 Beadnose managed to beat out the other finalist—known simply as "747"—in the final polling on Tuesday. Some of the other bears that 409 Beadnose defeated include "151 Walker," "480 Otis" and "854 Divot."
It was announced on Wednesday that 409 Beadnose was the champion. "Ladies and gentlemen, sows and boars, the Fattest Bear of 2018 is… 409 Beadnose," Katmai National Park & Preserve announced on its Facebook page.

"Bears must eat one year's worth of food in six short months to survive hibernation, and 409 has excelled at that. Her radiant rolls were deemed by the voting public to be this year's most fabulous flab. Our chubby champ has a few more weeks to chow down on lingering salmon carcasses before she heads up the mountains to dig herself a den and savor her victory."
So what's her prize? "Stronger chances of living through the winter," Katmai National Park & Preserve reported.
Like any major sporting result, there were some controversies. One user wrote on the Facebook post that 747 was disadvantaged. "There's no faulting Beadnose for her thunderously thick presentaion, but my main man 747 was handicapped by having a photo that was an entire month older than hers," the person wrote. "747 is a genuine belly-dragger."
According to ABC News, rumors are circulating that 409 Beadnose was actually pregnant during the competition. In the official Katmai National Park guidebook, it was confirmed that Beadnose has had four litters since 1999. It is not confirmed if she was pregnant during this week.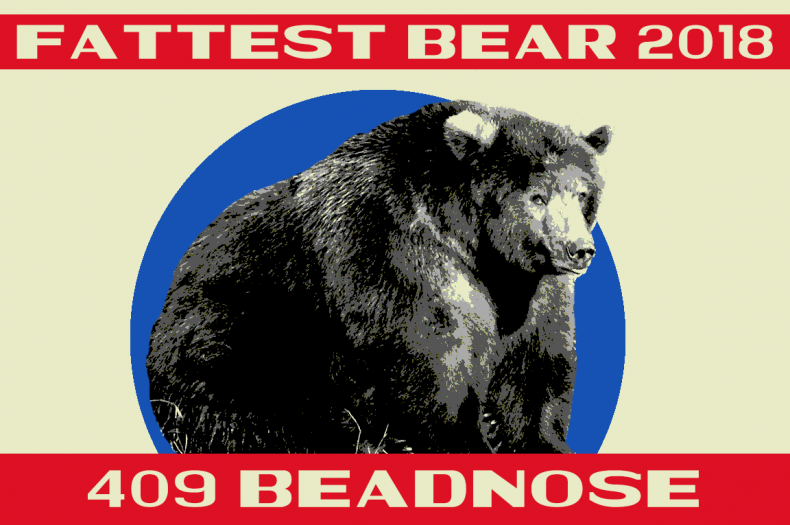 Debate aside, 409 Beadnose is champ, and congratulations have been rolling in. "Yes girl," one person wrote. "A year's worth of food in six months, you really are my spirit animal."
"Congrats to the cutest and chubbiest bear ever," another person said. "This was the best contest, I loved it. I hope all the bears make it safely through the winter. I'm going to miss them."
This article was updated to remove a duplicate paragraph.