Who Is Aaron Schlossberg? Lawyer Ranting at Spanish Speakers in Viral Video Could Lose Legal License
The lawyer who was captured on video threatening to call Immigration and Customs Enforcement (ICE) on staff at New York deli Fresh Kitchen because they were speaking Spanish has had a formal complaint filed against him with the state court disciplinary committee, which could result in his license being revoked.
After a video of Aaron Schlossberg went viral earlier this week, Rep. Adriano Espaillat and Bronx Borough President Ruben Diaz Jr. jointly filed acomplaint in a letter on Thursday, alleging that Schlossberg's "vile" actions must be "rejected."
"What was witnessed in the vile video from Mr. Schlossberg, which has since gone viral, is [a] humiliating and insulting attack on the more than 50 years of progress that this nation has made since the civil rights movement," the two wrote in the letter, posted to Twitter.
"The audacity to profile and verbally assault innocent bystanders and customers in a public commercial location is a violation of our civil society. There is simply no place for the scourge of racism and the vulgarity of bigotry in our great nation."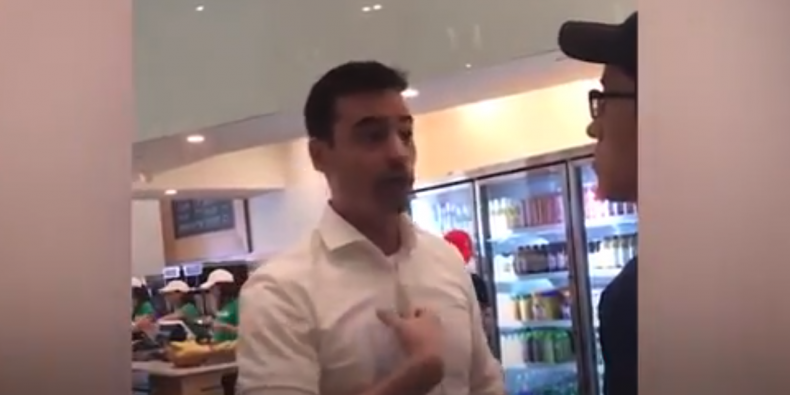 In the video, Schlossberg is seen scolding an employee for speaking Spanish to customers. "Your staff is speaking Spanish to customers when they should be speaking English," he says. "Every person I listen to: He spoke it, he spoke it, she's speaking it."
He then told the employee he would call ICE to the restaurant, insinuating the staff consisted of illegal immigrants—seemingly with no evidence apart from hearing them speak Spanish.
"My guess is they're not documented, so my next call is to ICE to have each one of them kicked out of my country," Schlossberg said. "If they have the balls to come here and live off my money—I pay for their welfare. I pay for their ability to be here. The least they can do—the least they can do—is speak English."
After Schlossberg was identified as the man in the video, social media erupted with users sharing links to his business website in a bid to shame him. Someone changed the Google information for his law firm to "Spanish restaurant," while others drove down his review rating. The lawyer's professional Yelp account was spammed with thousands of one-star reviews.
Schlossberg's website says he is a lawyer who "focuses on complex commercial and insurance coverage matters" and "negotiates high-level contract documents." He attended Johns Hopkins University and George Washington University Law School. Under languages, his page claims he is proficient in English, Spanish and French and has a basic understanding of Mandarin and Hebrew.
Schlossberg was kicked out of the Madison Avenue office space where his private law firm is located by the landlords on Thursday.
"We have terminated his services agreement with us," Hayim Grant, president of Corporate Suites, told the New York Post. "His actions are just not consistent with our community and rules and regulations… It's totally contrary to everything we believe in as a company and personally."
Since Schlossberg was identified after the video went viral, others have come forward with more examples of the lawyer being xenophobic in public.
In 2015, he reportedly attended a protest against Linda Sarsour, an American-Muslim activist. Far-right provocateur Milo Yiannopoulos and anti-Islam activist Pamela Geller were also present, CNN reported.
Issac Saul, an editor at A Plus, saw Schlossberg at the protest, near his office in midtown Manhattan. There were Haredi Jews present supporting Sarsour and counterprotesting, and Schlossberg confronted them, Saul said. In a video of the incident, Schlossberg can be seen berating them while making insulting gestures.
"You are not a Jew," Schlossberg yelled. "Yeah, I'm Jewish. I've been to Israel twice."
Schlossberg did not respond to Newsweek's request for comment.