Who Is Abu Omer? ISIS Executioner Found in Ruins of Mosul After City's Fall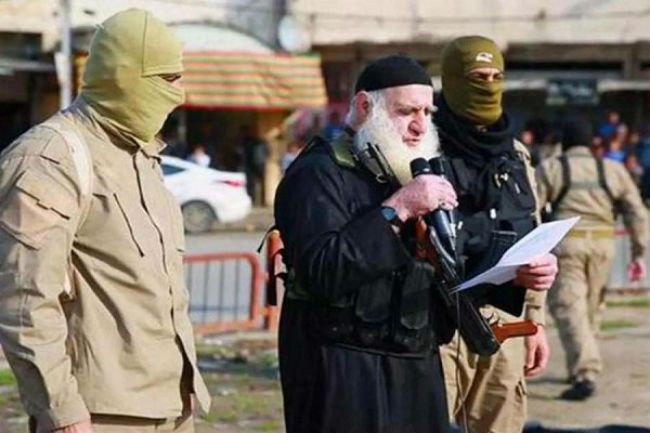 Iraqi forces have captured a notorious member of the Islamic State militant group (ISIS) who appeared in gruesome execution videos, an adviser to the Iraqi government on ISIS has confirmed.
Abu Omer, dubbed White Beard in the Western press because of his distinct facial hair, was captured in the northern Iraqi city of Mosul last week, Hisham al-Hishimi, told Newsweek.
Hishimi advises Middle Eastern governments and the Iraqi government on ISIS matters. Local media reports also said that Iraqi forces had captured Omer.
Pictures shared on social media showed Omer with a man who is reportedly a member of the Iraqi security services. Other images show Omer surrounded by an unknown group of Iraqi men.
Omer, whose age remains unknown, has appeared in ISIS videos that have shown prisoners being beheaded and stoned to death, some on charges of homosexuality.
In one particular 2015 video, he reads the charges of three men whom militants subsequently execute. He is shown in clerical uniform, suggesting that he may have played the role of a shari, or spiritual leader, who would read aloud the charges given to those punished under Sharia, or Islamic law.
Another video shows Omer standing by a mound of rocks that are then used for a public stoning.
ISIS has for more than three years used propaganda videos to instill fear into its opponents and to rally disaffected Muslims to its cause.
Iraqi ground forces, backed by the U.S.-led coalition, recaptured Mosul from ISIS in July last year. The city's fall came after a nine-month offensive that maimed thousands of civilians and wrestled it from the jihadi group's control after three years.
Despite Omer remaining in the city, many of ISIS's top officials fled Mosul and the eastern Syrian city of Raqqa, which a Kurdish-Arab coalition also liberated last year. The group's leader Abu Bakr al-Baghdadi is believed to still be alive and in hiding between Iraqi and Syrian territory.
Mosul is where Baghdadi declared the creation of the group's self-declared caliphate in July 2014 after ISIS swept across northern Iraq and eastern Syria.
But, for those ISIS jihadis like Omer who remained behind in Mosul and Raqqa, the situation remains precarious, with forces still trying to secure those two crucial cities that once served as the grandest prizes in the Islamic State.
Local Iraqi news agency AhlulBayt said that Omer was eventually given up by Mosul locals, who alerted Iraqi security forces to his location as they bid to move past the memories of three years of ISIS rule.