Who Are The Activists Arrested During the Hong Kong Protests?
Police in Hong Kong on Friday arrested some activists and blocked plans for a march on Saturday as authorities intensified their crackdown on a pro-Democracy movement that has gripped the city for the entire summer.
Joshua Wong and Agnes Chow, student leaders of the pro-democracy demonstrations in Hong Kong five years ago that preceded the current protests, were arrested on Friday morning. They were later released on bail.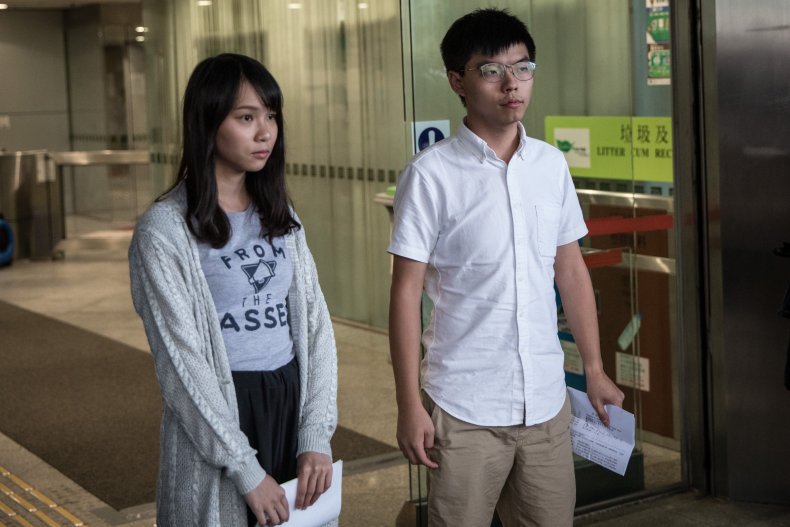 Joshua Wong is a 22 year old student activist and politician who is the secretary-general of pro-democracy party Demosisto. Wong rose to international prominence during the 2014 Hong Kong Protests — also known as the Umbrella Movement. This lead to his inclusion in TIME magazine's Most Influential Teens of 2014 and nomination for its 2014 Person of the Year prize. He was called one of the "world's greatest leaders" by Fortune magazine in 2015, and nominated for the Nobel Peace Prize in 2017 by a group of 12 US congressmen.
As a skinny, bespectacled teenager in 2014, he could often be seen on the streets, encouraging crowds through a megaphone.
Wong has been sentenced twice to short prison terms for convictions related to the 2014 protests, and he most recently served two months this year after being convicted on charges related to the clearance of a protest site in Mong Kok, according to The New York Times.
Agnes Chow is the 22 year old former Legislative Council candidate of Demosisto. Chow was taken to police headquarters in Wan Chai at the same time as Wong. She first came to spotlight in 2012 as the spokesperson of student activist group Scholarism (which Wong was also a part of).
Chow was charged on Friday with "inciting others to participate in unlawful assembly" and "knowingly participating in unauthorized assembly."
Andy Chan, is the 28 year old founder of the outlawed pro-independence Hong Kong National Party. He was taken into custody Thursday night at the Hong Kong airport, he said on Facebook. Police said he was charged with "suspicion of rioting" and "assaulting a police officer."
Rick Hui, a pro-democracy politician from the Sha Tin District Council was also arrested.
Three more activists were arrested on Friday but have not been named by officials.
Wong and Chow were released on bail Friday evening. Addressing journalists, Wong told reporters that "the Beijing government are the ones who back and endorse Hong Kong police to conduct such a mass arrest and prosecution."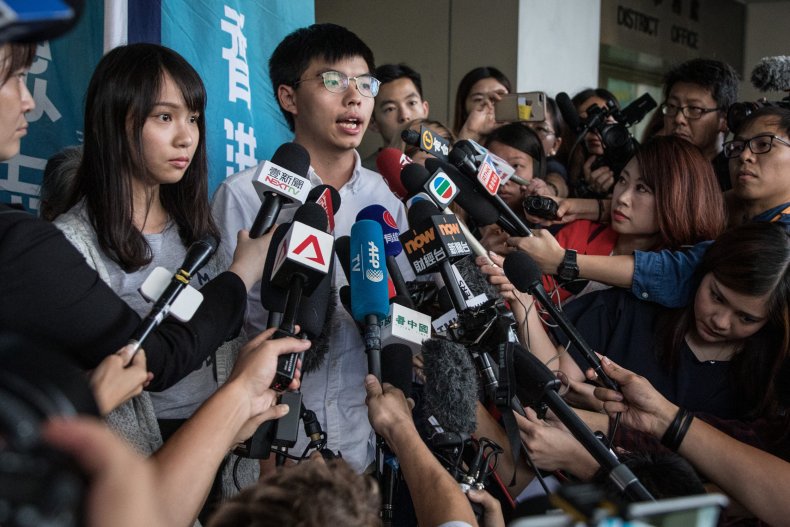 Chow described the arrests as a scare tactic: "We can see very clearly that the regime and the HK government is trying to create a White Terror to try to scare Hong Kong people to not participate in the social and democratic movement of the future."
More than 900 arrests have been carried out since early June, but the detentions on Thursday and Friday stood out. The arrest of prominent activists during politically-sensitive periods is a common tactic by the authorities in mainland China, but this kind of approach is unusual in Hong Kong.