Who is Admiral Schofield? Senior Forward Leads Tennessee Over No. 1 Gonzaga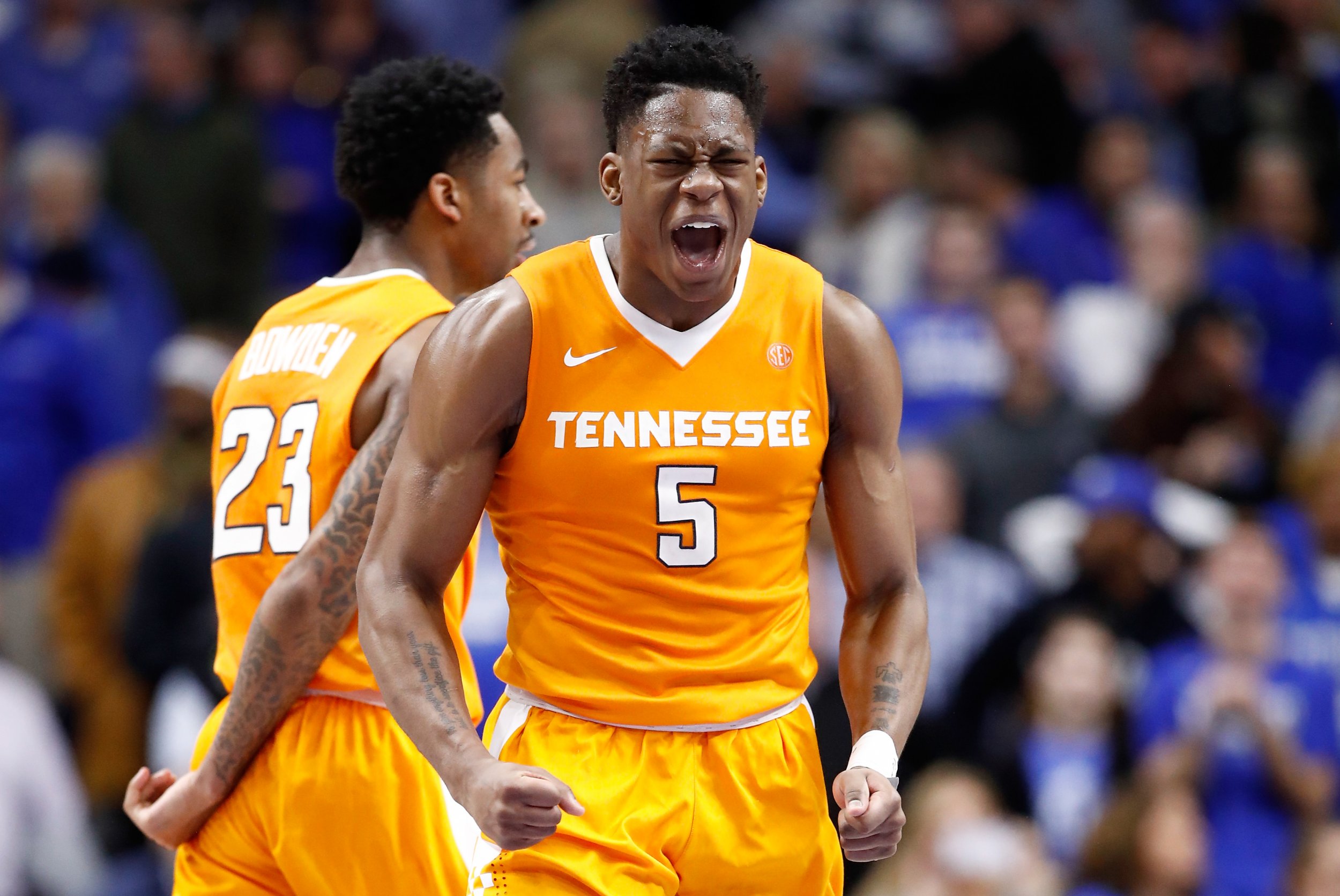 Admiral Schofield's big performance for No. 7 Tennessee willed a road upset of No. 1 Gonzaga on Sunday.
Schofield led the Vols with 30 points, including 25 in the second half, while also recording 6 rebounds (4 offensive, 2 defensive). The senior forward shot 12-of-22 from the floor and 6-of-10 on 3-point attempts, which included a game-winning shot to break a tie at 73.
After the game, Schoefiled told ESPN that trash-talk from Gonzaga guard Zach Norvell Jr. motivated his big second-half performance.
"Honestly, I love when people talk to me," Schofield said. "You give me motivation, I'm coming. I'm gonna bring it, but you know what, I didn't have a great first-half, I wanted to give my teammates a show and that's what I did."
Tennessee rallied back from a nine-point second-half deficit despite having SEC player of the year Grant Williams foul out with 2:30 left in the game.
The Vols improved to 7-1 and are likely to jump into the top-5 of the upcoming AP Poll. Tennessee's only loss of the season came in an overtime defeat by No. 2 Kansas in the NIT Season Tip-Off title game last month. The Vols also defeated Louisville by 11 during the semifinal game of the NIT Season Tip-Off in what was their closest win of the season prior to Sunday's victory.
"Honestly, for us it was just another game," Schofield said. "The number in front makes it special, but for us, we worked really hard, didn't get Kansas, but it's great to get the number one team in the country. But that's just a stepping stone. We've got to keep improving, there's more big games to come. We didn't look at this as a 'big game,' it's just another game, but we prepared well, came out and executed."
Tennessee entered the 2018-19 season with high expectations after winning the SEC regular season championship, playing its way to the SEC Tournament final and making a run to the second-round of the NCAA Tournament before being defeated 63-62 by Loyola-Chicago, who advanced to the Final Four last spring.
Schofield noted that this year's team is tired of hearing about morale victories in games as a "learning experience," instead focusing on solidifying itself as a legitimate contender.
"To talk about it but to actually go out and do it is amazing," Schofield said. "It's a great feeling. I know Coach [Rick] Barnes is happy, he really wanted this one. My teammates, I love those guys man."
The Vols returned their entire starting lineup from last season including Schofield, who was named to the Second Team All-SEC last season. The 6-foot-6 forward averaged 13.9 points and 6.5 rebounds per game as a junior and declared for the 2018 NBA Draft last summer, but didn't hire an agent, leaving open the possibility to return for his senior season.
Tennessee's last win against a No. 1 overall opponent took place on Jan. 10, 2010 when the then-No. 16 Vols defeated Kansas, 76-68, at Thompson-Boling Arena.