Who Advised President Trump To Bomb Syria?
The U.S. military seems to be steering foreign policy, and that's not a good thing, experts say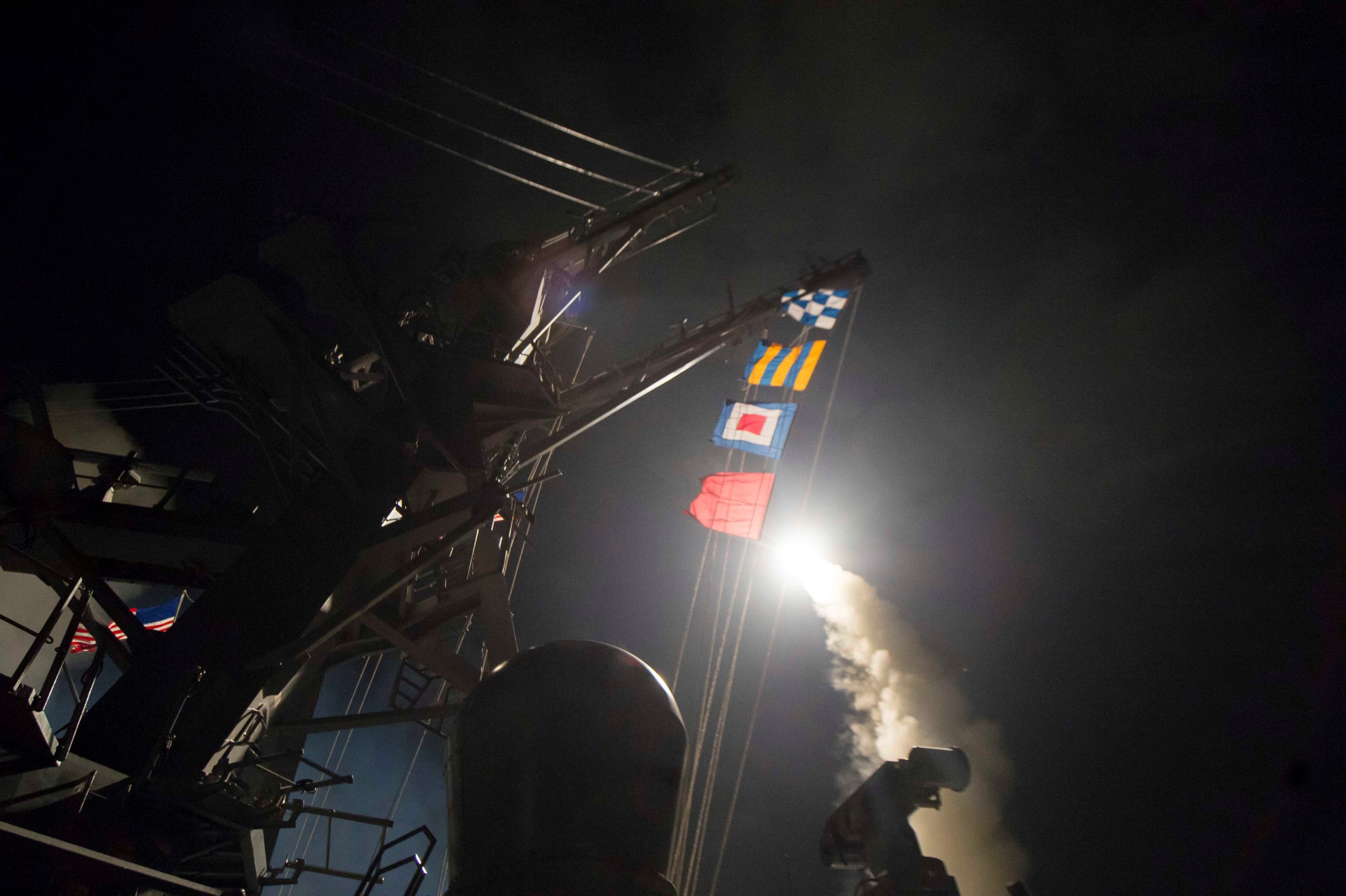 President Donald Trump's decision to shower 59 Tomahawk missiles down on Bashar al-Assad's Shayrat Airfield in Homs early Friday was an about face from the White House's position on the Syrian leader just a week ago.
This is Trump's biggest foreign policy move to date. Some say it goes against international law, others are concerned congress wasn't consulted, and the decision flew in the face of statements Trump made as a candidate that attacking Syria would "lead to World War Three."
Yet the president has been moved by the images of a chemical weapons attack by Assad's military in Khan Sheikhoun on Tuesday that killed hundreds of Syrian civilians — many of them women and children. "Even beautiful babies were cruelly murdered in this very barbaric attack," Trump said his statement late Thursday about his decision to retaliate, adding "no child of God should ever suffer such horror."
Beyond Trump's gut reaction, experts say, the U.S. military is driving the response, not diplomats, and this is not part of a long-term strategy in the region or a plan to remove Assad.
"Most of the foreign policy and security policy of the United States at the moment is being driven by the Pentagon, which is quite an alarming approach," said Dr. Andreas Krieg, a Middle East expert and Assistant Professor in the Department of Defence Studies at King's College London. "The Pentagon is supposed to be the executive agent of the White House. And the White House, and Trump particularly and his closest advisor, Jared Kushner, don't have any track record when it comes to the Middle East."
The State Department has, Krieg said, "almost been decommissioned in a way, with key decision makers, key diplomats with long term experience in working in the Middle East having been relieved of their duties." So who drove the decision to bomb Syria?
James Mattis, secretary of defense
"It seems that the decision making on foreign and security policy is being driven by Mattis and certain military leaders," said Krieg. Mattis is one of four Statutory Attendees — including the Vice President and Secretary of State — on the National Security Council which met twice in the run up to the bombing. " Mattis, being an anti-Iran hawk, would probably have driven that decision," said Krieg, "because containing and getting rid of Assad would undermine Iran's strategy in the Levant, massively. For Iran the issue of Assad is not negotiable, they need Assad, this is an ideological partner."
Using military action to replace policy, he added, can't really replace diplomacy. "Military actions can only be short term. That is the issue with the airstrikes last night," Krieg continued, "the Pentagon is making short term decisions aware of the short term consequences, but unaware of the long-term consequences, unaware of the actual end game."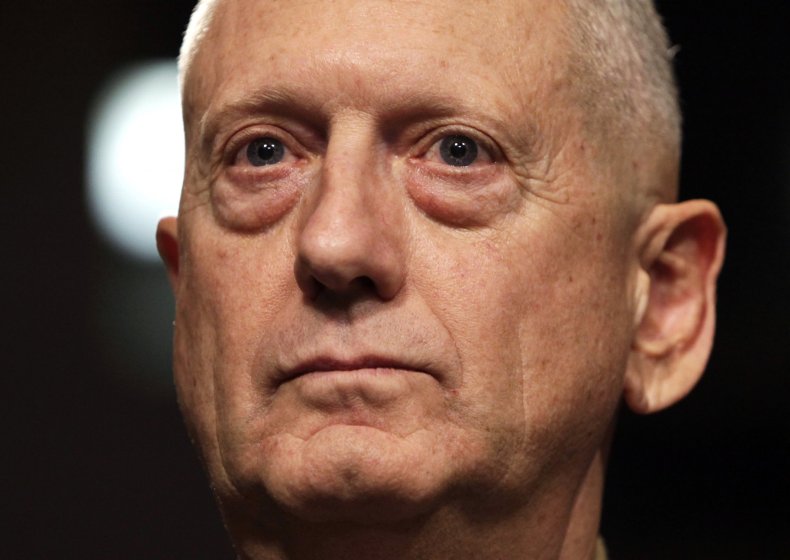 Jared Kushner, assistant to the president
Early this week Trump's son-in-law Kushner visited Iraq, making him the first senior Trump official to visit the country. Kushner has been charged with brokering peace between Israel and Palestine, and other difficult foreign policy issues that are traditionally the role of the Secretary of State.
Although he doesn't sit on the National Security Council, "if you look at the dinner last night between the Chinese President and President Trump, the Chinese president had his most senior diplomat sitting next to him, and Trump on the other side had Jared Kushner sitting next to him, and Tillerson wasn't even there," Krieg points out. "These things are very telling. Tillerson and the State Department have been somewhat sidelined."
Read more: What We Know About Donald Trump's Strike on Syrian Regime Air Base
Rex Tillerson, secretary of state
Tillerson is one of the four key National Security Council members, but "when it comes to making decisions he doesn't seem to sit at the table," said Krieg. Major spending cuts were proposed to the State Department in Trump's draft budget proposal last month with 28% in cuts to its programs. The Pentagon, on the other hand, is getting a $54 billion spending increase. As the State Department loses influence, so does Tillerson, Krieg said, noting the Secretary of State seems like "an agent that is being sent around at the moment to have preliminary discussions."
H.R. McMaster, national security advisor
"McMaster has a very important role in all this," said Krieg, but "he's an advisor, not a defense minister and doesn't have the kind of leverage over the Pentagon that Mattis has." While McMaster, an Iraq war veteran and Lieutenant General, attends the National Security Council, he doesn't formulate policy and hasn't been in his position very long after he replaced Michael Flynn following his resignation in mid-February.
McMaster "could give Trump a nuanced rundown of the different options and the consequences of taking the different options," said Krieg, but "it seems so far that he has not been as powerful as people would have liked him to be."
Steve Bannon, chief strategist
This week Trump's chief strategist Steve Bannon was removed from a seat that he took on the National Security Council at the request of Jared Kushner and H.R. McMaster, adding to the impression that he is being sidelined. "He's actually someone who would push Trump more into keeping Assad because he is a good ally in fighting all these different extremist groups [in Syria] on the ground," said Krieg. "He was never there to formulate policy or operational approaches. He's been the one behind the whole push against ISIS, formulating the demonisation of political Islam in all its forms."
With Trump — a businessman with no political experience taking up the job of president — "it was always clear it was going to be learning by doing, with certain key individuals shaping his decision making," Krieg said.
Other military experts also see the bombing as part of a short term strategy to put a stop to chemical weapons attacks on civilians, rather than a long-term play to remove Bashar al-Assad from power.
"I would be very surprised indeed if this was to be a precursor for large-scale American attacks on the Syrian regime," said Malcolm Chalmers, Deputy Director-General of the Royal United Services Institute (RUSI) military think-tank in London. "There's a clear message here that if Assad were to use chemical weapons again that he could expect further attacks on those air force capabilities. But it doesn't feel to me as though this is being expanded beyond the issue of chemical weapons."
Secretary of State Tillerson said on Thursday that "Assad's role in the future is uncertain," and that "the acts that he has taken, it would seem that there would be no role for him to govern the Syrian people."
Over the past few months statements about whether Assad should go almost vary from day to day, said Chalmers. "I think many of these statements about Assad must go, at least when they're not backed up by the military action that would be required to make that happen, are rather empty and unlikely to have much impact."