Who is Alex Kack? #GreenShirtGuy Hysterically Laughing at Trump Supporters Goes Viral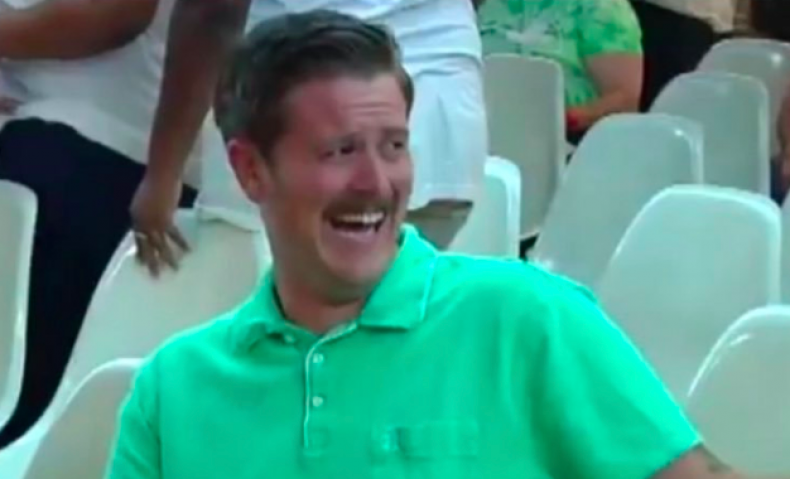 Sometimes politics can get so polarized that all you can do is laugh. Turns out that's exactly what the internet needed after a video of a man in a green shirt laughing at a Trump supporter protesting at a Tuscon City Council meeting went viral. The man is Alex Kack, otherwise known as the #GreenShirtGuy.
Who is Alex Kack?
According to Mashable, Kack is a 28-year-old field organizer for Peoples Defense Initiative in Tuscon, Arizona. The bulk of his work is with Tucson Families Free and Together, which is endorsed by Peoples Defense Initiative. The organization's website says their goal is "to uplift policies which ensure that our local government is committed to protecting and defending all people and upholding the self-evident truths that all people are created equal and endowed with the unalienable rights of life and liberty."
In addition to his community organizing work, Kack is also a stand-up comic who has used his comedy in the past to support various political campaigns. He co-produces a comedy show called Laughing Liberally.
How did #GreenShirtGuy go viral?
It's all in that laugh.
Kack was at the local Tuscon City Council meeting when a man and a woman, both wearing hats in support of President Donald Trump, started to vocally protest Tuscon's "Sanctuary City" measure.
It was then that Kack started to laugh uncontrollably. He wasn't laughing because the issue is funny, but rather at the scene unfolding in front of him. He told Mashable that he had to laugh at "just how absurd it really all was."
"Who has the time in their day to come into a public space just to spread hatred and negativity? Like honestly what happened that made them so ridiculous and hateful?" Kack told Mashable.
What are people saying?
Twitter users are having a field day with Kack's infectious laughter.
"I love you #GreenShirtGuy. I love you #GreenShirtGuy. I truly, truly, truly love you #GreenShirtGuy," comedian Patton Oswalt wrote.
"Next on the docket: petition to make #GreenShirtGuy a national icon," one Twitter user wrote.
"Thank you #GreenShirtGuy for being ALL OF US. We needed this," another wrote.
What's next for Alex Kack?
Kack's work in comedy and his community organizing are far from over (Tuscon is considering the "Sanctuary City" measure for their November ballot). But according to Kack, he's got another thing to add to his list of patriotic duties.
"I guess I have to get more active on Twitter now," he tweeted.