Who Is Alex Trebek's Wife? Everything to Know About 'Jeopardy!' Host's Longtime Love Jean Currivan Trebek
Jeopardy! fans across the country will be tuning into the most anticipated competition in the game show's history—The Greatest of All Time match with Jeopardy!'s three biggest money makers ever, Ken Jennings, Brad Rutter and James Holzhauer—on Tuesday.
The competition is a special one for many reasons. For starters, it's the first Jeopardy! special tournament to air on primetime in nearly 30 years. Not to mention, the contestants are some of the quickest and smartest to ever appear on the show. Then there's the fact that this tournament may be one of the special competitions hosted by Alex Trebek, Jeopardy!'s beloved host.
During the recent ABC interview special What Is Jeopardy!? Alex Trebek and America's Most Popular Quiz Show, the 79-year-old, who is battling stage 4 pancreatic cancer, said his time on Jeopardy! may be winding down as he prepares to undergo another round of cancer treatment.
However, Trebek noted how integral the support and prayers of Jeopardy! fans and the show's contestants have been to his health, stating that the outpour of love he's received since first revealing his diagnosis in March 2019 has helped him feel better.
The support of Trebek's family has also made an impact. Trebek's wife, Jean Currivan Trebek, who also appeared in the What Is Jeopardy!? special, admitted the hardest thing was seeing Alex "in pain and I can't help him."
Although Jean Trebek has primarily left the limelight to her husband, she's been a bit more public since his diagnosis. A professional sound healer, Reiki master and Religious Science practitioner, New York native Jean Trebek, who is also the founder of spiritual blog Inside Wink, married Canadian-born Alex Trebek in 1990. The pair met at a party in New York in 1988 and hit it off instantly, despite their 24-year age difference.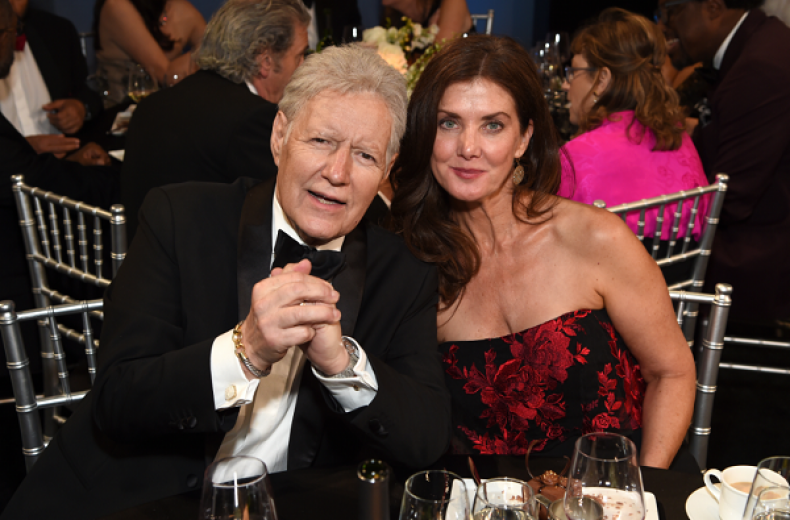 Jean Trebek, 55, is the mother of Alex Trebek's two children, Matthew and Emily Trebek. Alex Trebek was previously married to Elaine Callei Trebek, but they divorced in 1981 after seven years of marriage. Alex adopted Elaine's daughter, Nicky, while they were married.
In her first interview since Alex Trebek's diagnosis, Jean Trebek explained how her sound healing and Religious Science practice helped her stay uplifted during her family's perils, which in turn, helps keeps her husband in good spirits too.
"It comes from a place of love, because I want to uplift him...and when I keep my own self buoyed and enjoying my life, I can actually share that with him. He can look at me and have a sense of 'life is beautiful, my wife is doing something good,'" she told SurviviorNet in November 2019.
Alex Trebek has praised his wife for her endless and unwavering support. In an interview with People magazine in 2019, the game show host said his only regret was having not met her sooner. "I'm pretty satisfied with my life," he said.
"But my wife Jean and I have been together almost 29 years, and I was thinking about President [George H. W.] Bush when he died, and all the comments about his life about what a nice guy he is, and how he and his wife had been together 73 years. I thought, 'Oh my gosh, if I'd just met Jean in my 20s we could have had a longer life together,'" Alex Trebek continued.
He added: "I guess if I'd met her when I was in my 20s she wouldn't have been born yet. But hey, 29 years is pretty good."
Jeopardy! The Greatest of All Time airs on ABC on Tuesday at 8 p.m. ET.