Who is Alfie Evans? Terminally Ill Toddler's Parents Lose Life Support Battle
A 23-month-old toddler's life-sustaining treatment was ended on Tuesday after his parents lost a series of legal battles, including a "last-ditch appeal" to the British Supreme Court, to stop the hospital from turning off his ventilator.
Alfie Evans has however been breathing on his own for at least 11 hours, his parents Tom Evans and Kate James informed supporters via the Instagram page dedicated to the toddler called "Alfie's army" on Tuesday morning, saying he had been getting water and oxygen "proving these doctors wrong."
"They left him for six hours without food, water and oxygen," Tom told the reporters, quoted in The Guardian. "I felt blessed when they confirmed they were going to give him his water and his oxygen. He's now on oxygen. It's not changing his breathing but it's oxygenating his body," he added.
Alfie was born a healthy baby on May 9, 2016, but began showing signs of developmental delay by the time he was six months old. He was brought to Liverpool's Alder Hey Children's Hospital in December 2016, suffering from "coughing, high temperature and episodes of rhythmic jerking of all four limbs and his jaw," as court papers described—he hasn't left since.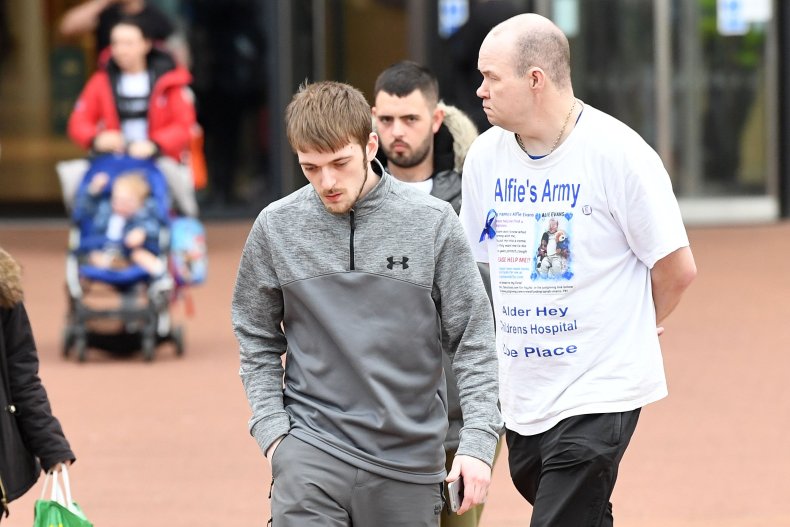 Doctors were unable to definitively diagnose the child's condition, but they believe he suffers from a rare degenerative neurological disorder which is ultimately fatal, causing him to suffer from seizures. MRI scans showed Alfie's brain was damaged beyond recovery and, by December 2017, the hospital applied to end life support treatment.
British High Court judge Justice Anthony Hayden ruled in February that the medical evidence provided supported the hospital's decision as further treatment was "futile," while recognising the "terrible reality" of Alfie's "profoundly unfair" case, as the BBC reported.
The protracted legal battle ended on Tuesday, when the European Court of Human Rights (ECHR) refused to consider the parents' appeal after they had already lost against the decision in the High Court, Court of Appeal, the Supreme Court and the ECHR. A group of about 200 people who had been protesting the hospital's decision to switch off life support stormed the facility, forcing police to intervene to restrain the demonstrators, according to The Independent.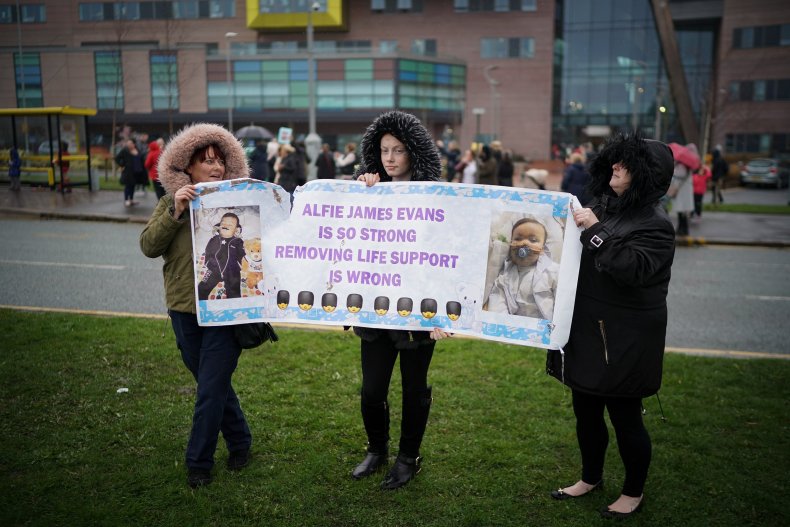 The emotionally-charged case echoed that of toddler Charlie Gard, an 11-month-old who was suffering from an extremely rare and untreatable genetic disorder who died in July after a judge ruled he should be taken off life support.
Alfie's case has received international attention, with Italy granting the child citizenship on Monday in an attempt to limit the British courts' legislation over the case and take the child to the Catholic Church-run Bambino Gesù pediatric hospital in Rome.
Pope Francis issued a rare personal statement via his official social media channel on Monday after meeting Alfie's father last week. "Moved by the prayers and immense solidarity shown little Alfie Evans, I renew my appeal that the suffering of his parents may be heard and that their desire to seek new forms of treatment may be granted," the message read.
The Alder Hey hospital said in a statement on Tuesday they won't be issuing any updates as to their patient's condition, citing respect for the toddler and his family's privacy.