Who is Ali Stroker? 'Oklahoma!' Actress Becomes First Wheelchair User to Win Tony Award
Actress Ali Stroker made history last night, becoming the first wheelchair user to win a Tony Award thanks to her performance in the Broadway revival of musical Oklahoma!.
The 31-year-old, the first actress who uses a wheelchair for mobility reasons known to have appeared on the Broadway stage, won Best Performance by an Actress in a Featured Role in a Musical for her performance as Ado Annie.
Taking to the stage, Stroker made a rousing speech about the representation of people with disabilities.
"This award is for every kid who is watching tonight who has a disability, who has a limitation, who has a challenge, who has been waiting to see themselves represented in this arena. You are," she said to mass applause from the crowd at Radio City Music Hall in New York.
Who is Ali Stroker?
Born in Ridgewood, New Jersey, Stroker was just two years old when a car accident left her with a spinal cord injury, paralyzing her from the chest down.
Her disability did not stop her dream of becoming an actress, and in 2009 she became the first actress who uses a wheelchair to earn a degree from the New York University Tisch Drama Department. She went on to be a finalist in the second season of reality show The Glee Project, earning her an appearance on TV show Glee as Ms. Pilsbury's niece, Betty.
Stroker went on to make her Broadway debut, the first by an actress using a wheelchair, as Anna in the 2015 revival of rock musical Spring Awakening.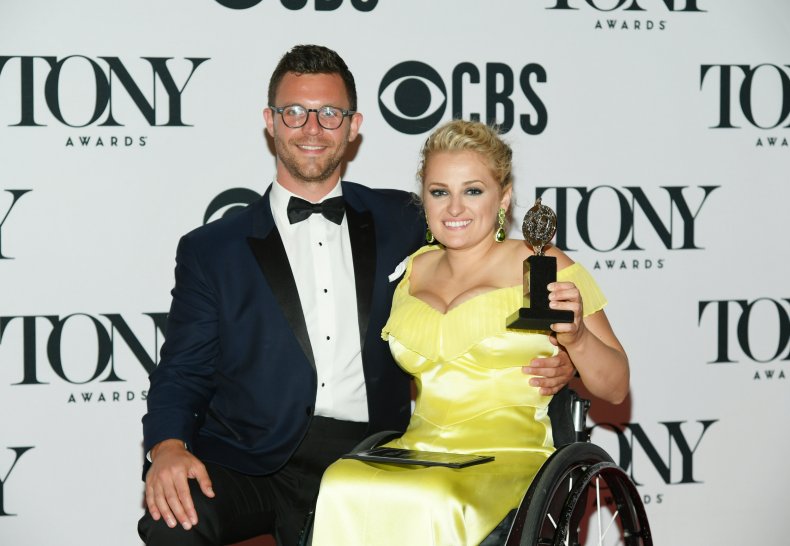 Besides acting, Stroker speaks all over the world with the message of "turning your limitations into your opportunities." She is co-chair of Women Who Care, a charity that supports women with cerebral palsy in New York City, and a founding member of Be More Heroic, an anti-bullying campaign that tours the country.
Speaking to Paper in May, the actress said having her appear on Broadway is part of a wider shift towards greater inclusiveness and diversity on stage.
"I feel like musical theater is beginning to do more than entertain, like to challenge people's thoughts and perspectives," she said. "All the representation is really important and so essential to art making. And for audiences, it's really refreshing to see all kinds of people being represented in roles that maybe we've only seen in one way for so long," Stroker added.