Who Is Amal Hussain? Yemeni Child in Famous Photo Dies as Saudi Arabia's War Continues
A 7-year-old Yemeni girl has become one of the latest casualties of what the United Nations has deemed the world's worst humanitarian crisis.
Amal Hussain, featured last week in a photograph by The New York Times's Tyler Hicks, died of malnutrition Thursday in a refugee camp in northern Yemen, her family told the newspaper. The image of her emaciated frame brought messages from readers offering assistance to the starving child, but they came too late.
"My heart is broken," Hussain's mother, Mariam Ali, told the Times through tears. "Amal was always smiling. Now I'm worried for my other children."
Hussain is only one of scores of children to die amid a deeply controversial war waged by Saudi Arabia in Yemen.
Located on the southern tip of the Arabian Peninsula, between two strategic waterways—the Red Sea and the Gulf of Aden—Yemen's conflict has its roots in 2011, the year Hussain was born and a series of protests known as the Arab Spring swept through the Middle East and Northern Africa. Longtime leader Ali Abdullah Saleh stepped down amid massive demonstrations in 2012, but his successor, Abed Rabbo Mansour Hadi, soon faced troubles of his own.
Deteriorating economic conditions prompted a new wave of protests against Hadi as his administration struggled to deal with insurgencies from the Houthis, also known as Ansar Allah, whose Zaidi Shiite Muslim community ruled the country prior to 1962, as well as the ultraconservative Sunni Muslim Al-Qaeda militant group. In late 2014, the Houthis stormed the capital and forced Hadi out in the months that followed.
Neighboring Saudi Arabia has accused the Houthis of being a proxy for Iran, something both the rebels and the revolutionary Shiite Muslim power have denied. Nevertheless, Riyadh formed a regional coalition with U.S. support to begin bombing the Houthis in 2015. Three and a half years later, the Saudi-led coalition has made some gains, but has failed to oust the insurgents as accusations of war crimes have mounted.
In addition to swelling civilian casualties, the conflict has contributed to a massive famine and outbreaks of disease such as cholera and diphtheria. A number of European countries have decided to cut military assistance to Saudi Arabia, especially in the wake of its murky role in the death of dissident journalist Jamal Khashoggi at the kingdom's consulate in Istanbul.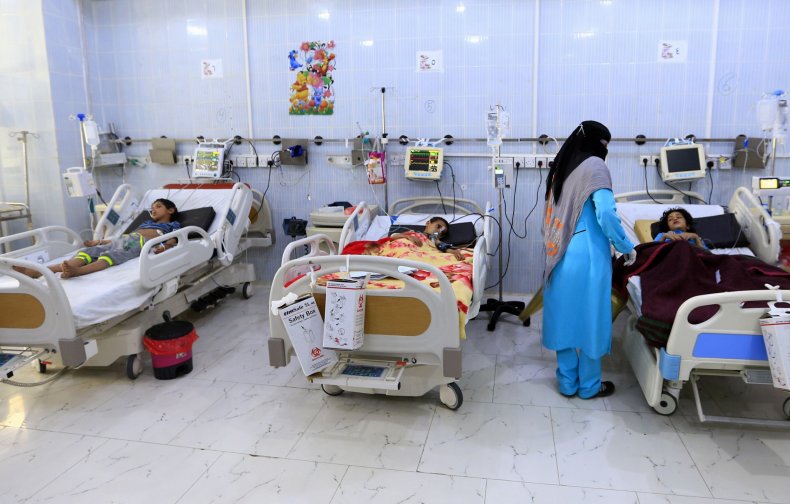 The U.S., whose top weapons export partner is Saudi Arabia, has been hesitant to take action. Viewing Riyadh as a critical partner in their shared mission to isolate Iran, the Trump administration has yet to take retaliatory measures besides revoking the visas of Saudi citizens allegedly involved in Khashoggi's murder.
In a statement released Tuesday, however, Secretary of State Mike Pompeo issued a rare call for Saudi Arabia, along with the Houthis, to cease hostilities.
"The time is now for the cessation of hostilities, including missile and UAV strikes from Houthi-controlled areas into the Kingdom of Saudi Arabia and the United Arab Emirates," Pompeo said. "Subsequently, coalition airstrikes must cease in all populated areas in Yemen."