'I Married a Ghost Pirate': The Curious Story of Amanda Teague and Her 300-Year-Old Dead Lover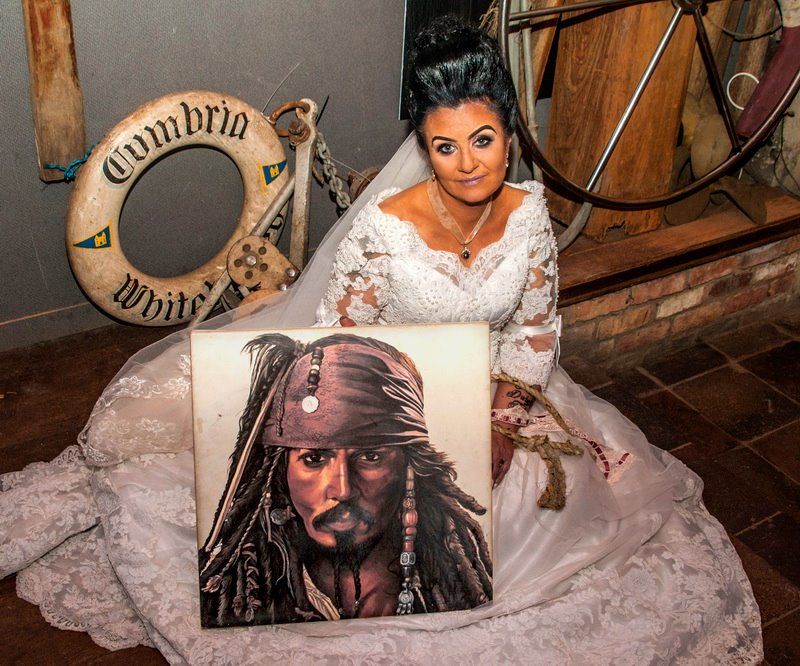 On July 23, 2016, Amanda Teague, 45, married her Haitian husband, Jack Teague, on a small boat in the Atlantic Ocean. The weather was stormy and waves rocked the vessel violently. The divorced mother of four—who worked as a Jack Sparrow impersonator in Ireland—said "I do" in a white lace gown and veil. And someone else said it back, but it wasn't the man she was about to marry. He was already dead.
Teague made headlines last week after news broke that she married the ghost of a 300-year-old Haitian pirate. She claims their spiritual relationship began in 2015 when she was lying in bed at home in Drogheda, Ireland, and sensed his presence. After six months of continued contact with the ghost of the deceased freebooter, she developed feelings for him and the two made plans to officiate their love for each other.
Similar to most normal relationships, the couple act out when jealous, have arguments about responsibility, go away to Dublin on weekends together for romantic getaways and even engage in lovemaking. Teague describes their chemistry as "incredible" and says that Jack is "the best sex she's ever had."
Speaking to Newsweek, Teague confirmed that their wedding was similar to one at a registry office, in the sense that it was short, small and functional. The couple held another wedding in October 2017, which involved a more comprehensive group of family and friends to better celebrate their union.
"We sailed into international waters so we could legally marry. It's not legal in the U.K. or Ireland to marry a deceased person, so we spoke to some lawyers and did it officially," she said.
Teague says she is the first person in the U.K. and Ireland to legally marry a ghost. Despite admitting that, as it stands, the law does not expressly recognize marriage to a deceased person, Teague explains that she followed proper procedures instructed to her by lawyers to bypass the rules.
A registrar was present at the wedding who registered their marriage, Jack Teague gave consent through a medium that was independent of her and Amanda even changed her last name to his to honor their nuptials.
"I haven't been challenged yet," Teague said. "There was one government agent who asked me to explain my situation and I told him about spirituality and our connection. He just accepted that.
"If in the future I am challenged, [legal advisers] have told me that there are certain routes we could go down to try and get our marriage recognized by law.... I am willing to do it and fight [for our right to be married]," she added.
Shlomit Glaser, a family lawyer at Glaser Jones Law, told Newsweek that marrying a ghost and marrying a dead person are two different things. But "neither are legally recognized in the U.K. or Ireland."
"It's not illegal. It's not a criminal act, and you are not committing an offense, but the government doesn't recognize it. They won't be allowed the benefits of a married couple," she said.
Glaser admitted that there was one legal avenue in which it could be possible. Although she insisted that this conclusion was reached from applying general family law principles, and it has never been tested on the present set of facts and is purely speculative.
"She would have to go to a jurisdiction where it is legal, follow the procedure in that jurisdiction and when she returns to the U.K. or Ireland, she must prove that it's legal in the jurisdiction [where she was married] with proper documentation, and only then could the authorities agree to recognize it," Glaser said.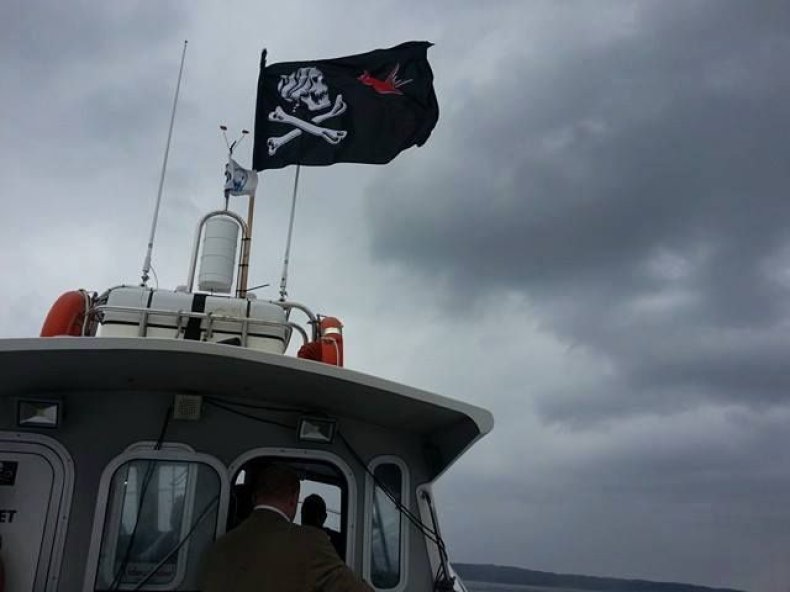 Ghost relationships and marriages are not uncommon. Last December, Cornwall Live reported the stories of two women who were deep in the throes of paranormal passion.
Amethyst Realm, a 27-year-old spiritual guidance counselor from Bristol, U.K., told the local paper about her sexual ectoplasmic encounters with 20 different ghosts. During an appearance on ITV's This Morning, she described to viewers her ritual to seduce ghosts, which involved wearing sexy lingerie.
Realm's story is just one of countless others that have been shared by spiritual believers around the world.
Posthumous marriage, otherwise known as necrogamy, is the term given to marriages in which one participating partner is dead. In some societies, it is possible and even an established practice.
In France, it is explicitly legal to marry a deceased person. Article 171 of the French civil code states: "The President of the Republic may, for serious reasons, authorize the celebration of the marriage where one of the future spouses is dead."
During World War I, the French government allowed hundreds of women to marry their partners who died in the war. Decades later, France opened up posthumous marriages for civilians as well. When a broken dam killed 400 people in Frejus, French President Charles de Gaulle allowed Iréne Jodart, who lost her fiancé André Capra in the 1959 incident, to marry his ghost.
To this day, posthumous marriages continue to be granted in France, often under similar devastating circumstances. Magali Jaskiewicz married her deceased fiancé in 2009 after he died in a car accident two days after proposing to her.
China, Sudan, South Korea, Germany, South Africa, Japan and even the U.S. are other countries in which judges have allowed similar forms of wedlock to be recognized by law.
Isaac Woginiak, a resident of Miami, Florida, died of a heart attack in 1987, before his impending marriage. Two weeks later, Circuit Judge George Orr ordered the court clerk to sign a marriage license on behalf of Woginiak so that his fiancé could follow through with their wedding.
In China, a minghun marriage, translated to English as a spirit marriage, is a well-established tradition, albeit rarely practiced today. Across mainland China, women can engage in a minghun to marry her fiancé's spirit before adopting a child to carry on his family lineage.
According to Grave Vows: A Cross-Cultural Examination of the Varying Forms of Ghost Marriage Among Five Societies by Lucas J. Schwartze, a rooster must be present at the ceremony to represent the groom, the woman must take a vow of celibacy and immediately move in with her husband's family following the wedding.
The practice was banned by the Communist Party in 1949, during Mao Zedong's reign. But the ritual still endures, especially in remote regions of the country.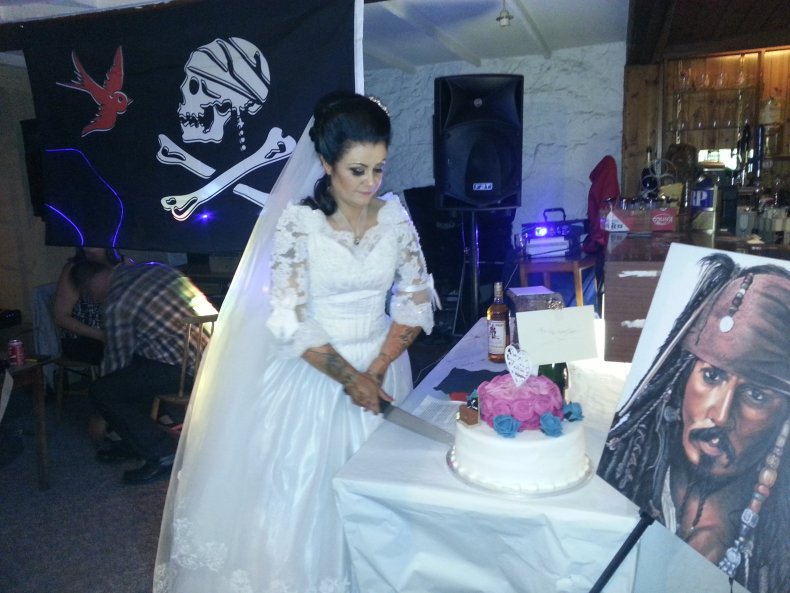 In all these examples, however, the deceased has been a person who was known to the bride prior to his death. Teague claims to have met Jack as a ghost. She never knew him while he was alive. If he was ever alive.
Teague says she doesn't even know what Jack looks or sounds like. The couple communicate with each other through mediumship, and the only thing Teague knows about her husband's physical appearance is that he is of African descent and presents himself as a man in his early 50s—the age he died.
Newsweek could not verify Jack Teague's existence. Haiti Birth, Marriage & Death data collections on Ancestry.com date back to 1794. According to Teague, her husband was executed by hanging in 1753, after he was caught assisting the escape of slaves who were being traded.
Teague insists her husband's physical existence was the inspiration for the fictional character "Jack Sparrow," who features in the Pirates of the Caribbean movie franchise. Sparrow's father, played by Keith Richards, is the former pirate lord of Madagascar and a captain who goes by the name of Edward Teague.
Around the time the couple met in 2015, Teague was working part-time as Northern Ireland's only female Jack Sparrow impersonator, and although the coincidence may seem far-reaching for most, she insists the "real Jack" reached out to her in the afterlife because of her obsession with the movie franchise.
Entertainment reports contradict her claims. According to NME, Jack Sparrow was created by screenwriters Ted Elliott and Terry Rossio and inspired by the real Keith Richards and Looney Tunes character Pepé Le Pew.
Pirates of the Caribbean creator Gore Verbinski did not respond to Newsweek's request for comment.