Who Is Amara Enyia, Chance The Rapper's Endorsement for Chicago Mayor?
While many speculated Chance The Rapper may run for Chicago Mayor himself, the local rapper used a scheduled announcement at Chicago's City Hall Tuesday to endorse Amara Enyia for the position.
"I am proud to announce I am not running for Mayor," the rapper joked at the press conference, according to WGN Morning News. "I probably won't ever be running for mayor of this city but I believe in me and Amara Enyia's shared vision."
Enyia is a lawyer, Ph.D. holder and Ironman competitor. She's running on a platform of equal opportunities and support for all communities in Chicago. The South Side activist crafted a plan to bring new ideas to every corner of the city.
"This people-centered plan prioritizes innovative ideas that move us forward, a commitment to equitable economic investment, a robust small business environment, quality education for all, an end to corruption, and an emphasis on strategies that build generational wealth," her website reads.
Newsweek subscription offers >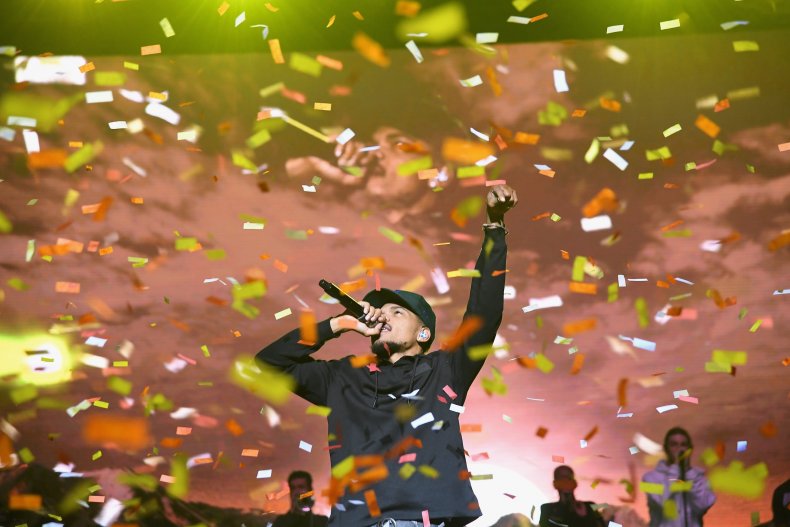 One of her leading ideas is to create a public bank for the city, which would reduce city funding of private banks. She's also proposed to model smaller scale police posts in neighborhoods across the city to act as community safe spaces and put eyes and ears in each area at all times. Listed as one of her top priorities is funding Chicago Public Schools, a topic which Chance is vocally passionate about.
Enyia ran for the position in 2015 but revoked her candidacy to support Bob Fioretti's campaign.
Chance's endorsement of Enyia means he is on the opposite side of the mayoral race from his father, Ken Bennett, who served as an aide to current Chicago mayor Rahm Emanuel. Bennett has endorsed Toni Preckwinkle for the position, the Chicago Sun-Times reported Preckwinkle, who is the current Cook County board president, has also been endorsed by former Obama Aide Valerie Jarrett.
Newsweek subscription offers >
Enyia and Preckwinkle are just two figures in a heated and tight Chicago mayoral race. As of October 1, there were 15 candidates who had officially announced their bid for the position, according to a report by the Chicago Tribune.
Chance The Rapper is an activist in the Chicago community who advocates for funding of Chicago Public Schools and mental health services reform. The musician brings his musical talent to the city by hosting high school open mic nights and led a March to the polls in November 2016 after his hometown concert.
Who Is Amara Enyia, Chance The Rapper's Endorsement for Chicago Mayor? | Culture