Who Is Aminadab Gaxiola Gonzalez? Orange, California, Shooting Suspect Reportedly Targeted Victims
Officials identified Aminadab Galaxio Gonzalez as the man who allegedly opened fire at a Southern California office building, killing four people, including a child.
The shooting happened at 5:30 p.m. on Wednesday, and officers arrived as shots were being fired. An officer-involved shooting occurred and the suspect was wounded, although it's unclear if it was self-inflicted or from an officer. He was transported to a hospital and in critical condition.
Gonzalez, 44, is from Fullerton, according to Lieutenant Jennifer Amat. Officials believe the shooting was motivated by personal and business relationships that existed between the suspect and the victims.
If convicted, Gonzalez would be eligible for the death penalty, according to Orange County District Attorney Todd Spitzer, who said this was a special circumstance case.
Law enforcement officials said Gonzalez allegedly used a bike lock to hold the gates closed, requiring officers to bring bolt cutters to the scene to gain entry. The District Attorney's office is looking into whether the locking of the gates constitutes a "lying in wait," which also is punishable by the death penalty.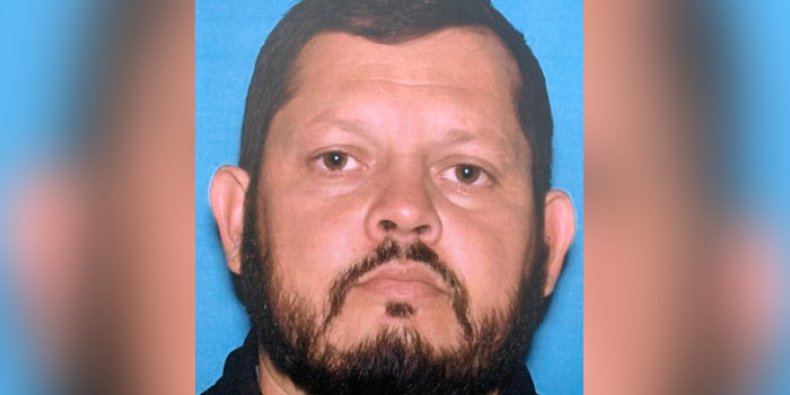 When officers arrived on the scene, they found multiple victims. Along with the four people who lost their lives, a fifth victim was injured during the shooting and transported to a hospital in critical condition.
"It appears a little boy died in his mother's arms as she was trying to save him during this horrific massacre," Spitzer said.
Paul Tovar told KABC he was trying to find out about his well-being of his brother, who owns a business in the building and wasn't answering his phone. Tovar was "pretty scared and worried" and said he was "just praying really hard."
Another witness told KABC they heard five to seven gunshots, then heard more gunshots go off a few minutes after police arrived. Neighbors initially thought it was a car backfiring but when it became louder, they realized it was gunfire.
A firearm was located on the scene, according to Amat, and multiple agencies were on the scene on Wednesday to help with the investigation. Amat said it could take days or even weeks to obtain information on any relationship the suspect had with the victims.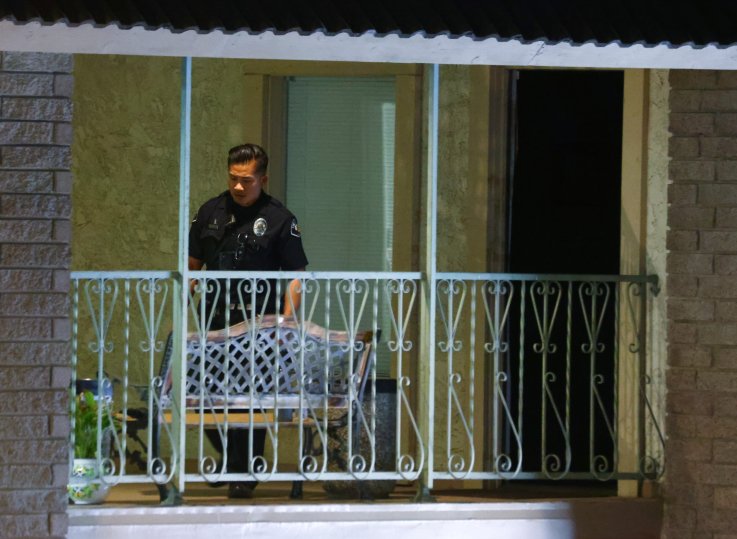 Law enforcement identified the suspect in the Orange, California, shooting that left four people dead, including a child. A police officer keeps watch at an office building where four people, including a child, were killed in a shooting on Wednesday in Orange, California.
Mario Tama/Getty Images
"Orange is a very safe city and we don't have stuff like this that happens very often," Amat said. "It's been many, many years before we've had an incident like this happen."
It's the deadliest shooting in Orange since 1997, according to police, when a 43-year-old former Caltrans worker shot and killed four of his former coworkers.
This latest incident comes on the heels of deadly shootings in Boulder, Colorado, and the Atlanta area, prompting calls for Congress and President Joe Biden to take action on gun control.
House Democrats sent a letter to Biden urging him to take executive action to regulate concealable firearms similar to the one that the Boulder suspect used to kill 10 people. The Ruger AR-556 pistol isn't a rifle, but it resembles one and can fire rifle rounds.
The White House is considering taking executive action on gun control, with Press Secretary Jen Psaki saying on Tuesday the administration was "working on a couple of levers." One is to work with Congress, and Psaki said they've seen an openness from Republicans to have a "debate and discussion."
Biden told reporters he was "of course" prepared to make calls to Republicans to help move legislation forward. He defended his record on gun control, saying "the only gun control legislation ever passed was mine" and that "it's going to happen again."