Who Is Amy Coney Barrett and What Does She Have to Do With Ruth Bader Ginsburg?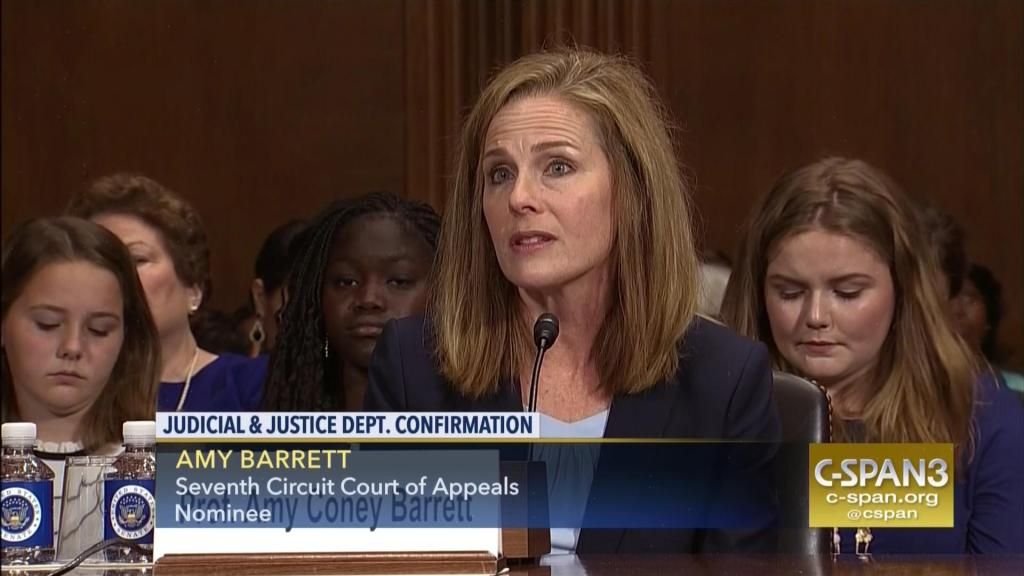 After reports emerged early this year that the White House was quietly preparing for Justice Ruth Bader Ginsburg's potential departure from the Supreme Court, one name consistently rose to the top of the list of possible candidates to replace her: Amy Coney Barrett.
Barrett, 47, a socially conservative Catholic who was appointed to the 7th U.S. Circuit Court of Appeals in 2017, has been floated as a potential pick for the Supreme Court, first as a replacement for Justice Anthony Kennedy who retired last year—U.S. Circuit Court Judge Brett Kavanaugh took that seat.
Barrett's name came into prominence once again amid ongoing speculation over whether Ginsburg would retire after she underwent surgery in December 2018 to remove two malignant growths from her lungs, in her third bout with cancer,
In January, Politico reported that the White House had reached out to conservative activist groups in preparation for Ginsburg's possible resignation, with Barrett once again named as a potential replacement for a retiring justice.
Over the weekend, Axios reignited speculation with a report citing unnamed sources who said President Donald Trump had said last year that he planned on "saving" Barrett to replace Ginsburg, 86, with one commentator, political journalist Josh Groenveld, tweeting that "if it comes to this, it could escalate the culture wars in the USA to a whole new level."
If appointed to the Supreme Court, Barrett would become the fifth woman to serve on the High Court, and the youngest justice to be confirmed since Clarence Thomas, who joined the Court at age 43 in 1991.
Barrett graduated from Notre Dame University Law School and served as a clerk for the late conservative Justice Antonin Scalia before returning to Notre Dame as a faculty member.
Apprehension over Barrett's staunch Catholicism were raised in her 2017 confirmation hearings for her nomination to the 7th Circuit Court of Appeals, with Senator Dianne Feinstein saying to Barrett, "The dogma lives loudly within you. That's of concern."
Barrett defended herself, asserting that she would "never impose my own personal convictions upon the law." It was a conviction the 7th Circuit judge has claimed to have held for decades, with Barrett writing in a 1998 law review piece on the death penalty that "Judges cannot—nor should they try to—align our legal system with the Church's moral teaching whenever the two diverge."
With the Supreme Court already having a five-justice conservative majority, reproductive rights advocates and other commentators have also raised concerns that Barrett's appointment to the Court could further endanger Roe v. Wade, the 1973 landmark decision that legalized abortion in the U.S.
In 2017, 17 women's rights groups wrote to the Judiciary Committee calling on it to oppose Barret's nomination for the 7th Circuit, citing her record of having "expressly opposed reproductive and women's rights," with Barrett having previously condemned Roe as an "erroneous decision" and signing a public "statement of protest" calling the Affordable Care Act's birth control benefit "an assault on religious liberty."
As many as 27 LGBT rights groups also urged the committee to fight Barrett's nomination because of her apparent views on civil rights, expressing concern over "how Professor Barrett, sitting as a federal judge, would reconcile her publicly avowed views about 'marriage and family founded on the indissoluble commitment of a man and a woman' with the Supreme Court's decision in Obergefell v. Hodges, which recognized the constitutional right to marriage equality."
The groups also expressed their misgivings over how Barrett would reconcile her "views about 'the significance of sexual difference and the complementarity of men and women,' with the Supreme Court's decision in Price Waterhouse v. Hopkins, which ruled that Title VII's prohibition on sex discrimination also prohibited an employer from discriminating due to gender-based stereotypes about how men and women are supposed to act.
"Simply repeating that she would be bound by Supreme Court precedent does not illuminate—indeed, it obfuscates—how Professor Barrett would interpret and apply precedent when faced with the sorts of dilemmas that, in her view, 'put Catholic judges in a bind,' the groups said quoting a statement Barrett had made in the past.
In addition to her views on women's and LGBT rights, Barrett's membership in a small Christian group called People of Praise has also come under scrutiny, particularly over the group's teachings that husbands should assume authority over their families, including their spouses. The group also asks that members swear a lifelong covenant to one another and report to a personal adviser, called a "head" for men and a "handmaid" for women.
During her confirmation hearings, Barrett insisted that while she was a devout Catholic, her religious beliefs would not have any bearing on her decisions as an appellate judge.