Who Is Amy Coney Barrett? Supreme Court Shortlist Candidate and Notre Dame Law Professor Met With Trump
Among the candidates to replace the retiring Justice Anthony Kennedy on the Supreme Court and selected for interview by President Donald Trump is Amy Coney Barrett, a 46-year-old appeals circuit judge, Notre Dame law professor and practicing Catholic.
Barrett, from New Orleans, Louisiana, was one of four federal appeals court judges met by Trump on Monday morning, according to The Washington Post, as he works through his shortlist for Kennedy's replacement on the Supreme Court.
Kennedy, 81, has served on the Supreme Court since 1988, when he began under the Reagan administration. Though a conservative, Kennedy occasionally had liberal leanings: For example, he was a majority voter in favor of gay rights. He also upheld Roe v. Wade, a 1973 decision extending abortion rights for women across the U.S.
Trump tweeted Tuesday morning: "I interviewed 4 very impressive people yesterday. On Monday I will be announcing my decision for Justice of the United States Supreme Court!"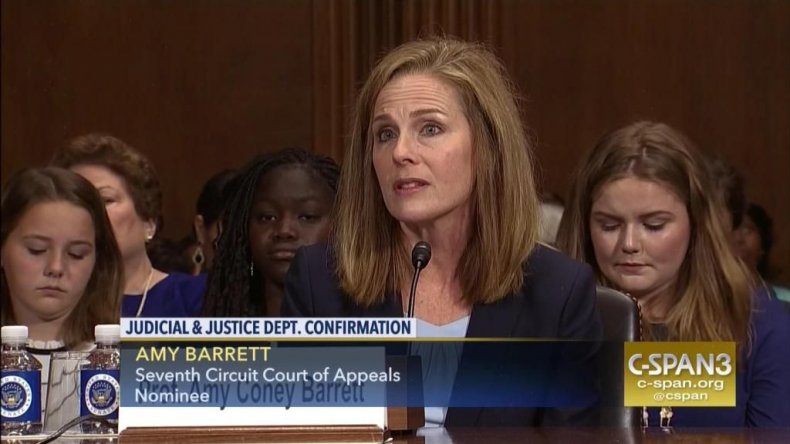 Liberals fear Trump will use Kennedy's retirement as an opportunity to pick a hard-line conservative as his replacement, potentially unraveling previous Supreme Court decisions by tilting the balance of the court.
And Barrett's religious beliefs are causing particular concern as she ascends Trump's shortlist.
During Barrett's confirmation hearing in September 2017 for the 7th Circuit Court of Appeals, on which she currently serves, Democratic Senator Dianne Feinstein made reference to the mother-of-seven's faith, suggesting it would interfere with her obligation to judicial objectivity.
"When you read your speeches, the conclusion one draws is that the dogma lives loudly within you," Feinstein said. "And that's of concern when you come to big issues that large numbers of people have fought for for years in this country."
There was a backlash against Feinstein for using Barrett's faith against her, attempting to apply some kind of religious test for her suitability for office, which would be unconstitutional.
And Barrett herself had said at the hearing that it is "never appropriate for a judge to apply their personal convictions, whether it derives from faith or personal conviction."
In a 1998 journal article, co-authored by Barrett, on the dilemma for Catholic judges in capital punishment cases—the church opposes the death penalty—she concludes they "cannot—nor should they try to—align our legal system with the Church's moral teaching whenever the two diverge." Instead, she argues, they should opt not to participate in such cases.
In a 2013 journal article, Barrett suggests she would not be shy in overruling precedents set by the Supreme Court if she believed a past decision does not marry with her own interpretation of the Constitution.
"Does the court act lawlessly—or at least questionably—when it overrules precedent?" she wrote. "I tend to agree with those who say that a justice's duty is to the Constitution and that is thus more legitimate for her to enforce her best understanding of the Constitution rather than a precedent she thinks is clearly in conflict with it. That itself serves an important rule-of-law value."
But Feinstein was articulating a concern held by many liberals about judges who have deep personal convictions and their ability to interpret the U.S. Constitution fairly and reasonably.
Barrett belongs to a religious group called People of Praise, reported The New York Times, in which senior leaders direct members on important life decisions such as who to choose as a partner, what job to take and how to raise their children. Members swear an oath of loyalty.
"These groups can become so absorbing that it's difficult for a person to retain individual judgment," Sarah Barringer Gordon, a professor of constitutional law and history at the University of Pennsylvania, told the Times. "I don't think it's discriminatory or hostile to religion to want to learn more" about Barrett's relationship with the group.
What's not in question, however, are Barrett's academic and law credentials.
According to her profile on the University of Notre Dame website, Barrett earned her B.A. in English literature from Rhodes College and was chosen by the faculty as the most outstanding graduate in the department.
She then earned her Doctor of Jurisprudence from Notre Dame, where she was a Kiley Fellow, earned the Hoynes Prize—the Law School's highest honor—and was executive editor of the Notre Dame Law Review.
After leaving Notre Dame, Barrett was a clerk for Judge Laurence H. Silberman of the U.S. Court of Appeals for the District of Columbia Circuit and for Associate Justice Antonin Scalia of the U.S. Supreme Court. Scalia was a stalwart conservative on the Supreme Court.
Barrett then became an associate at Miller, Cassidy, Larroca & Lewin in Washington, D.C., where she litigated constitutional, criminal, and commercial cases in both trial and appellate courts.
Beginning in 2002, Barrett has taught at her alma mater, the Notre Dame Law School. She has also served as a visiting associate professor and John M. Olin Fellow in Law at the George Washington University Law School and as a visiting associate professor of law at the University of Virginia.
Approached through the University of Notre Dame, Barrett did not respond to a request for comment.
This article was updated to include Trump's tweet and Barrett's comments in a 2013 journal article about precedents.