Who Is Amy Coney Barrett's Husband, Jesse Barrett?
Amy Coney Barrett, a federal appeals court judge who President Donald Trump nominated to the U.S. Supreme Court on Saturday, has been married to her husband, Jesse Barrett, for two decades.
The Barretts met in the late 1990s when they both attended the Notre Dame Law School in Indiana. Amy received her Juris Doctor degree in 1997, and Jesse graduated in 1999.
The couple resides in South Bend, Indiana, where they are raising their seven children, all of whom are under 20 years old. Two of the Barrett children were adopted from Haiti, and their youngest biological child has Down syndrome, the South Bend Tribune reported.
While the Supreme Court justice nominee has not spoken much about her family in public, she did share a few words about her husband during her confirmation hearing to the federal bench in 2017.
"I hit the jackpot when I married Jesse. We have been married 18 years with each year better than the last," Amy Barrett said, according to Heavy.com.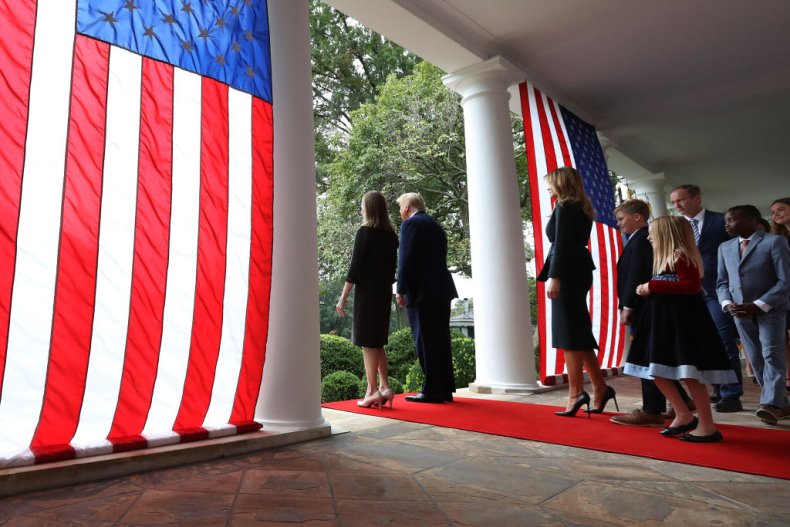 After graduating from the University of Notre Dame in 1996 with a bachelor's degree in political science and government, Jesse Barrett received his Juris Doctor degree from the same school in 1999. He has had a lengthy legal career, focusing primarily on white collar crimes.
Barrett completed a clerkship in 2000 for the Honorable Paul Niemeyer on the U.S. Court of Appeals for the Fourth Circuit, which is based in Richmond, Virginia. He then practiced complex civil and criminal litigation at two national law firms, first in Washington, D.C., then in Indiana.
In 2005, Barrett became an assistant U.S. attorney for the Northern District of Indiana, a role he served in for 14 years. He led investigations into cases concerning commercial fraud, data breaches, tax violations, insurance fraud, identity theft, mail and wire fraud and public corruption, according to Inside INdiana Business.
Press releases from the Department of Justice show that many of the cases Barrett prosecuted involved felonies' possession of firearms, drug trafficking and distribution of illegal substances.
In one notable case Barrett prosecuted in 2015, a judge sentenced the former director of an Indiana public library to 20 months imprisonment for wire fraud. The man had used library funds to pay for personal expense like his health club membership or hotel rooms, according to a DOJ press release.
Barrett returned to the private sector in 2018, and is currently a partner at SouthBank Legal in South Bend, his LinkedIn profile notes. Barrett's practice focuses on complex commercial litigation, internal investigations and white collar criminal defense, according to his website biography.
He represents both companies and individuals at all stages of investigation, litigation and appeal, as well as in mediation and arbitration, according to Inside INdiana Business. Barrett has also served as an adjunct professor at his alma mater since 2018, where he teaches law students about trial skills and criminal law.
Barrett has even coached high school mock trial since 2015, and his teams have won the Indiana state tournament and competed in a national competition.
Like his wife, Barrett is a practicing Roman Catholic. The couple made headlines in 2017 when The New York Times reported that they were both members of a controversial charismatic Christian community called People of the Praise.
The group, founded in 1971 in South Bend, has around 1,800 members in 22 branches around the U.S., Canada, Grenada and Jamaica, the Times reported. They believe in prophecy, speaking in tongues and divine healing, and that homosexual activity is sinful, the Tribune reported in 2018. While the group is ecumenical, about 90 percent of its membership is Catholic.
Jesse Barrett spoke about his wife at her 2018 investiture as judge for the U.S. Court of Appeals for the Seventh Circuit. He earned a standing ovation after giving a speech about his wife's gift for empathy and personal relationships," according to the Notre Dame Law School, which hosted the event.
During his speech, Jesse Barrett spoke about the many changes brought into their lives over the years, including raising seven children. "But there is one thing that hasn't changed—it is humbling to be married to Amy Barrett," he said. "You can't outwork Amy. I've also learned you can't outfriend Amy."
Updated 5:55 PM ET