Who Are Amy and John Schubert? Couple Charged Over January 6 Capitol Riot
A couple from suburban Illinois has been charged over their alleged role in the January 6 Capitol riot.
Amy and John Schubert, aged 61 and 71 respectively, from Crest Hill, face two counts of misdemeanor unlawful entry of a government building and misdemeanor disorderly conduct while on Capitol grounds, the Associated Press reports.
It comes after the FBI received a tip-off on March 2 about a video on YouTube called "The Insurrection of The United States Capitol," that appeared to show the couple, local station WBBM reports.
Amy Schubert was identified by a jacket that read "Plumbers & Pipefitters Local Union 422 Joliet, IL."
The FBI managed to find six Google accounts that were tied to the 815 area code, which covers Joliet—a town near the couple's home—including one linked to Amy Schubert's Google account, according to charges seen by WBBM.
Agents were later able to match her Facebook and driver's license photos to video and images of the woman in the YouTube video.
Upon being granted a search warrant for Schubert's Google account, they were able to confirm her phone was located at the U.S. Capitol on January 6.
They also found photos of John while he was allegedly inside the Capitol on the same date and confirmed it after matching the images to his Facebook and driver's license pictures.
The Schuberts were later released on a $10,000 bond, which they will only have to pay if they miss their court dates. They were also ordered to surrender their passports, firearms and will have to submit regular DNA samples ahead of their court date.
The U.S. Attorney General has been approached for comment.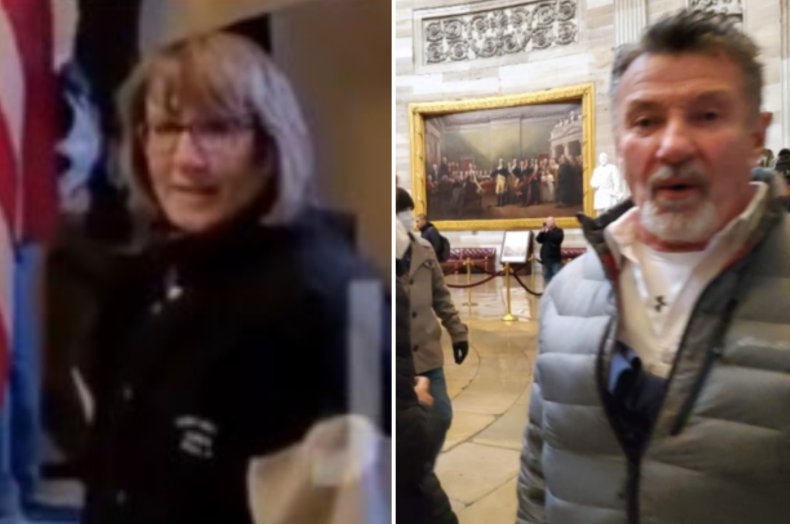 Neighbors had mixed views about the couple.
One, Dale Jacobs, told WBBM: "There was nothing that led on that he was thinking about going there."
He later added: "You know, it's not surprising some people were really upset and wanted to go to a rally, and then wanted to go protest."
An unnamed woman also told CBS2 Chicago: "They posted Trump signs multiple times on this public property, and we called multiple times to get them to take it down."
The charges come as the first Capitol rioters face consequences for their actions committed on January 6.
Paul Allard Hodgkins was the first Capitol rioter to be sentenced to prison time and was ordered to serve eight months by Judge Randolph Moss.
While sentencing, he said: "That was not, by any stretch of the imagination, a protest. It was an assault on democracy.
"It left a stain that will remain on us...on the county for years to come."