Who Is Andrea Meza? Mexico's Former Miss World Crowned Miss Universe 2021
Miss Mexico Andrea Meza was crowned Miss Universe last night at the 69th annual pageant held at the Hard Rock Hotel and Casino in Hollywood, Florida, which was delayed last year due to COVID-19.
Meza beat out dozens of other competitors for the crown, including runner-up Miss Brazil Julia Gama, and second runner-up Miss Peru Janick Maceta Del Castillo. Completing the top five were Kimberly Jiménez Rodríguez from the Dominican Republic and Adline Castelino from India.
But who is the Miss Universe winner, Andrea Meza?
Andrea Meza is a 26-year-old model, software engineer, and make-up artist from Chihuahua, Mexico. Meza represented Mexico at Miss World in 2017 and has also been crowned Miss World Americas and Mexicana Universal.
She has a degree in software engineering from the Autonomous University of Chihuahua and says she is proud to be a woman who graduated in a male-dominated field of study.
As well as being a software engineer, the Mexican model works with the Chihuahua tourist office as an ambassador to promote her hometown's tourist attractions and culture.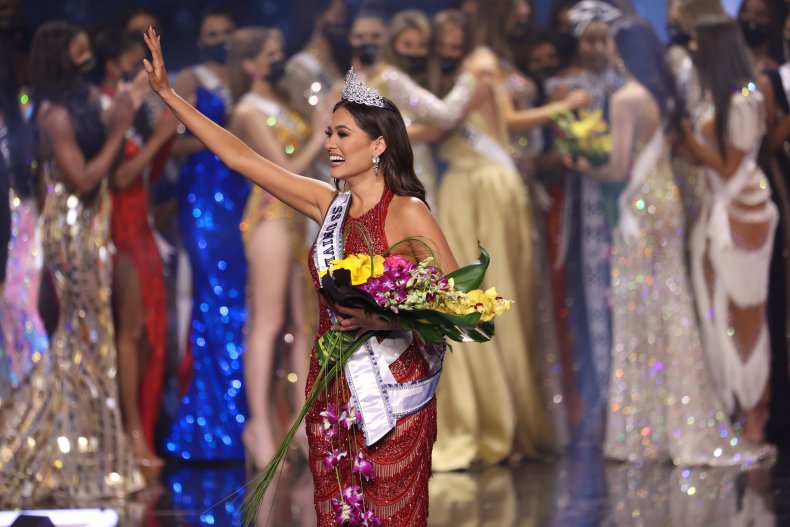 She is also an activist focusing on women's rights and works with the Municipal Institute for Women, which aims to end gender violence. Meza has said: "I see myself as an ambassador for human rights, it is something that matters a lot to me and I want young women to fight for their rights."
The Miss Universe winner has worked with a global charity association raising funds in India, Indonesia, and China for the downtrodden.
Meza's hobbies include practicing CrossFit and extreme sports, such as rappel and sandboarding, and she owns an activewear brand named Andrea Meza Activewear that is said to be launching soon. Additionally, she likes to sing and says it's a very powerful way to show her emotions.
Meza is also vegan, citing her concern for the wellbeing of the world and animals as her reasons for following a plant-based lifestyle.
She comes from a large family and has two sisters and around 40 cousins, and has previously said that she loves being surrounded by her family.
During the Miss Universe contest last night, she spoke about modern beauty standards and said: "We live in a society that is increasingly advanced and just as we have advanced as a society we have also advanced in stereotypes.
"Today beauty does not only lie in how we see ourselves, for me the beauty lies in our spirit, soul, and the values ​​as we handle ourselves. Never allow someone to tell you that you have no value. "