Who is Andrés Manuel Lopez Obrador? Presidential Candidate Who Vowed to 'Put Trump in His Place' Leads Polls in Mexico
Mexican presidential candidate Andrés Manuel Lopez Obrador has been a front-runner in the July 1 election for months, but the latest polls show an increasing number of Mexicans are ready to vote for him.
Lopez Obrador, a two-time runner-up in the previous presidential elections and a former mayor of Mexico City, enjoys support among 42 percent of the electorate—four points higher than a month ago—according to a poll published on Thursday in the business newspaper El Financiero and reported by Reuters.
The leader of the left-wing National Regeneration Movement (Morena) Party has now doubled his lead over rival José Antonio Meade, a former finance minister and the candidate of the ruling Institutional Revolutionary Party.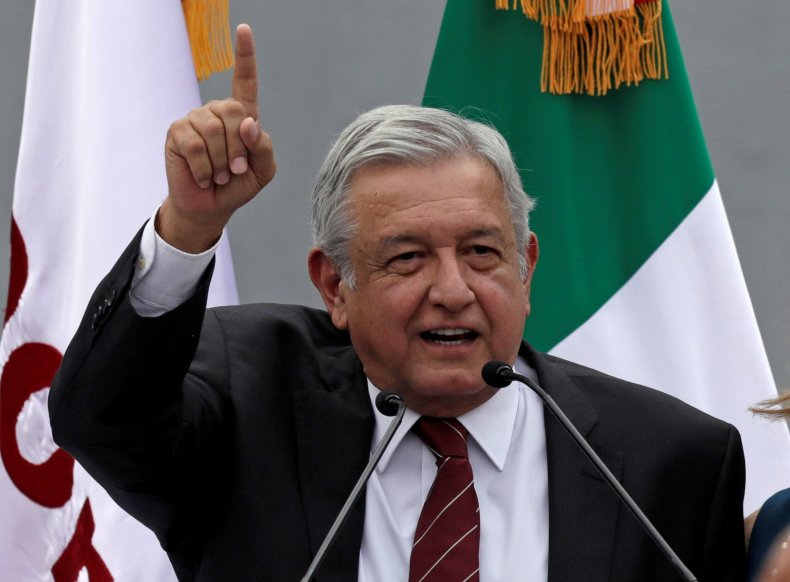 Obrador's growing popularity is in no small part a response to President Enrique Peña Nieto's inability to fight corruption, a slowing economy and an increase in drug cartel–related violence.
The 64-year-old politician—also known by his initials AMLO—has denounced the country's corrupt establishment as well as supported a set of policies that include raising the minimum wage to fight income inequality, expanding public spending and ending the drug war in three years' time.
His marked left-wing approach and positioning against the country's elite won him a "populist" label and has raised political risk fears among analysts who, as Forbes reported, worry he may rescind some of Peña Nieto's reforms, such as the liberalization of the country's oil and gas industry.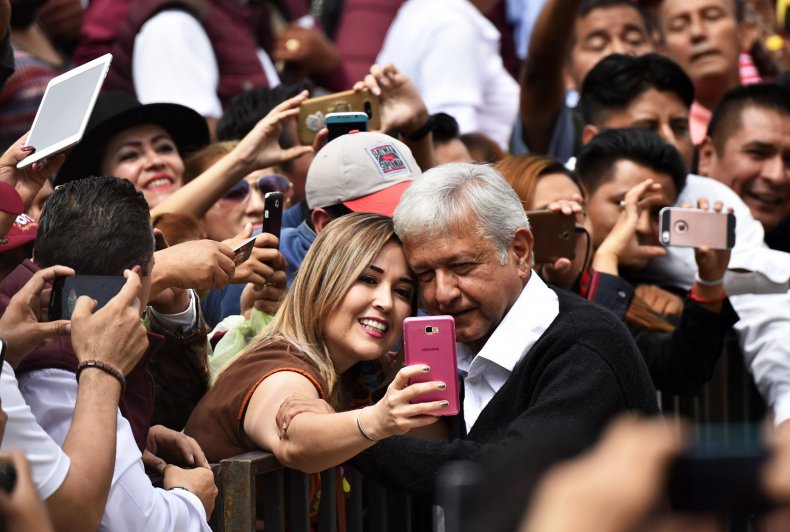 His embrace of the anti-gay, anti-abortion Social Encounter Party (PES) as a coalition partner also concerned the country's progressive forces, who fear a sidelining of civil rights during his presidency, Reuters reported.
"Lopez Obrador is at heart a populist authoritarian," Richard Miles, director of the U.S.-Mexico Futures Initiative and deputy director of the Americas Program at the Center for Strategic and International Studies wrote in his assessment of the Mexican politician in August.
Miles, however, also pointed to Lopez Obrador's economic adviser being a "mainstream economist who fully supports the North American Free Trade Agreement" as a sign that fears of the left-wing leader becoming Mexico's Hugo Chavez may be misplaced.
Without strong enough rivals to oppose him within the country, Lopez Obrador has looked abroad to find his nemesis. He reserved his fieriest rhetoric against Mexico's number one persona non grata, U.S. President Donald Trump, and his border wall project.
Shortly after Trump's inauguration, Lopez Obrador traveled to Los Angeles in February last year, where he gave a rousing speech comparing Trump's America to Adolf Hitler's Nazi Germany. A month later, he filed a complaint with the Inter-American Commission on Human Rights against the border wall.
"Without being disrespectful, we're going to put him in his place," Lopez Obrador said in January. He plans to take the fight against the wall to the highest levels of international diplomacy.
"If he insists on building the wall, we're going to turn to the United Nations to defend the rights of Mexicans," he said last month. "I'm conscious of my historic responsibility."