69-year-old criminal lawyer Andrew Ekonomou, a man with a penchant for Medieval history who spends most of his time prosecuting murders, has found himself at the center of President Donald Trump's legal team as it wrestles with the Mueller probe into collusion with Russia.
Ekonomou had been assisting Trump's attorney Jay Sekulow in his work on Special Counsel Robert Mueller's investigation, which is trying to determine if the president's 2016 election campaign worked with the Russian state to undermine American democracy.
Following the resignation of lead lawyer John Dowd from Trump's legal team, Sekulow is the last person left in charge—and now, according to Reuters, little-known Ekonomou will take on a much more prominent role. That's because Trump is reportedly struggling to get top-flight lawyers to work for him.
"I've been tested plenty of times," Ekonomou, who works at the Ekonomou Atkinson & Lambros LLC private practice in Atlanta, told Reuters. "Just because you're not a Beltway lawyer doesn't mean you don't know what you're doing."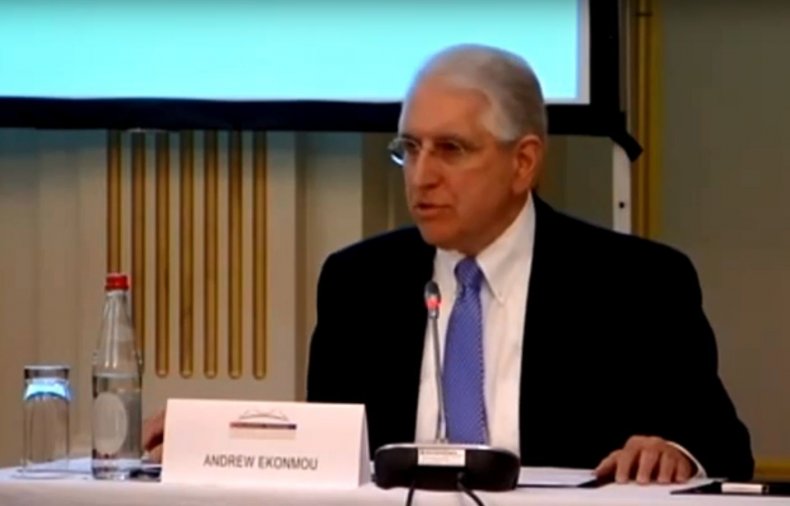 Among the legal team's most important pieces of work is negotiating the terms of a potential interview of Trump by the Mueller investigation.
These days, Ekonomou said he "prosecutes a lot of murders for the D.A. That's basically it. Nothing earthshaking." He worked with Sekulow in the 1980s on a successful First Amendment case representing the group Jews for Jesus, which went to the Supreme Court.
He also works with Sekulow's non-profit, the American Center for Law and Justice, which fights for religious freedom, primarily Christian causes.
According to Ekonomou's CV, he graduated from Emory University School of Law in 1974 before embarking on a legal career in roles such as Counsel to Majority Leader in the Georgia House of Representatives; Assistant Attorney General for the State of Georgia; and Special Investigative Agent for the Georgia Commissioner of Securities; among other jobs.
In 2000, Ekonomou was awarded a doctorate from Emory, majoring in Medieval history, after what he described as a "mid-life crisis."
His minor was in "Church History from Late Antiquity through the High Middle Ages" and his dissertation was tited: "Byzantium on the Palatine: Eastern Influences on Rome and the Papacy, 590-752 A.D."
In 2007, Ekonomou's book Byzantine Rome and the Greek Popes was published by Lexington Books.
On his CV, Ekonomou lists a number of unpublished manuscripts. These include "Women's Monasticism in the Sixth-Century West: Caesarius of Arles and the Rule for Nuns"; "Monastics and Ecclesiastics in Late Antique Egypt"; and "St. Anselm and his English Contemporaries."
Ekonomou has also held several teaching positions, including Adjunct Professor of Law at Atlanta Law School; Lecturer in Modern Greek at Georgia State University; and Lecturer in Byzantine History and Literature at Emory University.
He cites Modern and New Testament Greek, Latin, French, Italian, and German as his language proficiencies.