Who Is Andrew Gillum? Sanders-backed Progressive to Face Off With Trump Favorite
Tallahassee Mayor Andrew Gillum is one step closer to becoming Florida's first black governor after a major upset in the state's crowded gubernatorial primary on Tuesday.
Gillum's shock victory will see him face off against Republican Representative Ron DeSantis, a Trump favorite, in the November midterm elections as the state's first black gubernatorial nominee.
Celebrating his win, Gillum, who received backing from Senator Bernie Sanders, told supporters that if elected as Florida's governor, he would do his best to represent all of the state's people, including those "who voted for me, those who did not vote at all" and "those who maybe could not vote for me because they may be Republicans. But you know something, I want to be their governor too."
Gillum, who defeated frontrunner former Representative Gwen Graham, who had been leading in the polls throughout the majority of the race, had campaigned on a platform championing workers' rights, public education and "Medicare for all."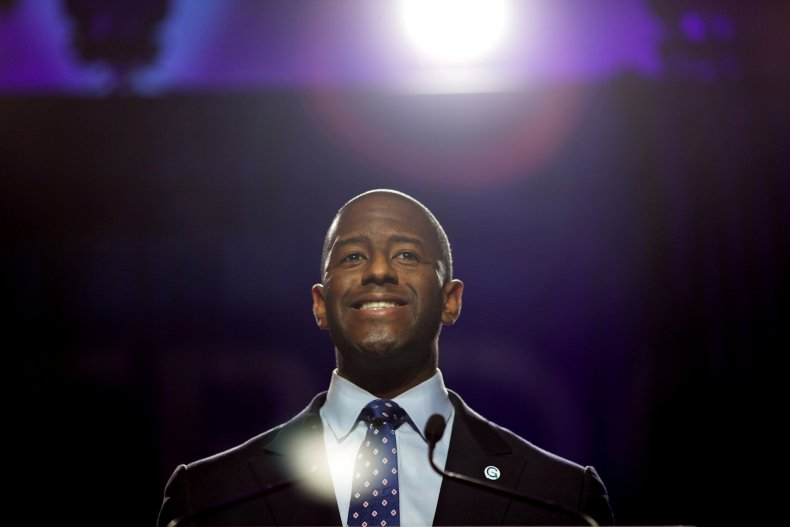 'What's beneath my name'
Pointing out that his mother made a living as a school bus driver and his father worked in construction, often setting up fruit and vegetable stands on the weekend to support his income, Gillum said he would fight for fair wages, as well as for tax dollars to be used towards the public education system.
"The point has never been lost on me that my name on the ballot is simply a vessel," Gillum said. "But what is underneath that name are all the issues that we care so deeply about.
"What's beneath my name is the belief that we ought to pay teachers what they are worth for doing the most difficult job that exists on Earth. What is beneath my name is our belief that our public education system and our public tax dollars ought to be used for the public education system.
"What is beneath my name what is behind and beneath my name is a belief, a deep and very passionate belief, that anybody who works a full time job, who gets up every day of the week, who spends 40 hours full time giving themselves and their lives to their profession and their work… it's my belief that they ought to earn a wage that they can live on and not be paid poverty wages," Gillum said.
His message was one that appeared to resonate deeply with Sanders, who campaigned for the politician earlier this month, and on Tuesday celebrated Gillum as a candidate helping lead a "political revolution" in the U.S.
"No one person can take on the economic and political elites on their own," Sanders said. "Tonight, Floridians joined Andrew in standing up and demanding change in their community. That's what the political revolution is all about and Andrew Gillum is helping to lead it."
Gillum thanked the senator for his support on Twitter on Tuesday, writing: "We could not have done it without you, Senator Bernie Sanders. Let's win in November!"
Trump's favorite
As Sanders celebrated Gillum's success, President Donald Trump was tweeting out his congratulations to DeSantis over the congressman's "fantastic win."
Calling DeSantis a "special person who has done an incredible job," Trump said DeSantis would be "strong on crime, borders and wants low taxes. He will be a great governor and has my full and total endorsement!" the president said.
The likely role Trump's support may have played in DeSantis' win was not lost on the candidate, who said on Tuesday night: "I'm not always the most popular guy in D.C., but I did have support from someone in Washington. If you walk down Pennsylvania Avenue, he lives in the White House with the pillars in front of it," DeSantis said.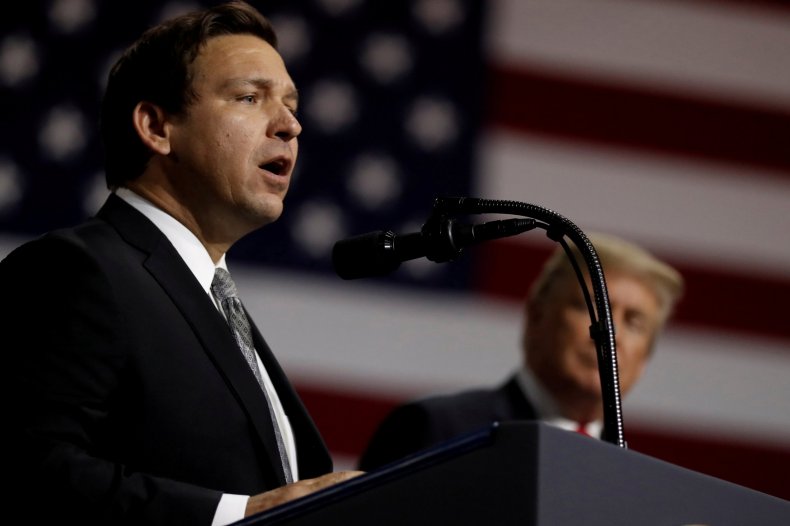 The two favorites will face off in November to replace Republican Governor Rick Scott, who announced in his candidacy for the U.S. Senate in April, vying for the seat held by incumbent Democrat Bill Nelson.
Florida has been a highly contested area in presidential races over the past two decades. However, the trend in state politics has been toward Republicans since the 1990s, with the state being represented by a Republican or Republican-turned-independent governor since 1999, when Jeb Bush was elected.