Who is Andrew Yang? 'Asian Man Standing Next to Joe Biden' in Democratic Debate Plans to Win
While career politicians in the first Democratic debates are focused on winning the event that marks the true start of the 2020 presidential election cycle, candidate Andrew Yang is certain he will emerge victorious—simply by taking the stage.
The 44-year-old tech entrepreneur is one of 20 Democrats who qualified for the debates through gaining donations from at least 65,000 people across 20 states and 1 percent of support in three polls. By a random drawing that balanced higher-profile with lesser-known candidates, Yang landed on the second night, Thursday, alongside Joe Biden, and other big hitters Bernie Sanders, Pete Buttigieg, and Kamala Harris.
Forcing to share time with former Vice President Biden and the runner-up for the 2016 Democratic nomination Sanders, the two highest-polling candidates, is not the worst but rather best case scenario, as Yang sees it.
"A win for me is that Americans tune in, they say, 'Who's the Asian man standing next to Joe Biden,'" Yang said on The Late Show with Stephen Colbert Monday, "And then they look me up."
"My goal is to introduce myself and the key ideas of my campaign to the American people," Yang elaborated to Newsweek the night before the debate.
Yang's ideas include one he has been making headlines for—a universal basic income platform and "freedom dividend" of $1,000 per month for every American adult to spend as desired, as a way to combat job loss to automation technology.
"We are in a fortunate position where we are already at the thresholds to qualify for the September and October debates so I don't need to worry about having a breakout moment," Yang explained. "A win for me would be that millions of Americans get a sense of me and my message and check out my campaign afterwards."
A New York native and Columbia Law School graduate, Yang worked as an attorney before moving to startups and founding the nonprofit Venture for America, which aims to help entrepreneurs create jobs in cities where the need is high. The Obama administration recognized him as a "Champion of Change" in 2012 and a "Presidential Ambassador for Global Entrepreneurship" in 2015.
Yang is as much of a political rookie as President Donald Trump was when he launched his insurgent campaign for the White House four years ago. But he has amassed a "Yang Gang" and become known as the "internet's candidate." And it's not just online where he's been creating a buzz. In rallies attracting several thousand spectators, Yang dons a "MATH" cap meaning "Make America Think Harder," pushes a "Humanity First" slogan, and drops the occasional f-bomb.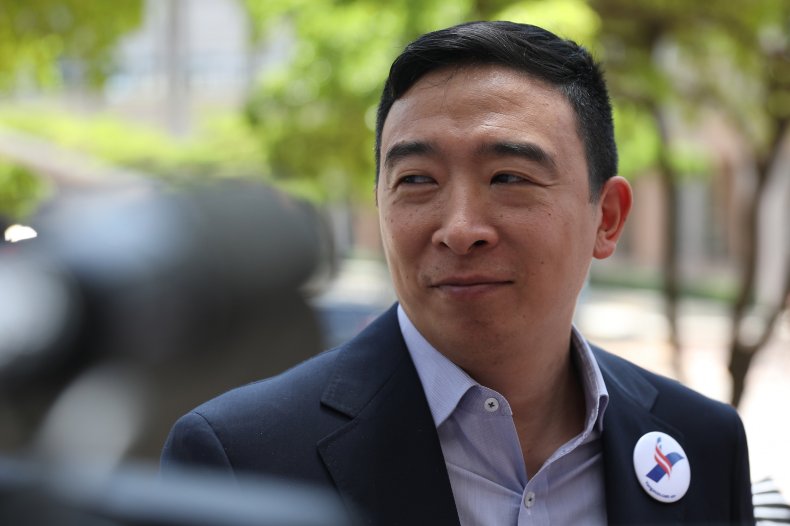 He is popular enough that a couple of supporters have created an app for him on their own dime, completely independent of his campaign. Gregory Magarshak, 36, a universal basic income fan and founder of Qbix which makes apps for communities, met Yang several times last year including at his Manhattan campaign office. Magarshak and a partner have since spent $30,000 building the Yang 2020 app, which launched shortly after Sanders' BERN app, to unite the Yang Gang and even live stream debates.
Magarshak told Newsweek he "didn't have any doubt" that Yang would qualify for the first debate hosted by NBC News, because Yang launched his campaign so long before other candidates, in November 2017.
"He is a very good spokesman for the actual solutions to problems affecting U.S. citizens who lose their jobs to automation," Magarshak said. "What I really like about Andrew Yang is that he focuses on practical solutions supported by both the left and right."
Magarshak described Yang as a "very down-to-earth family man type of guy." His partner on the app, Norman Qian, 20, told Newsweek that Yang is "just as genuine on social media as he is in real life."
Watching the debate featuring the first group of 10 Democrats Wednesday, Yang showed his human side by live tweeting thoughts like, "The trickiest thing will be keeping my facial expression neutral while the person next to me is talking and I'm on camera," and, "Inside scoop - you get an option as a candidate to have a little stage to stand on for the #DemDebate to make you look taller."
Yang also provided honest commentary on his eighth-place standing among more than 20 Democratic candidates and his polling at 2 percent nationwide.
"We will make the most of it," Yang tweeted Wednesday, sharing that he was just 2,000 more donors away from qualifying for the fall debates.
"Based on last night I will get between 5 and 10 minutes of airtime tonight," Yang tweeted Thursday. "Seems about right."
While Yang's universal basic income plan has been shrugged off by many as far-fetched, it is arguably only as unorthodox as Sanders' progressive ideas were when the independent senator went from being an underdog to a frontrunner in the 2016 race. Many of Sanders' proposals have since been adopted by the core Democratic Party, and Magarshak sees similar growth potential for Yang.
"I think his message is actually more effective than even Bernie's message but his problem is no one has heard of him," Magarshak said. "If the number of people that have heard about Bernie hear about Andrew Yang, I think Andrew Yang would win."
If elected, Yang, the son of immigrant parents from Taiwan, would be the first Asian-American president. But besides not having name recognition, he has faced criticism from moderates, not to mention conservatives, that his universal basic income proposal could decrease work among the poor and boost dependence on government.
On Wednesday night, Yang said he was feeling "great."
"The fact is another candidate would be nuts to go after the fifth or sixth candidate on stage," he said. "I have a forum to make my case to the American people and couldn't be more excited about it. This debate is all upside for me and my campaign."
On Thursday, Yang will stand stage right of Biden, who will be positioned in the middle of the semicircle—but with Buttigieg between them. While watching the first debate, Yang signaled he has a specific goal for the coming months.
"Ooh I just saw an ad for the 2nd debates in July in Detroit! Looking forward to that too," Yang tweeted. "Maybe I'll get next to Joe Biden next time."