Who Is Annegret Kramp-Karrenbauer? Angela Merkel Replacement as CDU Head Likely to Become Europe's Next Leader
Germany's ruling Christian Democratic Union elected Annegret Kramp-Karrenbauer on Friday to take over as the party's leader from German Chancellor Angela Merkel.
The chancellor had announced that she planned to step down this month, adding that she would not run again as chancellor in the next general election in 2021. The election of Kramp-Karrenbauer as the new leader of the CDU is significant because the head of the party is often elected chancellor.
Kramp-Karrenbauer, also known colloquially as AKK, is an ally of Merkel, who is likely to continue the chancellor's policies. Some have even nicknamed her "mini-Merkel," although the CDU's new leader insisted that she was her own person.
Still, her election in a secret ballot by more than 1,000 party delegates was seen as a vote for continuity and stability.
"The election of AKK as leader of the CDU is an indication of the continuing strength of Angela Merkel in her party. Chancellor Merkel spoke to the party delegates shortly before the election and there was no mistaking her choice," Fran Burwell, a distinguished fellow at the Washington D.C.-based Atlantic Council and an expert on European politics, told Newsweek. "AKK represents the emergence of a new generation and the 'change with continuity' that makes many German voters comfortable."
Throughout her career, Kramp-Karrenbauer has risen through the ranks of regional politics, starting with a seat in the local council of her hometown of Püttlingen, which only has around 20,000 inhabitants. She later became the leader of the Saarland region, which borders France and Luxembourg. AS a result, she is fluent in French.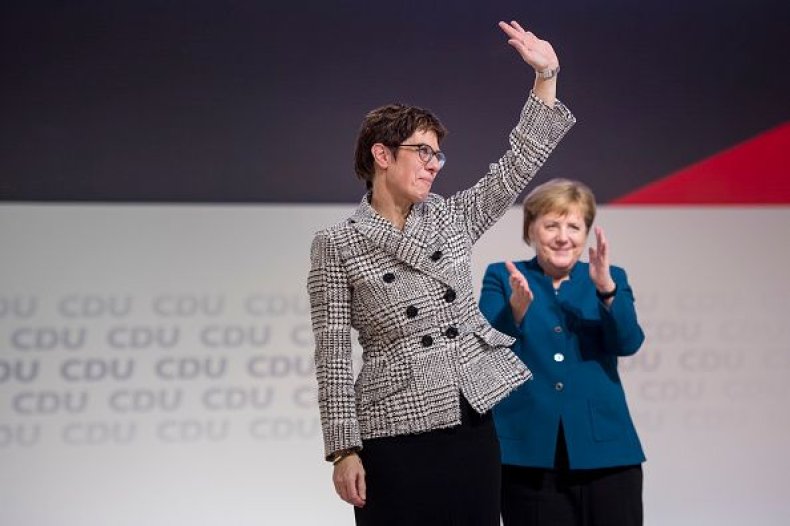 Kramp-Karrenbauer stepped down as the leader of Saarland several months ago, when Merkel personally requested that she become the CDU's general secretary, considered the second most powerful position in the party. Her political allies describe her as a pragmatist and coalition builder who is able to get things done.
The new CDU leader is also considered socially conservative, and has come out against same-sex marriage. Her opponents for the role were Health Minister Jens Spahn, the country's most high-profile gay politician, and the conservative corporate lawyer Frederich Merz.
"Domestically, AKK is likely to sharpen the social policy profile of the CDU and she can appeal to some on the party's more conservative wing," Jorns Fleck, an expert on German politics, told Newsweek. "Europe most likely escaped a more assertive course that Merz and certainly Spahn would have pursued on Eurozone reform. But the vote was close and the conservative and business wings of the CDU have flexed their muscles and may be emboldened to demand more of AKK in the future."
Peter Sparding, a fellow with the Germany-based German Marshall Fund, told Newsweek the new CDU leader is likely to push the ruling party rightward.
"Annegret Kramp-Karrenbauer is Angela Merkel's desired successor and she is much closer aligned with the German chancellor than both of her competitors were. But while it seems likely that she will broadly attempt to keep the CDU on a centrist line, she should not be mistaken as a one-to-one copy of Merkel," Sparding said. "It seems likely that she will move the party slightly to the right, especially on socio-cultural issues."
Party delegates, meanwhile, gave Merkel a standing ovation and waved signs that read "thank you, boss," as she gave her last speech as CDU leader after 18 years at the party's helm.
"People, we have a lot to get done today," Merkel told them.